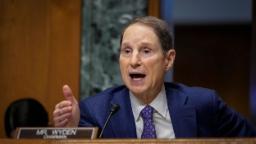 CNN
 — 

The issue of so-called judge shopping – the funneling of lawsuits through courthouses where a particular judge is almost guaranteed to hear the case – is the target of another new bill from Democrats unhappy with a practice that gained renewed attention after a blockbuster abortion pill case was filed in a courthouse that would guarantee it would be heard by a very conservative judge in Texas.
Notably, the bill would direct that if a case is seeking court order that would halt a federal policy nationwide or that would deliver a form of other relief that goes beyond the plaintiff bringing the lawsuit, the case must go to a three-judge panel.
North Carolina Rep. Deborah Ross filed the bill in the House on Wednesday. Oregon Sen. Ron Wyden will introduce companion legislation when the Senate returns from recess.
"It's fundamentally unjust for a special interest group to play hopscotch with American courts in search of one biased judge predisposed to rule for them," Wyden said in a statement.
Wyden was an early and prominent critic of US District Judge Matthew Kacsmaryk, the judge appointed by Donald Trump who ruled in favor of halting nationwide access to medication abortion drug and who hears all cases filed in Amarillo, Texas.
Wyden's and Ross' legislation takes a two-prong approach to heading off efforts to aim lawsuits towards specific judges who are perceived as sympathetic to certain plaintiffs – including in cases where challengers are seeking nationwide orders that block federal policies across the country.
"The dangers of judge shopping were on full display in Judge Kacsmaryk's unprecedented mifepristone ruling out of Texas," Ross, who is the vice ranking member of the House Judiciary Committee, said in a statement, referring to the medication abortion drug. "Nobody should have the power to choose who decides their case, especially when the ruling will have widespread consequences for all Americans."
The bill would require that most civil cases – with exemptions for a few small categories of lawsuits – be filed in courthouses where a single judge is assigned no more than 25% of all the cases brought there.
On the requirement that a three-judge panel first hears cases seeking nationwide injunctions, the measure does not go into specifics about how such a panel would be assigned. Instead, it seeks to reinstate the system that was used for constitutional challenges to state or federal laws, before changes to the judiciary's process were made in 1976. Constitutional challenges to redistricting plans still go to three-judge panels for the initial round of proceedings. Like those cases, the new bill would require that at least one of the three panel-members be a circuit judge. If appealed, the cases go directly to the Supreme Court for review.
Other recent proposals aimed at judge-shopping take a different approach.
A bill unveiled in April by Sen. Mazie Hirono, a Hawaii Democrat who sits on the Senate Judiciary Committee, would give exclusive jurisdiction of lawsuits seeking nationwide court orders to Washington, DC's federal court, which leans left.
Legislation introduced this month in the House by New Jersey Democratic Rep. Mikie Sherrill would require any civil lawsuit seeking a court order that would apply nationwide be filed in a judicial district where there are two or more active judges assigned to hear cases.
Under the Wyden and Ross bill, right-leaning plaintiffs could still file cases in states covered by the 5th US Circuit Court of Appeals, where they would draw panel assignments from a very conservative pool of judges. Progressive plaintiffs could sue in states covered under the liberal 9th Circuit, taking advantage of the left lean of that pool of judges. The system would also keep open the possibility of circuit splits, which is when appellate courts disagree on legal questions, an occurrence that increases the likelihood that the Supreme Court intervenes.
"The goal here isn't to dictate legal outcomes, it's to mitigate the harm that can be done by judge shopping," Wyden said. "There may be circuit shopping, but with a three-judge panel you have a stronger check on rogue judges like Kascmaryk and an opportunity to make sure cases are resolved more quickly with direct appeal to the Supreme Court."
The bill also would require new transparency mandates for publicizing district courts' assignment system. Its section setting a threshold for the likelihood that a single judge is assigned a case includes accommodations for districts that lack the number of judges to meet the standard. The bill would allow for judges from neighboring districts to be included in the assignment system for those district courts and it carves out an exemption if that kind of district is the only district court in a state.
Legal experts, court reform advocates and even a Supreme Court justice have taken note, in recent years, of the growing practice by foes of the Biden administration filing their cases in courthouses where just a single judge – often an appointee of Trump, if not another Republican president – hears all or most of the lawsuits filed there.
It is a particularly frequent tactic in Texas, as several federal courthouses in remote parts of the state assign the vast majority – if not all – of the cases filed there to just one judge.
Texas Attorney General Ken Paxton and his Republican allies in other state attorneys general office have embraced the strategy, prompting liberal Justice Elena Kagan, during a Supreme Court hearing on a Texas challenge to a Biden immigration policy, to remark to a Paxton lawyer that "you play by the rules, that's fine, but you pick your trial court judge."
However, the recent litigation over the US Food and Drug Administration's approval of mifepristone made the issue front and center. The challengers, anti-abortion doctors and medical organizations, filed their case in Amarillo just a few months after one of the plaintiff groups incorporated in the city, which sits in a rural part of the Texas panhandle.
Cases filed in Amarillo are automatically assigned to Kacsmaryk, who, before joining the bench, worked at a conservative religious liberty organization, and whose history of personal hostility towards abortion was documented recently by The Washington Post. An attorney for the challengers has denied that his clients were engaged in judge-shopping.
Kacsmaryk went on to rule that the approval of the drug should be suspended with an opinion littered with anti-abortion rhetoric. His order was put on hold by the Supreme Court and an appeal of it is ongoing.
The Biden administration and its allies have used other avenues to try to push back against the trend, but so far with no success. The Justice Department has struck out on requests to judges – including Kacsmaryk – in single-judge divisions often targeted by Paxton litigation that asked that the judges transfer certain cases to courthouses where the lawsuit would be randomly assigned among a broader pool of jurists.
Senate Majority Leader Chuck Schumer wrote a letter to the chief judge of the US District Court of Northern Texas – under which, the Amarillo division sits – asking the judge to change current assignment system so that any civil case filed in the district would be randomly assigned among all of the district court's judges, regardless of what division it was filed in.
Chief Judge David Godbey acknowledged in a May 16 response the "public perception of improper judge-shopping in single-judge divisions" and said the "issues of single-judge divisions are long-standing, and they are not limited to any one class of litigant."
But, pointing to the "unusual characteristics" of the far-flung court district, Godbey said that adopting Schumer's proposals would create its own logistical, while asserting that he as chief judge is "not authorized to impose unilaterally a new method of case allocation for our District."