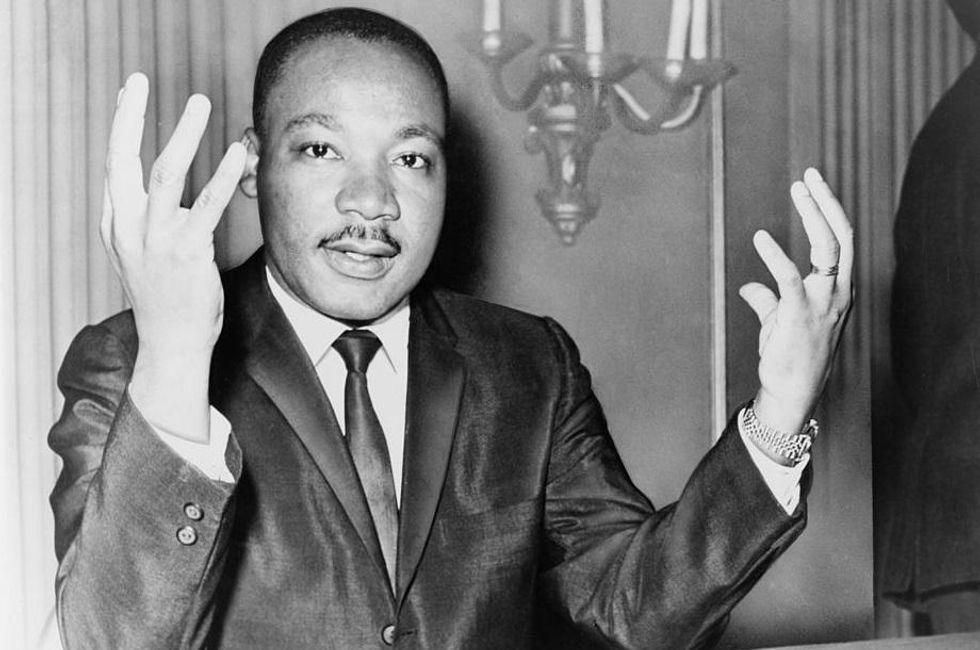 If Republicans had been in a position to disgrace and highbrow consistency, Martin Luther King Day would end up uncomfortable for them. In any case, they insist The us's
founding was once now not rooted in white supremacy, and that the country itself was once by no means actively, aggressively racist. If that's true, why will we want to rejoice Dr. King as a transformative determine?
Conservatives' favourite MLK quote — in all probability the one one they know — is "I've a dream that my 4 little kids will someday reside in a country the place they are going to now not be judged by way of the colour in their pores and skin however by way of the content material in their persona." The important thing phrases right here that conservatives forget about is someday, that means it hadn't came about but. If The us was once already a post-racial utopia, Dr. King would've simply been a man who gave speeches. We would possibly as properly have a countrywide vacation for the 4 Tops.
Glad MLK Day! Prager U Sings The Praises Of Nice Conservative Philosopher, Dr. King
However let's now not waste time nowadays dragging hypocritical statements from Republicans who'll take a damage from suppressing the Black vote to assert that if Dr. King had been alive nowadays, he'd resent nearly everybody who's Black and possibly host one of the vital Fox Information top time hours.
As a substitute, let's recognize Dr. King's personal phrases, which might be extra prescient than ever.
---
All over a July 1963 interview, Dr. King was once requested about President John F. Kennedy's
proposed civil rights regulation that may finish racial segregation in public lodging and improve balloting rights. Dr. King believed the vast majority of American citizens supported the trouble, however that rattling filibuster would impede the need of the folks and deny racial minorities their constitutional rights.
DR. KING: I believe the tragedy is that we've got a Congress with a Senate that has a minority of erroneous senators who will use the filibuster to stay the vast majority of folks from even balloting. They received't let the bulk senators vote. And unquestionably they wouldn't need the vast majority of folks to vote, as a result of they know they don't constitute the vast majority of the American folks. In reality, they constitute, in their very own states, an overly small minority.
Joe Manchin loves to invoke his idol, Robert Byrd, however the former senator from West Virginia actively filibustered the Civil Rights Act. Cloture was once in the end reached (with a good upper threshold of two-thirds of the Senate), however Byrd and different warring parties of the invoice weren't looking to make it higher thru lively dialogue about whether or not Black American citizens had been folks. They sought after to kill the invoice and maintain injustice for any other era.
Glad MLK Day! Ilhan Omar Disrespects Fictional Reminiscence Of Conservative MLK
Dr. King didn't retreat right into a well-earned retirement as soon as the Civil Rights Act was once handed. He knew there was once nonetheless a lot paintings to do. All over his 1967 "The place Do We Pass From Right here?" speech, he addressed The us's huge (and intentional) racial inequality, which had now not vanished with the Civil Rights Act.
DR: KING: When the Charter was once written, a unusual components to resolve taxes and illustration declared that the Negro was once sixty p.c of an individual. As of late any other curious components turns out to claim he's fifty p.c of an individual. Of the great things in lifestyles, the Negro has roughly one part the ones of whites. Of the dangerous issues of lifestyles, he has two times the ones of whites. Thus, part of all Negroes reside in substandard housing. And Negroes have part the source of revenue of whites. Once we flip to the destructive reviews of lifestyles, the Negro has a double proportion: There are two times as many unemployed; the velocity of toddler mortality amongst Negroes is double that of whites; and there are two times as many Negroes loss of life in Vietnam as whites in percentage to their measurement within the inhabitants.
Dr. King actively adverse The us's personal warmongering nature. He spoke out towards the Vietnam Warfare, as a result of his trust in nonviolence prolonged past Southern segregationists. Everybody's humanity mattered, together with whoever the American govt thought to be its enemy in this day and age. Dr. King wouldn't were down with drones or conservatives who valorize gun possession.
Glad MLK Day! Why Did It Take So Lengthy For The us To Absolutely Honor Dr. King?
Whilst the white conservatives on the Nationwide Overview blamed Black folks totally for his or her woes, Dr. King didn't hesitate to position the blame the place it actually belonged. In his 1964 e-book Why We Can't Wait, he wrote, "No quantity of gold may supply an good enough repayment for the exploitation and humiliation of the Negro in The us down during the centuries. Now not all of the wealth of this prosperous society may meet the invoice. But a value can also be put on unpaid wages. […] The fee must be within the type of a large program by way of the federal government of particular, compensatory measures which may well be considered a agreement according to the authorized apply of not unusual regulation."
Around the nation, we're seeing white backlash to inconvenient historical past. Conservatives will use a sanitized model of Dr. King to smear nowadays's Black leaders. As of late and the next day to come, let's remind The us of the real Martin Luther King Jr.
OPEN THREAD.
Practice Stephen Robinson on Twitter.


Do your Amazon buying groceries thru this hyperlink, as a result of causes.


12 months Wonkette is 100% ad-free and fully supported by way of reader donations. That is you! Please click on the clickie, in case you are ready.

window.REBELMOUSE_LOWEST_TASKS_QUEUE.push(function(){
!function(f,b,e,v,n,t,s) {if(f.fbq)return;n=f.fbq=function(){n.callMethod? n.callMethod.apply(n,arguments):n.queue.push(arguments)}; if(!f._fbq)f._fbq=n;n.push=n;n.loaded=!0;n.version='2.0'; n.queue=[];t=b.createElement(e);t.async=!0; t.src=v;s=b.getElementsByTagName(e)[0]; s.parentNode.insertBefore(t,s)}(window, document,'script', 'https://connect.facebook.net/en_US/fbevents.js'); fbq('init', '482172895483293'); fbq('track', 'PageView');
});
window.REBELMOUSE_LOWEST_TASKS_QUEUE.push(function(){
/*! getClosest.js | (c) 2017 Chris Ferdinandi | MIT License | http://github.com/cferdinandi/getClosest */ /** * Get the closest parent element that matches a selector. * @param {Element} elem Starting element * @param {String} selector Selector to match against * @return Element Returns null if not match found */ var getClosest = function(elem, selector) {
// Element.matches() polyfill if (!Element.prototype.matches) { Element.prototype.matches = Element.prototype.matchesSelector || Element.prototype.mozMatchesSelector || Element.prototype.msMatchesSelector || Element.prototype.oMatchesSelector || Element.prototype.webkitMatchesSelector || function(s) { var matches = (this.document || this.ownerDocument).querySelectorAll(s), i = matches.length; while (--i >= 0 && matches.item(i) !== this) {} return i > -1; }; }
// Get closest match for (; elem && elem !== document; elem = elem.parentNode) { if (elem.matches(selector)) return elem; }
return null;
};
// Vanilla JS
var className="active";
// getting current URL and adding a class on the current menu item
var path = location.pathname.split("https://www.wonkette.com/")[1]; var link = document.querySelectorAll('.menubar a[href="https://www.wonkette.com/" + path + '"]'); if (link[0]) { if (link[0].classList) { link[0].classList.add(className); } else { link[0].className += ' ' + className; } }
// remove class from home-link var home = document.getElementsByClassName('home__item'); if (home[0]) { if (home[0].classList) { home[0].classList.remove(className); } else b)' + className.split(' ').join(' }
// search the closest parent and adding an active class on it too
var closestParent = getClosest(link[0], '.menubar_item-dropdown');
if (closestParent) { if (closestParent.classList) { closestParent.classList.add(className);
} else { closestParent.className += ' ' + className; } }
var socials = document.getElementsByClassName('social-links')[0]; var cloneSocials = socials.cloneNode(true);
var menu = document.getElementById("menubar"); var cloneMenu = menu.cloneNode(true);
var mobileMenu = document.getElementsByClassName('main-menu-wrapper')[0]; var beforeEl = document.getElementsByClassName('menu-global__search-form')[0];
mobileMenu.insertBefore(cloneSocials, beforeEl); mobileMenu.insertBefore(cloneMenu, beforeEl);
if (!document.body.classList.contains('logged-out-user')) { var existCondition = setInterval(function() { var userLink = document.querySelectorAll('.main-menu-item--my_page .link'); if (userLink.length) { clearInterval(existCondition); var membersLink = document.querySelectorAll('#membersLink'); var userUrl = userLink[0].href; Array.prototype.forEach.call(membersLink, function(el) { el.href = userUrl; });
if (document.querySelector('.main-menu-item--designer_editor')) { document.querySelector('.main-menu-wrapper').classList.add('user-admin'); } } }, 500); } else { var existCondition = setInterval(function() { var userLink = document.querySelector('.main-menu-item--login .link'); if (userLink) { clearInterval(existCondition); userLink.href="http://www.wonkette.com/core/users/email_login/"; } }, 500)
}
function copyValue(el) { var thisVal = el.options[el.selectedIndex].text; var closestForm = getClosest(el, 'form'); var paypalAmount = closestForm.nextSibling.querySelector('.paypal-amount'); paypalAmount.value = thisVal; }
document.addEventListener("scroll", createIdleScrollListener(() => { if (window.scrollY > 0) { document.body.classList.add('page-scrolled'); } else { document.body.classList.remove('page-scrolled'); } }));
function createIdleScrollListener(callback) { let ticking = false;
return function onScrollIdle() { if (ticking) { return; } ticking = true; requestAnimationFrame(() => { callback(); ticking = false; }); }; }
});
window.REBELMOUSE_LOWEST_TASKS_QUEUE.push(function(){
(function () { var scriptURL = 'https://sdks.shopifycdn.com/buy-button/latest/buy-button-storefront.min.js'; if (window.ShopifyBuy) { if (window.ShopifyBuy.UI) { ShopifyBuyInit(); } else { loadScript(); } } else { loadScript(); }
function loadScript()
function ShopifyBuyInit() { var client = ShopifyBuy.buildClient({ domain: 'wonkette-bazaar.myshopify.com', storefrontAccessToken: 'ed4ae4c7827a0ad6e2f0877e72007d6a', });
ShopifyBuy.UI.onReady(client).then(function (ui) { ui.createComponent('collection', { id: 79186919536, node: document.getElementById('collection-component-0908d7149de'), moneyFormat: '%24%7B%7Bamount%7D%7D', options: { "product": { "variantId": "all", "contents": { "imgWithCarousel": false, "variantTitle": false, "description": false, "buttonWithQuantity": false, "quantity": false }, "styles": { "product": { "@media (min-width: 601px)": { "max-width": "calc(25% - 20px)", "margin-left": "20px", "margin-bottom": "50px" } }, "button": { "background-color": "#c21f38", ":hover": { "background-color": "#af1c32" }, ":focus": { "background-color": "#af1c32" } } } }, "cart": { "contents": { "button": true }, "styles": { "button": { "background-color": "#c21f38", ":hover": { "background-color": "#af1c32" }, ":focus": { "background-color": "#af1c32" } }, "footer": { "background-color": "#ffffff" } } }, "modalProduct": { "contents": { "img": false, "imgWithCarousel": true, "variantTitle": false, "buttonWithQuantity": true, "button": false, "quantity": false }, "styles": { "product": { "@media (min-width: 601px)": { "max-width": "100%", "margin-left": "0px", "margin-bottom": "0px" } }, "button": { "background-color": "#c21f38", ":hover": { "background-color": "#af1c32" }, ":focus": { "background-color": "#af1c32" } } } }, "toggle": { "styles": { "toggle": { "background-color": "#c21f38", ":hover": { "background-color": "#af1c32" }, ":focus": { "background-color": "#af1c32" } } } }, "productSet": { "styles": { "products": { "@media (min-width: 601px)": { "margin-left": "-20px" } } } } } }); }); } })();
});
window.REBELMOUSE_LOWEST_TASKS_QUEUE.push(function(){
window.REBELMOUSE_STDLIB.loadExternalScript("https://checkout.stripe.com/checkout.js", function() {
if (!Element.prototype.matches) Element.prototype.matches = Element.prototype.msMatchesSelector || Element.prototype.webkitMatchesSelector;
if (!Element.prototype.closest) Element.prototype.closest = function(s) { var el = this; if (!document.documentElement.contains(el)) return null; do while (el !== null && el.nodeType === 1); return null; };
function formsHandling() { var formDonate = document.querySelectorAll('.donation-form:not(.processed)');
formDonate.forEach(function(formEl) { var formEl = formEl;
formEl.classList.add("processed");
formEl.addEventListener("submit", function(event) { event.preventDefault(); });
var donationBtns = formEl.querySelectorAll('.donate-button');
donationBtns.forEach(function(el) { el.addEventListener("click", function(event) { event.preventDefault(); formProcessing(el) }); });
function formProcessing(el) { var btn = el; var payment = btn.getAttribute('data-payment'); var planType = formEl.querySelector('input[name="plan_type"]:checked').value; var checkedOption = formEl.querySelector('input[name="amount"]:checked'); var amount = checkedOption.value * 1; var amountOptional = checkedOption.getAttribute('data-amount'); var dataValue = checkedOption.getAttribute('data-value'); var action;
if ( formEl.contains(formEl.querySelector('.remove-me')) ) { formEl.querySelectorAll('.remove-me').forEach(function(el){ el.remove() }); }
if ( payment == "paypal" ) { formEl.action = "https://www.paypal.com/cgi-bin/webscr"; formEl.setAttribute('target', '_blank');
addHidden( 'currency_code', 'USD'); addHidden( 'cmd', ''); addHidden( 'return', "https://www.wonkette.com/st/Wonkettes_Hero"); addHidden( 'cancel_return', window.location.href);
if ( planType == "once" ) { checkedOption.value = dataValue; formEl.querySelector('input[name="cmd"]').value="_donations"; addHidden( 'business', 'rebecca@wonkette.com'); addHidden( 'item_name', 'Wonkette Donation'); addHidden( 'item_number', 'Just Once');
//add new params addHidden( 'a3', dataValue); addHidden( 'p3', 1); addHidden( 't3', 'D');
} else if ( planType == "monthly" ) { formEl.querySelector('input[name="cmd"]').value="_xclick-subscriptions"; addHidden( 'business', 'rebecca@wonkette.com'); addHidden( 'item_name', 'Wonkette Recurring Donation'); addHidden( 'item_number', 'wonkette_recurring');
//add new params addHidden( 'a3', dataValue); addHidden( 'p3', 1); addHidden( 't3', 'M'); addHidden( 'src', 1); addHidden( 'srt', 52); } formEl.submit(); } else if ( payment == "strip" ) { addHidden( 'entity_type', 1); addHidden( 'plan_type', 1); addHidden('entity_id', getSiteId() ); checkedOption.value = dataValue * 100;
if ( planType == "once" ) { formEl.action = "/core/payment/single_donation"; addHidden( 'plan_name', 'One Time Donation'); stripInit(amount, 'One Time Donation');
} else if ( planType == "monthly" ) { formEl.action = "/core/payment/recurring_donation"; addHidden( 'plan_name', 'Monthly Donation'); addHidden( 'plan', 'donation_' + amount); stripInit(amount, 'Monthly Donation'); }
}
} function addHidden(key, value) { // Create a hidden input element, and append it to the form: var input = document.createElement('input'); input.type="hidden"; input.name = key; input.value = value; input.className += 'remove-me'; formEl.appendChild(input); }
function stripInit(amount, description) { var token = function(res){ addHidden('stripeToken', res.id); addHidden('stripeEmail', res.email); formEl.submit(); };
if (amount) { StripeCheckout.open({ key: 'pk_live_7dJjNGbMgTkHfEasr9FsLcjF', // real //key: 'pk_test_zbMpaIyMyHJ7TLUEheC7q2iS', //test amount: amount, name: 'Wonkette', image: 'https://assets.rbl.ms/16950638/origin.png', description: description, panelLabel: 'Donate', token: token, locale: 'auto' }); } else { window.alert('Select donation amount first') } } });
function getSiteId() { var site_id = null; var inner = document.querySelector('html').innerHTML var str = inner.split('"site_id": '); if( str[1] != undefined ){ site_id = str[1].split(',')[0]; } return !isNaN(site_id) ? site_id : false; } }
formsHandling();
REBELMOUSE_STDLIB.createElementChangeListener(".show-more.js-expand:not(.processed)", (el) => { const keepReading = el; keepReading.classList.add("processed"); keepReading.addEventListener("click", function() { setTimeout(formsHandling, 500) }); });
});
});
window.REBELMOUSE_LOWEST_TASKS_QUEUE.push(function(){
window.disqus_config = function () { this.page.identifier = "2656414346", this.page.url = "https://www.wonkette.com/remembering-the-dr-king-conservatives-find-so-damn-inconvenient"; };
var disqusCt = document.createElement('div'), disqus_config; disqusCt.id = 'disqus_thread';
(function() d.body).appendChild(s); )();
function loadCountScript(callback) { var s = document.createElement('script'); s.type="text/javascript"; s.async = true; s.id = 'dsq-count-scr'; s.src = "//wonkettecom.disqus.com/count.js"; var x = document.getElementsByTagName('script')[0]; x.parentNode.insertBefore(s, x); s.onload = () => callback(s); document.head.append(s); }
loadCountScript(script => { /*Add comment Button to all articles*/ REBELMOUSE_STDLIB.createElementChangeListener(".share-panel:not(.js--has-comments)", (el) => { let sharesPanel = el; sharesPanel.classList.add('js--has-comments');
if(sharesPanel.closest('.article__shares')) { let postId = window.REBELMOUSE_BOOTSTRAP_DATA.post.id, postURL = location.protocol + '//' + location.host + location.pathname; addButton(postURL, postId, sharesPanel);
} else if( sharesPanel.closest('.widget') ) { let thisPost = sharesPanel.closest('.widget'), postId = thisPost.getAttribute('elid'), postURL = thisPost.querySelector('.widget__headline-text').getAttribute('href'); addButton(postURL, postId, sharesPanel); } }); });
function addButton(url, id, el) { var commentBtn = document.createElement('span'); //commentBtn.href = url; commentBtn.classList.add('js--toggleDisqus'); commentBtn.classList.add('disqus-comment-count'); commentBtn.setAttribute('data-disqus-url', url); commentBtn.setAttribute('data-postid', id); //commentBtn.setAttribute('data-disqus-identifier', id); commentBtn.innerText="0"; el.append(commentBtn); DISQUSWIDGETS.getCount({reset: true}); //console.log(url, id); }
REBELMOUSE_STDLIB.createElementChangeListener(".js--toggleDisqus:not(.js--callDisqus-processed), .show-more:not(.js--callDisqus-processed)", (el) => { console.log('run callDisqus()');
var timeOut=10; if(el.classList.contains("show-more")){ timeOut=1000; } el.classList.add('js--callDisqus-processed') el.addEventListener('click', function (){ setTimeout(function(){ let t = el, thisPost = t.closest('article') || t.closest('.js-section-loader-feature-container'), postId = t.getAttribute('data-postid'), postURL = t.getAttribute('data-disqus-url');
document.querySelector('#disqus_thread') && document.querySelector('#disqus_thread').remove();
if( t.closest('.article__shares') ) { let postWrap = document.querySelector('.mobile-post-wrapper'); postWrap.appendChild(disqusCt); } else { let afterEl = t.closest('.widget'); if(afterEl){afterEl.parentNode.insertBefore(disqusCt, afterEl.nextElementSibling);} }
console.log('DISQUS.reset', postId, postURL); DISQUS.reset({ reload: true, config: function () { this.page.identifier = postId; this.page.url = postURL; } });
if( t.classList.contains('js--toggleDisqus') ) { let disqus = document.getElementById("disqus_thread"); // disqus.scrollIntoView(); } },timeOut) }); });
// Hide hidden tip-jar, idk why window.REBELMOUSE_STDLIB.createElementChangeListener(".js-keep-reading:not(.js-processed)", (el) => { let keepReading = el; keepReading.classList.add('js-processed'); //keepReading.closest('.mb-2').nextElementSibling.style.display='none'; });
});



Supply hyperlink