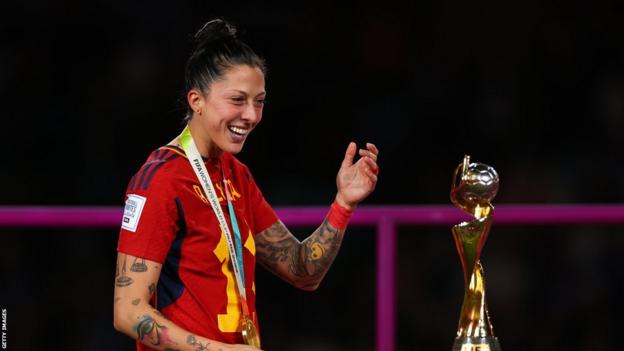 Jenni Hermoso said she "received threats" amid the controversy of Luis Rubiales kissing her on the lips during the World Cup trophy presentation.
The kiss, which Hermoso says was not consensual, occurred after the Spain forward helped her country beat England in the final in August.
The incident sparked outcry and Rubiales eventually resigned as Spanish football federation (RFEF) president.
"These weeks have been very difficult," Hermoso told GQ magazine in Spain.
"Having to tell it over and over again was hurting me a lot. But I know I had to let it go somehow.
"I continue working on it with the help of my psychologist, who I have been with for many years.
"For me, mental health is as important as daily training and the hours I have to sleep to be able to go out on the field. Thanks to her I feel strong and I'm not shattered or thinking about not wanting to play football anymore. I have not lost my enthusiasm."
Rubiales was banned from going within 200 metres of Hermoso after she filed a legal complaint.
At a court case in Madrid, the former federation president denied sexually assaulting and coercing Hermoso.
Rubiales has also been banned from all football-related activities for three years by Fifa.
Hermoso added: "I've had to assume the consequences of an act that I did not provoke, that I had not chosen or premeditated.
"I have received threats, and that is something you never get used to."
Spain's World Cup-winning manager Jorge Vilda was sacked in September and is being investigated as part of the criminal case against Rubiales. He has since been appointed manager of the Morocco women's national team.
Montse Tome took over as the new Spain manager and said she left Hermoso out of Nations League fixtures in September to "protect" the player.
The 33-year-old was then named in the squad to face Italy and Switzerland in the Nations League in October.
Hermoso came on as a 68th-minute substitute against Italy and marked her return by scoring an 89th-minute winner.
The actions of Rubiales led to the creation of the hashtag #SeAcabo – which translates as 'It's over' – in support of Hermoso and taking aim at the sexism the incident was seen to embody by some.
Asked how she wanted to be remembered, Hermoso said: "As someone who has wanted to leave Spain at the top but, above all, as someone who has tried to change many attitudes.
"For better or worse, this story exists. I am going to learn to take advantage of it positively to fight for what I believe is good for society. The #SeAcabo movement must bring a new era.
"These last few months, with everything that has happened, my mind has wandered a little from football. At times I didn't remember that I was a footballer. But I go back to training, onto the pitch, put on my kit, and I want to give the best version of myself again."