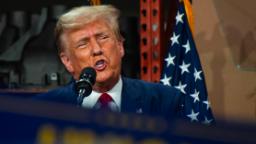 CNN
 — 

Donald Trump said he plans to attend his civil fraud trial in New York next week after recent court orders "materially altered the landscape," according to a judge's order in an unrelated case.
A federal judge in Florida overseeing Trump's lawsuit against his former attorney Michael Cohen laid out Trump's plan in an order granting his request to postpone a deposition in that case because it would conflict with the New York trial set to start on Monday.
US Magistrate Judge Edwin Torres said that Trump "again requested that the Court reschedule his deposition so that he could attend his previously-scheduled New York trial in person. Plaintiff represented that, now that pretrial rulings have been entered in the case that materially altered the landscape, it was imperative that he attend his New York trial in person—at least for each day of the first week of trial when many strategy judgments had to be made."
But asked by reporters in Los Angeles Friday night whether he was going to the Monday trial, Trump said, "I may, I may, yeah."
Trump's team is looking into arrangements to have him in New York next week, according to two sources – however, as of Friday night, a trip was not yet confirmed.
Still, US Secret Service met with New York Police Department and court security officials to plan for a potential appearance by Trump at the trial next week, a law enforcement official said.
A law enforcement source told CNN the former president is expected to attend the trial on Monday and Tuesday. Planning for this possible next appearance by the former president would be similar to the plan authorities had in place for Trump's appearance for the indictment by the Manhattan district attorney in April, the official said.
A separate law enforcement source also told CNN that Trump is expected to be in court Monday and Tuesday.
Trump's attorneys in the New York civil case did not respond to a request for comment on whether he is going to attend the trial in person.
This week, the judge overseeing the New York case, Arthur Engoron, dealt Trump a major blow in defending against the $250 million lawsuit. The judge ruled that Trump is liable for fraud and overvalued his properties on his financial statements for a decade. He also ordered that business certificates for some Trump entities be canceled and has given his attorneys 30 days to come up with a plan.
At trial, New York Attorney General Letitia James no longer needs to establish that the financial statements are false. She is seeking to prove that Trump, his eldest sons, the Trump Organization, and some of its employees conspired to falsify business records, issue false financial statements, and engage in insurance fraud. She is asking the judge to ban the Trumps from serving as officers of companies in New York state and prevent them from engaging in business deals in the state for five years.
Trump is on the witness lists for both the state and his own legal team. His lawyer has said he is eager to testify in his own defense.
Engoron rejected Trump's legal arguments concerning how they valued their properties, writing in the order this week that Trump lives in a "fantasy world."
Earlier this week, a spokesman for the New York court administration told CNN that they were beefing up security at the courthouse around judges.
Trump did not attend his civil sexual assault and defamation trial brought by E. Jean Carroll earlier this year. A jury found him liable for sexual abuse and defamation and awarded Carroll $5 million. Trump is appealing.