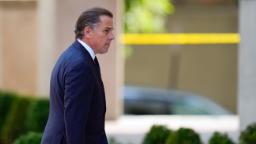 CNN
 — 

Attorneys for Hunter Biden have filed a civil lawsuit against former Trump White House aide Garrett Ziegler, alleging illegal hacking in violation of federal computer privacy laws.
The suit, filed in federal court in California, accuses Ziegler of "accessing, tampering with, manipulation, altering, copying and damaging computer data that they do not own and that they claim to have obtained from hacking into Plaintiff's iPhone data and from scouring a copy of the hard drive of what they claim to be Plaintiff's 'laptop' computer."
Ziegler worked in the Trump White House from February 2019 until January 2021 as a policy analyst and later in the Office of Trade and Manufacturing Policy under the supervision of former Trump trade adviser Peter Navarro.
The lawsuit is part of a more aggressive strategy Hunter Biden's team is taking against his detractors. As part of this strategy, Hunter Biden, President Joe Biden's son, has added attorney Abbe Lowell to his defense team. Lowell has since fired off letters demanding investigations into Hunter Biden's opponents, filed a federal lawsuit in his defense and been involved in a child support dispute.
The suit alleges that since leaving his White House post, Ziegler "has devoted most of his waking time and energy" on the effort to access devices that purportedly belonged to Hunter Biden.
"Within the last two weeks, Defendant Ziegler went so far as to declare on social media that efforts by Plaintiff to serve him with legal process in the future would [sic] met with violence," the lawsuit said.
CNN has reached out to an attorney for Ziegler.
Earlier this year, Hunter Biden's team called on the Justice Department to open a criminal probe into Ziegler and others who distributed the contents of the laptop.