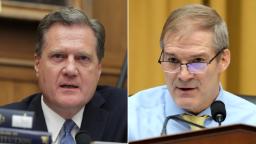 CNN
 — 

Two Republican committee chairs are demanding the Central Intelligence Agency turn over a series of documents from an investigation related to the president's son Hunter Biden.
In a letter sent to CIA Director William Burns Tuesday, Reps. Jim Jordan and Mike Turner, the chairmen of the House Judiciary and Intelligence committees, called on the agency to hand in documents related to their probe into a 2020 public statement from former intelligence community officials that questioned whether a laptop with Hunter Biden emails and documents was part of a Russian disinformation operation.
Jordan and Turner wrote that if the CIA does not comply with the request by May 30, "the Committees may resort to compulsory process."
Their latest letter comes after House Judiciary Republicans released a new, 65-page interim report last week claiming that one of the letter's signers told committee investigators that a staff member at the CIA asked him about signing onto the effort.
House Republicans argue that the finding, if accurate, "raises fundamental concerns about the role of the CIA in helping to falsely discredit allegations about the Biden family in the weeks before the 2020 presidential election."
When asked about the allegation in the report, a CIA spokesperson previously told CNN that "the role of CIA's Pre-Publication Review Board (PCRB) is to review materials submitted by current and former officers to determine if the materials contain any classified information."
The October 2020 letter, which serves as the basis for House Republicans investigation, stated that the appearance of the Hunter Biden laptop story on the political scene had "all the classic earmarks of a Russian information operation."
Though the former officials acknowledged in their public letter that they did "not have evidence of Russian involvement," Republicans have argued that the letter helped discredit the laptop story just before the election in support of Joe Biden's presidential campaign.
Jordan and Turner wrote that the documents they are requesting are imperative to their investigation and laid out a series of potential legislative reforms that the committees may propose as a result of their probe.
Those potential measures include restrictions on how federal employees with security clearances may use their clearances or access classified information following their departure from government. The chairmen said they may also consider legislative proposals that would prevent US intelligence agencies from "engaging in, coordinating, or promoting any political activity related to federal elections, including candidates for federal office, as well as strengthening or amending the Hatch Act."
"The information we have requested regarding the CIA's involvement with the public statement is necessary to help inform this potential legislation," the chairmen wrote.