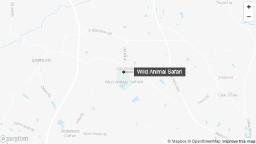 CNN
 — 

A tiger is missing inside a Georgia safari park after severe weather left trees and power lines down in the area on Sunday morning, police said.
In a Sunday morning Facebook post, the Troup County Sheriff's Office said they received a report of a tiger "unaccounted" for inside the Wild Animal Safari park in Pine Mountain, Georgia.
CNN has reached out to the safari park following the sheriff's Facebook post.
The park announced that it was closed for Sunday on Facebook. "We have sustained damage at the park and will not be open today," the post said. "We are working diligently to keep our team and animals safe and will update with more news as it is available."
Wild Animal Safari is a drive-through park which is home to over 75 species of animals on 250 acres, its website says. Tigers are included in the park's "walkabout" section, where guests can observe animals in a more zoo-like environment, the website says.
Troup County authorities received reports of trees and power lines down after severe weather hit the area, the sheriff's office said in a Facebook post Sunday morning. The county is located about 70 miles southwest of Atlanta.
"We are receiving MULTIPLE reports of trees down, damage on houses and power lines down," the agency wrote. "If you do not have to get on the roads this morning please do not travel."
The storm came after a tornado watch was issued for parts of Georgia, including southeastern Troup County.