Arsenal manager Jonas Eidevall questioned whether VAR decisions and a lack of goal-line technology cost his side in their Champions League defeat at Bayern Munich.
The Gunners were beaten by Lea Schuller's first-half header at the Allianz Arena, before they twice saw efforts of their own cleared off the line by the hosts – though Eidevall questioned whether one or both may have crossed the goal line and denied his team in their quarter-final first leg.
"Goal-line technology is something that you can use at any stage, but it is not compulsory," he said. "Today it was not in use because Bayern choose not to pay for it.
"Next week at the Emirates, Arsenal have choose to use it, because we think it is fair for the competition. It is a problem for the competition that not every game has the same level of technology."
VAR reviewed an early handball call in the Bayern area after a Caitlin Foord shot was blocked but saw no need to intervene, before disagreeing with Eidevall's vociferous calls for a penalty after he believed Rafaelle's shirt was pulled in the opposition box.
"Part of me is proud, part of me is disappointed we can't be more clinical with our chances," he added. "Part of me is angry because obviously VAR was not working in the Allianz Arena tonight. It must be someone sitting there not looking at the pictures.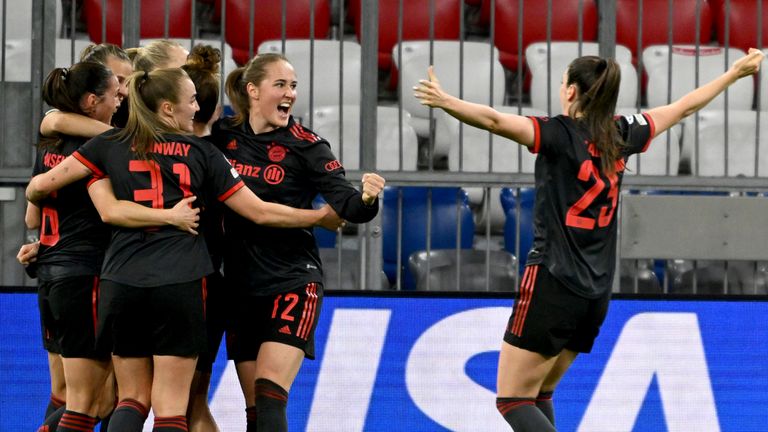 "Because it is clear and obvious those two penalty situations. I think that is unacceptable. There is a pull of a shirt and that handball situation in the first half. I also think that one is clear.
"When we look at this competition, tonight highlights a couple of issues. VAR is only introduced in the quarter-finals, with referees that I don't know if they have used VAR before tonight. I don't know."
Arsenal now need to win by two clear goals to progress at the Emirates next week, or beat Bayern by a single goal to take the tie to extra-time and avoid crashing out at the quarter-final stage for the fourth time in a row.
After a positive performance in Munich, where the Gunners dominated for long periods and also saw a Foord effort rebound clear off the woodwork, Eidevall was confident about their chances of reaching the semi-finals.
"We need to score at least one next week," Eidevall joked when asked what his side need to do to progress. "But we need to still manage their threats. They are a very good counter-attacking team.
"But you need to be brave on the ball and push them into their own half. If we can continue to do that and do that in front of our own fans at the Emirates, I think we have a good chance (of progressing)."