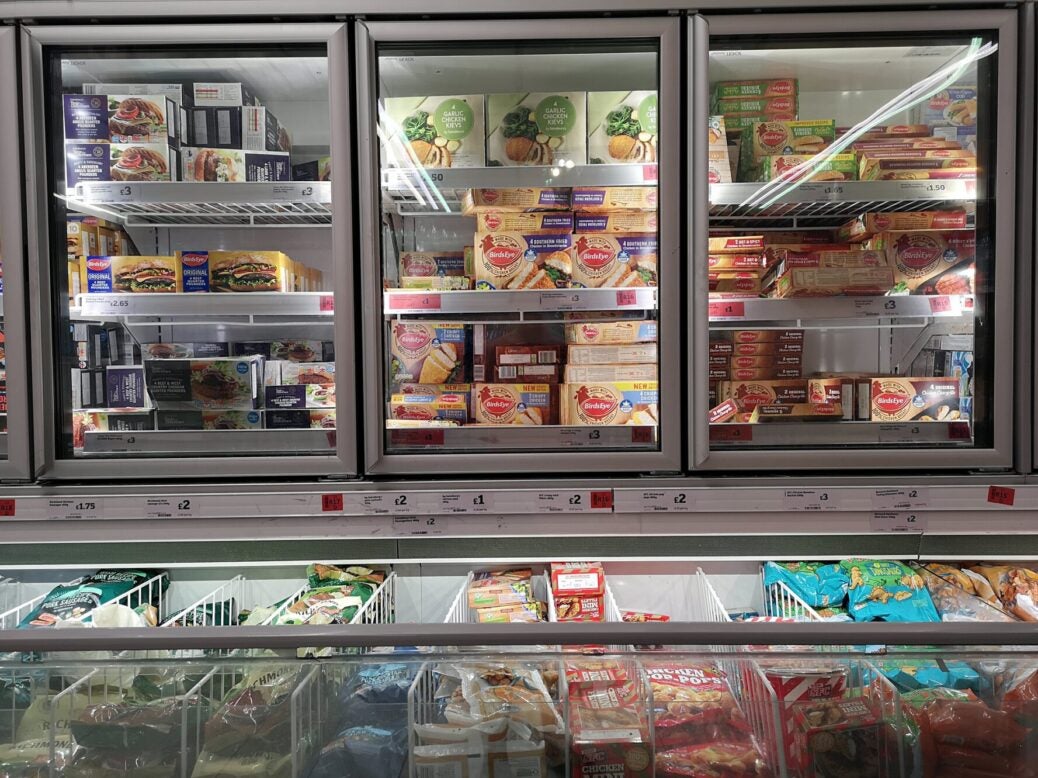 Manufacturers, distributors, retailers and industry watchers all agree that the conditions are ripe for the UK frozen-food category to soar.
Speakers at The British Frozen Food Federation (BFFF)'s Conference 2022, held in Stratford-upon-Avon in the English Midlands this week, highlighted why the time is now for the category.
But their enthusiasm has not yet been fully matched by consumers.
Frozen food may be cheaper, more sustainable, convenient and have a longer shelf life than its chilled counterparts but there is still a perception it is of inferior quality.
Pandemic sales boost
The UK frozen-food category received a sales boost during the depths of Covid-19 when stockpiling for the future became a factor but those elevated sales have since returned to pre-pandemic levels.
Can the current cost-of-living crisis elevate them again?
In his introduction to the day's talks, BFFF CEO Rupert Ashby said: "The conference focus is on 'The Future of Frozen', a discussion that could not come at a better time.
"The industry on one side of the coin is facing unprecedented challenges including disruption of supply chains, rising fuel costs, new legislation, and labour shortages. However, the flip side sees great opportunities with recent increased use of frozen food by consumers, quality products at reasonable prices as people deal with the cost-of-living crisis and as a serious solution to the ever-increasing amounts of food waste seen in this country."
David Wright, a marketing effectiveness specialist at market research firm IRI, said: "Frozen has so many qualities that make it the perfect category.
"It is cheaper than fresh and it is sustainable – the secret weapon to tackle food waste."
But he also presented the audience with a reality check. "A barrier to frozen food is the perception of quality. It is also [situated in] a cold aisle, it is difficult to see the product and there is a lack of freezer space in homes," he said.
"The long-predicted renaissance for frozen food has not materialised. In the 12 weeks to August 2022, everything apart from ice cream has come back down to pre-pandemic levels."
However, Wright suggested the outlook could still be positive for frozen food in the UK.
"Another prolonged stage of the cost-of-living crisis and things may change. We can expect to see shoppers making changes to their shopping habits," he said.
"Frozen is a simple way for consumers to get more out of their squeezed wallet. And 55% of consumers are planning to reduce their spend in hospitality and foodservice."
However, a fall-off in foodservice is something of a double-edged sword for the category as it is a key channel for UK frozen-food manufacturers.
Income squeeze could help UK frozen food
Blonnie Whist, insight director at research company Lumina Intelligence, suggested the current pressure on household expenditure is the highest of current risks.
"Consumer confidence is at its lowest point since the 1970s," she said.
But Shaun Smith, UK sales director at Birds Eye, owned by Nomad Foods – Europe's largest frozen food manufacturer – suggested this could play into the category's hands.
He quoted research that showed for every 1% that consumer confidence decreases, the UK frozen-food category grows between 0.25% and 0.5%.
"Both strugglers and the cautious switch to frozen food," he said. "We believe now is the time for frozen food. There has never been a better time to capture the opportunity but we will have to work really hard [to do it].
"The category is bought by 99.3% of the UK population at least once a year. The shopper is engaged with the category. There is an opportunity to convert light buyers to medium and medium to heavy.
"Covid was a catalyst for re-assessment of the category and there was 68% growth in freezer sales last year.
"One in two households expect their financial situation to worsen by the end of 2022. Eating out won't recover until 2024-25."
Simon Stenning, from industry advisory firm Future Foodservice, said: "We are going to see the impact of the cost-of-living crisis and some closures of loss-making operations.
"Disposable income is going to be squeezed. That slows down growth. But it's not all doom and gloom. We forecast 250 indoor food markets in the UK over the next few years and we are seeing the return of the food court. Generation Z is creating change in the industry."
Stenning suggested casual-dining outlets are suffering the most, with fast-food operations and "premiumised, experiential" dining doing better.
"The next era will be about looking for products that are better for us but which will still need to wow," he said.
He added longer-term factors such as population growth, greater urbanisation and increased tourism will also benefit the UK foodservice channel.
Andrew Selley, CEO of foodservice channel distributor Bidfood, is starting to see change happening in the industry as a result of external pressures. He said: "In terms of frozen there are now 35% tariffs on all fish imported under Russian origin, for example.
"People are switching to other proteins as prices go up. We will certainly see more of that.
"And on the back of higher input costs, many manufacturers are reducing SKUs.
"We think some of these things [inflationary pressures] are tailing off but things like potatoes are only starting their inflationary journey so there will still be significant pressure for the next 12 months."
Fighting food waste
Selley argued that the food waste issue is an area where frozen food could prosper in the UK.
"One in seven people across the world are going hungry but, in developed countries, we throw away a third of our food," he said.
"By 2050 we will need 56% more food to feed the world's growing population and yet climate change has lowered agricultural yields.
"Seventy per cent of food waste is household. There has got to be a role for frozen food to reduce that."
More generally, Selley said wholesale distributors are concentrating on managing inflation while also dealing with increased data, regulations and certifications.
"We are encouraging clients to be more agile and flexible and frozen food plays a large part in that," he said.
"Longer shelf-life gives protection against availability issues, enabling chefs to adapt menus. There is minimal waste and higher yields."
Ian Pogson, senior national account manager at challenger frozen-food business Strong Roots, which sells plant-based lines in the UK, points out such products can also make the category attractive to younger consumers.
He suggested convenience and health are key purchasing factors for the "pre-family shopper".
He said: "Health is particularly important, the planet's health as well as ours.
"Everything we do is completely plant-based with 100% natural ingredients and minimal processing
"As consumers get more educated, they are starting to scrutinise what goes into some of these [plant-based] products and we think we are quite well protected from that perspective.
"The pre-family shopper also buys into a gluten-free diet and 70% of our range is certified gluten-free."
The final word should perhaps go to the country's largest grocer, Tesco, which also suggested it is convinced of frozen's potential.
Tom Lye, the supermarket group's prepared foods category director, told the conference: "There is not a lot to not like about frozen food but how do we communicate that to consumers?
"The perception is that it's lower quality, unfairly, because it hasn't spent time degrading in a chilled supply chain.
"There's a load of growth out there for frozen."
Just Food analysis, March 2022: Covid-19 two years on – frozen food seeks boost from cost-of-living crunch