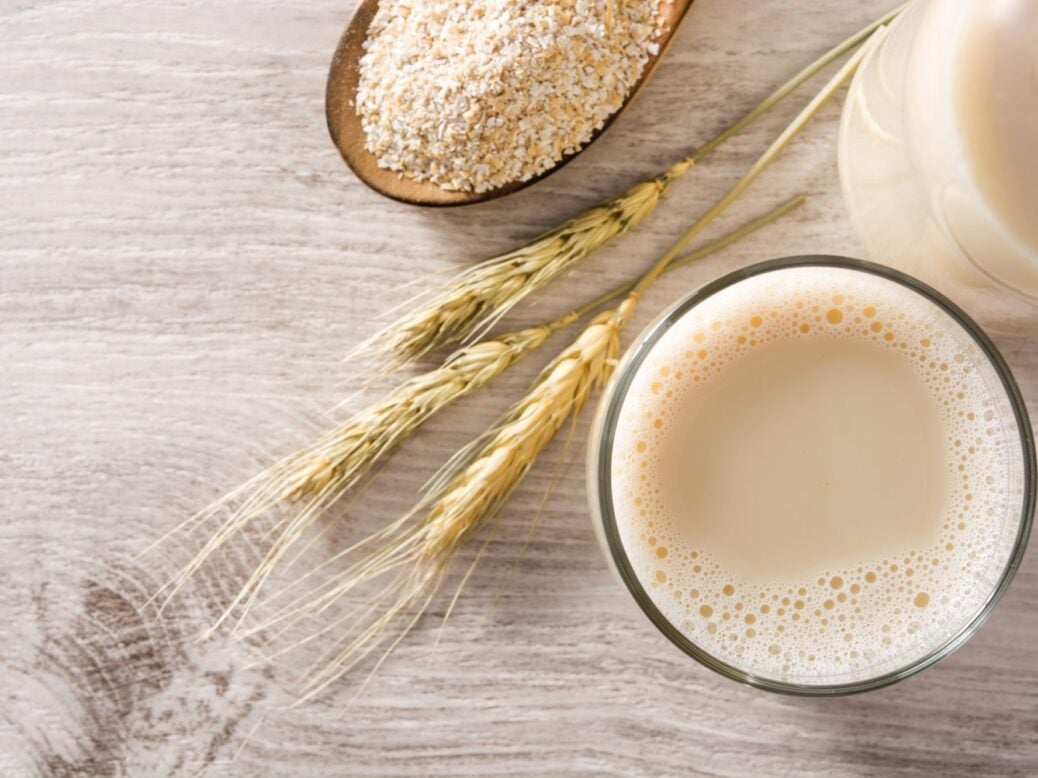 A blip has emerged across the milk-alternative landscape – rising food costs – in what is otherwise a rosy near-term outlook. But how far can the growth trajectory stretch?
With price a key consumer consideration in these difficult times, and more so with the risk of recession, premium products such as oat- and almond-based milk drinks are likely to suffer, and there are signs they are. And a narrowing cost gap with cow's'milk may not be enough to fend off a short-term decline.
Sweden's Oatly, which analysts suggest is chasing market share and dominance at the expense of profit, recently implied that converting "consumers from dairy to plant-based milk is taking longer" than expected. Hain Celestial has also said demand dropped "significantly" in Europe in the three months through June after three quarters of mid- to high-single-digit growth.
Price increases don't help the narrative but food manufacturers in most, if not all categories, are faced with the same dilemma to ward off inflationary pressures on margins. Dairy milk prices are rising in Europe, too, due to a decline in output amid higher fertiliser, feed and energy inputs, which may or may not benefit alternatives.
Nevertheless, beyond the current dynamics, the category has grown market share in recent years, despite a pandemic-related disruption in 2020 as the foodservice channel shut down. And considerations around health and well-being, the environment and animal welfare, lactose intolerance or even just curiosity, are likely to continue to drive demand for milk alternatives.
"This is something new and something growing," Kaumil Gajrawala, a managing director for beverages at Swiss investment bank Credit Suisse, tells Just Food, pointing to an interesting observation.
"One thing that you have to be careful of, in many instances oatmilk is bringing entirely new people into the category. So while it looks like a market-share gain, there might be somebody who doesn't really consume a lot of dairy who would be willing to consume oat milk."
Research and analytics firm GlobalData, which separates grain, rice and seed-based milk from soy-based drinks in its analysis and forecasts, predicts the former will gain more than two percentage points in market share this year, while the latter will see a decline of a similar magnitude.
Its assumptions are likely based on restaurants, coffee shops and other foodservice outlets returning to business post-pandemic, implying an extension of last year's recovery from the downside in 2020. And, in the case of soy milk observers suggest, dwindling appetite in favour of oat.
Milk alternatives are a US$3bn category in the US, estimates John Baumgartner, a US-based managing director at Japanese investment bank Mizuho Securities. But he judges recent volumes to be down around 1-1.5% on pricing in the range of 13-14%, so you're bound to "see some elasticity there".
Nonetheless, he says it's a category that's "growing globally", commanding a 10% volume share of the milk segment in Spain, 10% in the Netherlands, 7% in Germany and 5% in the UK.
"When you've got beverages, especially oat milk, which has more of a consistency [similar] to cow's milk, you can drink it out of a glass, you can use it as a coffee creamer, a breakfast cereal or as a cooking ingredient. You've got different ways to use this category as a consumer," Baumgartner explains. "We think there are many years of growth ahead."
Milk-alternative companies such as Oatly have been building a presence in restaurants and coffee outlets as a testing ground to familiarise consumers and win converts. It's a strategy Credit Suisse's Gajrawala says hopefully pays off in retail as well, and one that is employed by the drinks trade too.
"A common view of alcoholic beverages is that brands are created on premise. If you're going to launch a new vodka or tequila or whatever it is, you do it in the bars and restaurants, then eventually people have it at home. Oat milk, in many ways, has been doing that in the coffee shops, and now it's becoming more relevant at home," he suggests.
Market-share gains for the category can be misleading, ranging from half a percentage point in 2019 to just over a full point in 2021. But in the context of the total dairy milk values, where estimates fall into the $220bn to $280bn area (GlobalData and Germany's Statista), the inroads are substantial.
"If you think about dairy alternatives taking share from traditional dairy, one [percentage] point is a significant amount of dollars. There'll be oscillations in terms of speed of conversion but I do think it will continue to grind away share over time," Gajrawala says.
Grind away might be appropriate terminology as despite a forecast 2.3 percentage-points jump this year – if that materialises – market share growth looks set to peak in the coming years. Gajrawala tentatively suggests milk alternatives could command 25% at some point but beyond that the outlook is uncertain.
Richard Scheper, a dairy analyst at Dutch investment bank Rabobank, suggests growth in milk alternatives has eased to a single-digit pace: "It's not double-digit growth figures anymore," he says.
However, the price differential, if it normalises and continues to narrow, might be a benefit for the category, especially if it gets near an equal footing with cow's milk.
"This market is becoming more and more mature because over the past two years we have seen quite a lot of introductions by the traditional dairy companies and the cooperatives," Scheper contends.
"We don't believe that it will replace liquid milk but they might take some of the growth, but I think they can coexist. By 2030, the consumer will have much more options to pick from – traditional dairy products, the alternatives, plant-based and perhaps hybrid products in between."
Baumgartner tells a similar story, also suggesting choice around the 'milk' case will play a key part, particularly as consumers baton down the hatches to preserve food budgets during the cost-of-living crunch.
He provides what he coins the "psychological perspective" through the lens of dairy milk, organic varieties and alternatives.
"Organic milk is very well developed, it's over 10% of the category and sells at a price premium to conventional milk. Milk alternatives tend to be a mid-price product, it's more expensive than regular cow's milk but it's less expensive relative to organic milk. So if you're a consumer on the shelf, you're saying, 'this is more expensive than regular cow's milk, but it's cheaper than organic.'"
Echoing Scheper's view, he adds: "I don't think it'll ever overtake dairy but the dairy market is so big. Just getting a one percent share in the market is pretty good growth for this category. I don't think it's saturated yet because of your household penetration."
Oat-based milk alternatives, and to a lesser degree almonds, seem to be the direction the market is taking to the detriment of the long-standing stalwart soy, often avoided because of its pronounced taste.
Oats are proving successful because of familiarity, with people consuming the grain for breakfast, in snack bars or in recipes, Baumgartner says, painting a similar picture for almonds.
Cashew milks were the first in the US to have "more of a mouthfeel, more of a thicker consistency closer to dairy milk", he says, admitting some varieties will fall by the wayside.
"I think there's going to be some brands that just don't scale. In the US, we have things like macadamia milk and obviously macadamias are one of the highest priced nuts out there and that shows in the price of the product. I think there's a certain variety of plant-based beverages that are going to remain niche over time," Baumgartner adds.
Gajrawala shares a similar view, proposing soy- and almond-based alternatives are already in decline.
"Oat milk's success has come from bringing new people into the category, converting people from dairy. But also at a much more substantial clip, taking from other alternative dairy, which is why the overall category doesn't look like it's getting kind of huge amounts of share," he suggests.
"Because within it, we're watching almond fall off, we're watching soy fall off and we're watching all the oat milk take it."
Jason Kerr, a co-founder of alternative-drinks business Fuel10K in the UK, agrees that oats and almonds will lead the category, although he is also concerned about the rising price of oats on the UK market in the current environment as demand outweighs supply.
"We've come from soya, and soy had a particular flavour to it. Then you've got pea milks and some of those others. But almond and oat are really palatable alternatives to dairy and I think that's where the growth is going to be," Kerr says, adding the market has developed considerably from the soy products of 15 to 20 years ago that were quite "medicinal in terms of look and feel".
Rebecca Rayner, who runs oat, almond and soy drinks business Glebe Farm with her brother Philip, also says oats are taking over on the demand side. But the UK business, with a turnover of around GBP12m (US$13.9m), isn't out to compete with regular cow's milk.
"Dairy milk is still cheaper than water to buy in a bottle so it [alternatives] will never be the same pricing. Intolerances, the allergens, health and the carbon footprint, that's what people are looking at," she says.
However, Glebe Farm faces its own challenges around price: "We're steadily increasing, we're doing well, but of course, this year has been a little bit expensive, for example electricity and wages. Everything has gone up, so the profitability will not be so exciting this year," Rayner explains.
Rabobank's Scheper says more of the "larger" food companies might intervene, providing weight and financial resources, and impetus to category growth. Rayner, for instance, said Glebe Farm hasn't been approached by a buyer but has had interest from "B2B" for private label.
Scheper uses the example of France's Danone buying Alpro, where "they have the expertise to scale it up, make the production process more efficient and product development".
He adds: "Like with all start-ups, you need an accelerator or a game changer. That is where some of the smaller brands might be challenged now. Some of the larger food companies might, for example, step in, consolidating the total market and then applying economies of scale. That could basically bring it into the next phase."
Oatly, for instance, is backed by New York investor Blackstone Group, but the business is still loss-making. However, in his recent results commentary, CEO Toni Petersson said demand for plant-based dairy is still "very sticky".
Gajrawala provided some insight: "What they're doing is building a competitive advantage to say, okay, we have capital, and we are building facilities to be able to supply a much larger audience than our competitors will be able to do. Once we have done that, we should have the ability to throttle back and deliver a profit."
And he suggests the publicly-listed business is capable of doing that: "If they want to make a little bit of money today, they could by throttling back. But if you want to make a lot of money in the future, you've got to build this competitive moat, and they're in the process of building that moat."
Like Scheper, Gajrawala proposes there will be consolidation in the alternative-milk category, describing Oatly as a "flag bearer".
"You usually need a brand to lead these trends. Years ago, it started with almond and soy, etc. There were a few brands, and now, as oat is starting to take share from other alternatives, you've got another brand doing it with Oatly.
"When you think about consumer products, overtime there ends up being two major players, and then a distant third, and then a long tail. And that will probably be the case here as well."