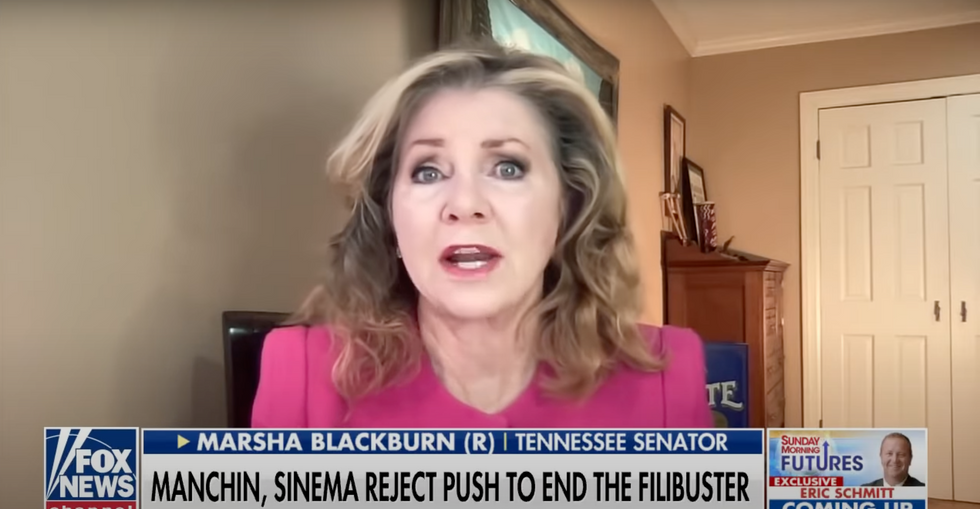 GOP Senator Marsha Blackburn, who's about as good as a bag of hair, became up on Maria Bartiromo's display Sunday to rely all of the techniques President Joe Biden sucks. She claimed he's already turn out to be a lame duck, pummeled mercilessly by way of the Preferrred Courtroom, the Republican Birthday celebration and its interns, Joe Manchin and Kyrsten Sinema. If that's true, Republicans will have to simply relax on a seaside someplace and let Biden proceed strolling into rakes till the midterms. Then again, Blackburn additionally believes all excellent American citizens will have to ACT NOW to prevent Biden's feckless reign of terror.
We will have to be aware that throughout the leadup to the 2018 midterms, Democrats centered particularly on how successfully terrible Donald Trump's first 12 months in administrative center used to be. That looked like a extra constant message, however Republicans are obsessive about portray Biden as Jimmy Carter 2.0.
Alas, Deficient Biden! Fox Information So Unhappy 'Battered' Biden Making Them (Check out To) Hit Him Once more
---
Blackburn unfold some vile lies about Democrats' proposed balloting rights law and took a while to thank the Senate's maximum unnecessary Democrat, Kyrsten Sinema, for holding the expenses from passing. Blackburn did not condemn Sinema for supposedly backing the very expenses she thinks are an unconstitutional power-grab. She is aware of Sinema's improve of the filibuster kills balloting rights regardless.
Bartiromo and Blackburn later entertained the absurd perception that the MAGA dying cult would welcome Sinema. Blackburn claimed she's at all times thankful for "commonplace sense Democrats." Then again, she does have sufficient pleasure in her craft to consider Republicans shouldn't let Sinema and Joe Manchin fuck up Biden's time table all by way of themselves.
BLACKBURN: We as Republicans can't rely on Manchin and Sinema to do our jobs. We want to be available in the market speaking our message.
Wait, dangle up, Republicans have a message? They didn't have a platform in 2020 but even so "Hail Trump," necessarily.
Severely, That Took place: Lacking Republican Conference Platform Is Easiest Metaphor
Blackburn stated American citizens are uninterested with partisan antics. That's most certainly true, however it's additionally all Republicans have to supply. They have got no answers to authentic issues. Blackburn is identical asshole who smeared Biden's plans for common pre-Okay as Soviet-style communism.
The senator from Tennessee painted an image of Biden's The usa that used to be simply as dire because the Soviet Union's grim ultimate days.
BLACKBURN: [Americans] need issues which might be going to make their lives higher.
Yeah, like common pre-Okay, you hack.
BLACKBURN: They're going to the grocer. There's no meals. I went there Friday night time. No lettuce, no celery, no berries, no avocados, at my grocery retailer. Folks need this solved.
That's an oddly particular record. Possibly Blackburn used to be making some fucked-up model of guacamole.
A wintry weather hurricane hit each Washington, DC, and Tennessee this weekend. Southerners at all times lose their rattling minds when it snows greater than an inch and can in an instant select the grocer cabinets blank as though getting ready for Armageddon. Then again, Biden isn't only accountable for the authentic provide chain problems grocers are going through. The Omicron variant, which the GOP helps unfold, and serious climate from local weather alternate, which the GOP ignores, have performed a vital function. California wildfires aren't nice for the ones avocados Blackburn enjoys.
Tennessee GOP Governor Invoice Lee has banned masks mandates, in spite of the Omicron surge, and simply 59 % of Tennesseans are vaccinated. Individuals are too in poor health to paintings, senator. That's why you don't have your goddamn avocados.
[Mediaite]
Apply Stephen Robinson on Twitter.
Do your Amazon buying groceries thru this hyperlink, as a result of causes.
Year Wonkette is 100% ad-free and completely supported by way of reader donations. That is you! Please click on the clickie, if you're ready.
window.REBELMOUSE_LOWEST_TASKS_QUEUE.push(function(){
!function(f,b,e,v,n,t,s) {if(f.fbq)return;n=f.fbq=function(){n.callMethod? n.callMethod.apply(n,arguments):n.queue.push(arguments)}; if(!f._fbq)f._fbq=n;n.push=n;n.loaded=!0;n.version='2.0'; n.queue=[];t=b.createElement(e);t.async=!0; t.src=v;s=b.getElementsByTagName(e)[0]; s.parentNode.insertBefore(t,s)}(window, document,'script', 'https://connect.facebook.net/en_US/fbevents.js'); fbq('init', '482172895483293'); fbq('track', 'PageView');
});
window.REBELMOUSE_LOWEST_TASKS_QUEUE.push(function(){
/*! getClosest.js | (c) 2017 Chris Ferdinandi | MIT License | http://github.com/cferdinandi/getClosest */ /** * Get the closest parent element that matches a selector. * @param {Element} elem Starting element * @param {String} selector Selector to match against * @return Element Returns null if not match found */ var getClosest = function(elem, selector) {
// Element.matches() polyfill if (!Element.prototype.matches) { Element.prototype.matches = Element.prototype.matchesSelector || Element.prototype.mozMatchesSelector || Element.prototype.msMatchesSelector || Element.prototype.oMatchesSelector || Element.prototype.webkitMatchesSelector || function(s) { var matches = (this.document || this.ownerDocument).querySelectorAll(s), i = matches.length; while (--i >= 0 && matches.item(i) !== this) {} return i > -1; }; }
// Get closest match for (; elem && elem !== document; elem = elem.parentNode) { if (elem.matches(selector)) return elem; }
return null;
};
// Vanilla JS
var className="active";
// getting current URL and adding a class on the current menu item
var path = location.pathname.split("https://www.wonkette.com/")[1]; var link = document.querySelectorAll('.menubar a[href="https://www.wonkette.com/" + path + '"]'); if (link[0]) { if (link[0].classList) { link[0].classList.add(className); } else { link[0].className += ' ' + className; } }
// remove class from home-link var home = document.getElementsByClassName('home__item'); if (home[0]) { if (home[0].classList) { home[0].classList.remove(className); } else ') + '(b }
// search the closest parent and adding an active class on it too
var closestParent = getClosest(link[0], '.menubar_item-dropdown');
if (closestParent) { if (closestParent.classList) { closestParent.classList.add(className);
} else { closestParent.className += ' ' + className; } }
var socials = document.getElementsByClassName('social-links')[0]; var cloneSocials = socials.cloneNode(true);
var menu = document.getElementById("menubar"); var cloneMenu = menu.cloneNode(true);
var mobileMenu = document.getElementsByClassName('main-menu-wrapper')[0]; var beforeEl = document.getElementsByClassName('menu-global__search-form')[0];
mobileMenu.insertBefore(cloneSocials, beforeEl); mobileMenu.insertBefore(cloneMenu, beforeEl);
if (!document.body.classList.contains('logged-out-user')) { var existCondition = setInterval(function() { var userLink = document.querySelectorAll('.main-menu-item--my_page .link'); if (userLink.length) { clearInterval(existCondition); var membersLink = document.querySelectorAll('#membersLink'); var userUrl = userLink[0].href; Array.prototype.forEach.call(membersLink, function(el) { el.href = userUrl; });
if (document.querySelector('.main-menu-item--designer_editor')) { document.querySelector('.main-menu-wrapper').classList.add('user-admin'); } } }, 500); } else { var existCondition = setInterval(function() { var userLink = document.querySelector('.main-menu-item--login .link'); if (userLink) { clearInterval(existCondition); userLink.href="http://www.wonkette.com/core/users/email_login/"; } }, 500)
}
function copyValue(el) { var thisVal = el.options[el.selectedIndex].text; var closestForm = getClosest(el, 'form'); var paypalAmount = closestForm.nextSibling.querySelector('.paypal-amount'); paypalAmount.value = thisVal; }
document.addEventListener("scroll", createIdleScrollListener(() => { if (window.scrollY > 0) { document.body.classList.add('page-scrolled'); } else { document.body.classList.remove('page-scrolled'); } }));
function createIdleScrollListener(callback) { let ticking = false;
return function onScrollIdle() { if (ticking) { return; } ticking = true; requestAnimationFrame(() => { callback(); ticking = false; }); }; }
});
window.REBELMOUSE_LOWEST_TASKS_QUEUE.push(function(){
(function () { var scriptURL = 'https://sdks.shopifycdn.com/buy-button/latest/buy-button-storefront.min.js'; if (window.ShopifyBuy) { if (window.ShopifyBuy.UI) { ShopifyBuyInit(); } else { loadScript(); } } else { loadScript(); }
function loadScript() document.getElementsByTagName('body')[0]).appendChild(script); script.onload = ShopifyBuyInit;
function ShopifyBuyInit() { var client = ShopifyBuy.buildClient({ domain: 'wonkette-bazaar.myshopify.com', storefrontAccessToken: 'ed4ae4c7827a0ad6e2f0877e72007d6a', });
ShopifyBuy.UI.onReady(client).then(function (ui) { ui.createComponent('collection', { id: 79186919536, node: document.getElementById('collection-component-0908d7149de'), moneyFormat: '%24%7B%7Bamount%7D%7D', options: { "product": { "variantId": "all", "contents": { "imgWithCarousel": false, "variantTitle": false, "description": false, "buttonWithQuantity": false, "quantity": false }, "styles": { "product": { "@media (min-width: 601px)": { "max-width": "calc(25% - 20px)", "margin-left": "20px", "margin-bottom": "50px" } }, "button": { "background-color": "#c21f38", ":hover": { "background-color": "#af1c32" }, ":focus": { "background-color": "#af1c32" } } } }, "cart": { "contents": { "button": true }, "styles": { "button": { "background-color": "#c21f38", ":hover": { "background-color": "#af1c32" }, ":focus": { "background-color": "#af1c32" } }, "footer": { "background-color": "#ffffff" } } }, "modalProduct": { "contents": { "img": false, "imgWithCarousel": true, "variantTitle": false, "buttonWithQuantity": true, "button": false, "quantity": false }, "styles": { "product": { "@media (min-width: 601px)": { "max-width": "100%", "margin-left": "0px", "margin-bottom": "0px" } }, "button": { "background-color": "#c21f38", ":hover": { "background-color": "#af1c32" }, ":focus": { "background-color": "#af1c32" } } } }, "toggle": { "styles": { "toggle": { "background-color": "#c21f38", ":hover": { "background-color": "#af1c32" }, ":focus": { "background-color": "#af1c32" } } } }, "productSet": { "styles": { "products": { "@media (min-width: 601px)": { "margin-left": "-20px" } } } } } }); }); } })();
});
window.REBELMOUSE_LOWEST_TASKS_QUEUE.push(function(){
window.REBELMOUSE_STDLIB.loadExternalScript("https://checkout.stripe.com/checkout.js", function() {
if (!Element.prototype.matches) Element.prototype.matches = Element.prototype.msMatchesSelector || Element.prototype.webkitMatchesSelector;
if (!Element.prototype.closest) Element.prototype.closest = function(s) { var el = this; if (!document.documentElement.contains(el)) return null; do while (el !== null && el.nodeType === 1); return null; };
function formsHandling() { var formDonate = document.querySelectorAll('.donation-form:not(.processed)');
formDonate.forEach(function(formEl) { var formEl = formEl;
formEl.classList.add("processed");
formEl.addEventListener("submit", function(event) { event.preventDefault(); });
var donationBtns = formEl.querySelectorAll('.donate-button');
donationBtns.forEach(function(el) { el.addEventListener("click", function(event) { event.preventDefault(); formProcessing(el) }); });
function formProcessing(el) { var btn = el; var payment = btn.getAttribute('data-payment'); var planType = formEl.querySelector('input[name="plan_type"]:checked').value; var checkedOption = formEl.querySelector('input[name="amount"]:checked'); var amount = checkedOption.value * 1; var amountOptional = checkedOption.getAttribute('data-amount'); var dataValue = checkedOption.getAttribute('data-value'); var action;
if ( formEl.contains(formEl.querySelector('.remove-me')) ) { formEl.querySelectorAll('.remove-me').forEach(function(el){ el.remove() }); }
if ( payment == "paypal" ) { formEl.action = "https://www.paypal.com/cgi-bin/webscr"; formEl.setAttribute('target', '_blank');
addHidden( 'currency_code', 'USD'); addHidden( 'cmd', ''); addHidden( 'return', "https://www.wonkette.com/st/Wonkettes_Hero"); addHidden( 'cancel_return', window.location.href);
if ( planType == "once" ) { checkedOption.value = dataValue; formEl.querySelector('input[name="cmd"]').value="_donations"; addHidden( 'business', 'rebecca@wonkette.com'); addHidden( 'item_name', 'Wonkette Donation'); addHidden( 'item_number', 'Just Once');
//add new params addHidden( 'a3', dataValue); addHidden( 'p3', 1); addHidden( 't3', 'D');
} else if ( planType == "monthly" ) { formEl.querySelector('input[name="cmd"]').value="_xclick-subscriptions"; addHidden( 'business', 'rebecca@wonkette.com'); addHidden( 'item_name', 'Wonkette Recurring Donation'); addHidden( 'item_number', 'wonkette_recurring');
//add new params addHidden( 'a3', dataValue); addHidden( 'p3', 1); addHidden( 't3', 'M'); addHidden( 'src', 1); addHidden( 'srt', 52); } formEl.submit(); } else if ( payment == "strip" ) { addHidden( 'entity_type', 1); addHidden( 'plan_type', 1); addHidden('entity_id', getSiteId() ); checkedOption.value = dataValue * 100;
if ( planType == "once" ) { formEl.action = "/core/payment/single_donation"; addHidden( 'plan_name', 'One Time Donation'); stripInit(amount, 'One Time Donation');
} else if ( planType == "monthly" ) { formEl.action = "/core/payment/recurring_donation"; addHidden( 'plan_name', 'Monthly Donation'); addHidden( 'plan', 'donation_' + amount); stripInit(amount, 'Monthly Donation'); }
}
} function addHidden(key, value) { // Create a hidden input element, and append it to the form: var input = document.createElement('input'); input.type="hidden"; input.name = key; input.value = value; input.className += 'remove-me'; formEl.appendChild(input); }
function stripInit(amount, description) { var token = function(res){ addHidden('stripeToken', res.id); addHidden('stripeEmail', res.email); formEl.submit(); };
if (amount) { StripeCheckout.open({ key: 'pk_live_7dJjNGbMgTkHfEasr9FsLcjF', // real //key: 'pk_test_zbMpaIyMyHJ7TLUEheC7q2iS', //test amount: amount, name: 'Wonkette', image: 'https://assets.rbl.ms/16950638/origin.png', description: description, panelLabel: 'Donate', token: token, locale: 'auto' }); } else { window.alert('Select donation amount first') } } });
function getSiteId() { var site_id = null; var inner = document.querySelector('html').innerHTML var str = inner.split('"site_id": '); if( str[1] != undefined ){ site_id = str[1].split(',')[0]; } return !isNaN(site_id) ? site_id : false; } }
formsHandling();
REBELMOUSE_STDLIB.createElementChangeListener(".show-more.js-expand:not(.processed)", (el) => { const keepReading = el; keepReading.classList.add("processed"); keepReading.addEventListener("click", function() { setTimeout(formsHandling, 500) }); });
});
});
window.REBELMOUSE_LOWEST_TASKS_QUEUE.push(function(){
window.disqus_config = function () { this.page.identifier = "2656420448", this.page.url = "https://www.wonkette.com/marsha-blackburn-whar-food-in-grocery-store"; };
var disqusCt = document.createElement('div'), disqus_config; disqusCt.id = 'disqus_thread';
(function() d.body).appendChild(s); )();
function loadCountScript(callback) { var s = document.createElement('script'); s.type="text/javascript"; s.async = true; s.id = 'dsq-count-scr'; s.src = "//wonkettecom.disqus.com/count.js"; var x = document.getElementsByTagName('script')[0]; x.parentNode.insertBefore(s, x); s.onload = () => callback(s); document.head.append(s); }
loadCountScript(script => { /*Add comment Button to all articles*/ REBELMOUSE_STDLIB.createElementChangeListener(".share-panel:not(.js--has-comments)", (el) => { let sharesPanel = el; sharesPanel.classList.add('js--has-comments');
if(sharesPanel.closest('.article__shares')) { let postId = window.REBELMOUSE_BOOTSTRAP_DATA.post.id, postURL = location.protocol + '//' + location.host + location.pathname; addButton(postURL, postId, sharesPanel);
} else if( sharesPanel.closest('.widget') ) { let thisPost = sharesPanel.closest('.widget'), postId = thisPost.getAttribute('elid'), postURL = thisPost.querySelector('.widget__headline-text').getAttribute('href'); addButton(postURL, postId, sharesPanel); } }); });
function addButton(url, id, el) { var commentBtn = document.createElement('span'); //commentBtn.href = url; commentBtn.classList.add('js--toggleDisqus'); commentBtn.classList.add('disqus-comment-count'); commentBtn.setAttribute('data-disqus-url', url); commentBtn.setAttribute('data-postid', id); //commentBtn.setAttribute('data-disqus-identifier', id); commentBtn.innerText="0"; el.append(commentBtn); DISQUSWIDGETS.getCount({reset: true}); //console.log(url, id); }
REBELMOUSE_STDLIB.createElementChangeListener(".js--toggleDisqus:not(.js--callDisqus-processed), .show-more:not(.js--callDisqus-processed)", (el) => { console.log('run callDisqus()');
var timeOut=10; if(el.classList.contains("show-more")){ timeOut=1000; } el.classList.add('js--callDisqus-processed') el.addEventListener('click', function (){ setTimeout(function(){ let t = el, thisPost = t.closest('article') || t.closest('.js-section-loader-feature-container'), postId = t.getAttribute('data-postid'), postURL = t.getAttribute('data-disqus-url');
document.querySelector('#disqus_thread') && document.querySelector('#disqus_thread').remove();
if( t.closest('.article__shares') ) { let postWrap = document.querySelector('.mobile-post-wrapper'); postWrap.appendChild(disqusCt); } else { let afterEl = t.closest('.widget'); if(afterEl){afterEl.parentNode.insertBefore(disqusCt, afterEl.nextElementSibling);} }
console.log('DISQUS.reset', postId, postURL); DISQUS.reset({ reload: true, config: function () { this.page.identifier = postId; this.page.url = postURL; } });
if( t.classList.contains('js--toggleDisqus') ) { let disqus = document.getElementById("disqus_thread"); // disqus.scrollIntoView(); } },timeOut) }); });
// Hide hidden tip-jar, idk why window.REBELMOUSE_STDLIB.createElementChangeListener(".js-keep-reading:not(.js-processed)", (el) => { let keepReading = el; keepReading.classList.add('js-processed'); //keepReading.closest('.mb-2').nextElementSibling.style.display='none'; });
});



Supply hyperlink