Gareth Southgate says he has grown "tired" of responding to criticism of his decisions as England manager as he looks to secure one of the top seeds for the Euro 2024 draw.
England face Malta at Wembley on Friday night with Euro 2024 qualification already sewn up but there are other issues that remain outstanding.
While a spot at next summer's finals in Germany was assured with victory over Italy last month, Southgate's side still have something to play for in the game against Malta and the trip to North Macedonia.
Only the top-five best performing nations throughout the qualifying campaign will be top seeds for the draw in Hamburg next month.
Southgate said: "Well, the reality of that is however well we play tomorrow people will just say it's a lower ranked opponent, so it'll be irrelevant," he said with a laugh.
"People are going to have opinions. I'm probably tired of trying to fight that.
"In the end, it will be what it is. So, I'll just let our results and performances speak for themselves.
"You're never going to please everybody, so the best way as a football manager is keep winning matches, frankly."
Four points across both fixtures should be enough, while six would confirm England's place in the first pot.
Gareth Southgate explained that despite not making a fifth consecutive England squad, the door isn't closed on Raheem Sterling. Plus, explains that he's still undecided about his future as manager after his contract ends in 2024.

While Southgate has continually stressed the need to finish Group C strongly, he will know England are heavy favourites going into the game against Malta.
Having initially picked a strong squad for the fixtures, he may yet decide to give some of his fringe players a chance to impress.
The likes of centre-backs Marc Guehi and Fikayo Tomori will be pushing to start in place of the injured John Stones, while Ollie Watkins will be keen for another chance to show he can be the man to provide the goals if captain Harry Kane is unavailable.
But there was still no recall for Raheem Sterling despite growing clamours for his inclusion following a fine start to the season with Chelsea. Sterling has not been part of any England squad since the World Cup in Qatar.
Charlotte Duncker of The Times feels Gareth Southgate hasn't selected Raheem Sterling as he has a chance to experiment with other players whilst Miguel Delaney of The Independent believes it may be difficult for him to make the Euros squad.

"It's always difficult," added Southgate when pressed on what it is like to omit players.
"Given the number of injuries and pull-outs, we've not had to make so many this time, but it's part of being a manager to make difficult calls.
"As a player, you never agreed with a manager's decision to leave you out but you only hope you do it in as respectful a way as possible, with constructive points so they can go away and work on things. We're blessed to have so much depth in certain positions.
"You always have to adapt as you never know what's going to come your way. We've lost more players than normal – and there are some long-term injuries too – but there are opportunities for those coming in. We're looking for the right balance from the qualities we have but also have the right structure behind that."
England manager Gareth Southgate says Newcastle forward Anthony Gordon could be called up to the international squad soon, after rumours Scotland are trying to persuade Gordon to play for them.

Southgate heads into England's final home match of 2023 without a glut of key players, with five withdrawing, two absent for part of this week and three new faces brought in.
Rico Lewis, Cole Palmer and Ezri Konsa will be dreaming of making their debut, but the likes of Anthony Gordon remain on the outside looking in.
The 22-year-old has shone for Newcastle this season and reports have emerged that Scotland are looking to call up the England Under-21 European champion.
"He's a good player," Southgate said. "He was very good with our Under-21s last year. He's very close, I have to say.
"I like his attitude, I like the way he works so hard for the team. Of course, I'm sure he was hoping to get a call at this moment, but there are good players playing well in that position on the field.
"But I think, like a couple of others, they've always got to think a little bit further ahead as to, you know, opportunities that can come up. I think for somebody like Anthony that's eminently possible with us."
Trent: Midfield role a 'huge opportunity'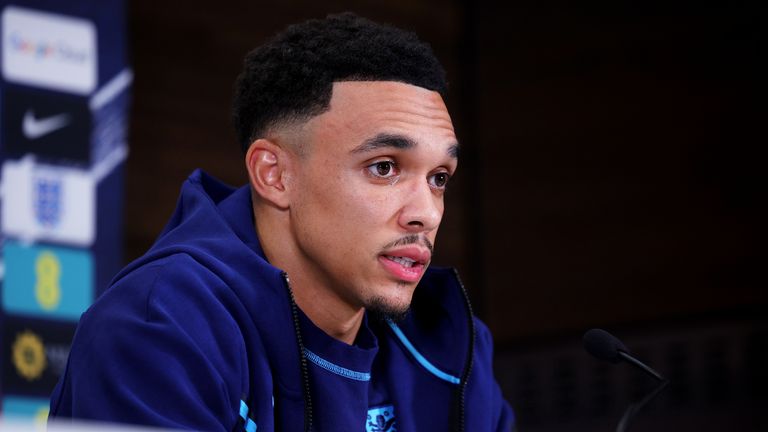 Trent Alexander-Arnold admits he has a "newfound excitement" for international football since reverting to a midfield role with England.
Despite a host of eye-catching appearances at right-back for Liverpool as they won the Premier League and Champions League, Alexander-Arnold found his pathway to the England side blocked by strong competition in the shape of Kyle Walker, Kieran Trippier and Reece James.
He excelled in a midfield role in the 4-0 Euro 2024 qualifying win in Malta last season and is expected to play in a similar role in the reverse fixture at Wembley.
David Beckham believes the current England side are capable of winning a trophy under the leadership of Gareth Southgate.

Alexander-Arnold, 25, has just 21 senior caps but is now listed as a midfielder whenever Southgate names his squads and is hoping the new position can lead to a place in England's ranks for the Euros in Germany next summer.
"Since we spoke in the summer, me and the manager, about a midfield opportunity and to see if we could make it work, there has been a newfound excitement for me," he said.
"It is a huge opportunity and it is one I am grateful to have, but also making sure I take it. It still early days, I haven't had much experience in there so still learning on the job and about picking it up as much as I can when I am in there.
"It is exciting and I enjoy learning, I enjoy having that kind of understanding of the game, trying to understand different roles and positions and admire what people are doing in there."
Here's our pick of Trent Alexander-Arnold showcasing his range of passing in the Premier League so far this season before he picked up a hamstring injury against Aston Villa.

Having burst on to the scene at Liverpool as an attacking right-back, Alexander-Arnold's attributes have long-seen him touted as a potential midfielder.
After struggling for minutes with England at full-back, Southgate played Alexander-Arnold in midfield in the reverse fixture in Malta and he starred with an eye-catching performance that included a fine goal.
Alexander-Arnold has since taken on more of a hybrid role at Liverpool, too, and is now listed on England's squad sheet as a midfielder, so he may get another chance to shine there this time around.
But did he reach out to Liverpool legend Steven Gerard for advice in playing more centrally?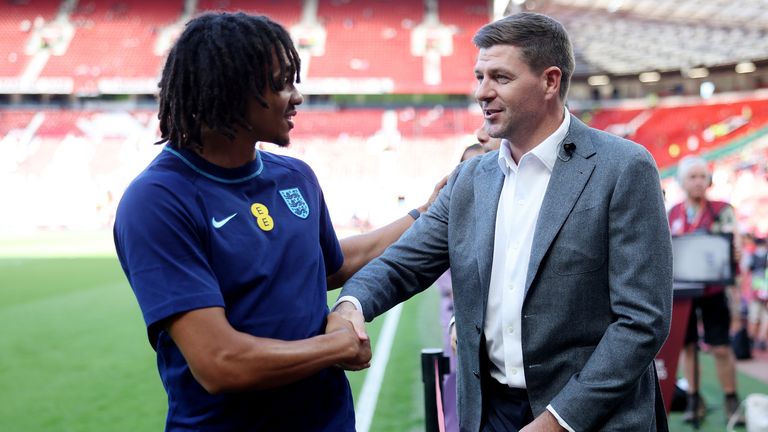 "No, I've not to be honest. There's shed loads of footage on his games and his career. I think football has changed since that era. We're talking 15 years ago, it's a completely different game. I have a deep love for the game and a thirst for knowledge.
"I watch every game that's available on the TV and I study it. I feel it's a different era now, but you always appreciate the greatness that players like him and others have provided the game. They moved it forward in its physicality. He was a big part in moving it forward for the likes of myself to go and express myself."
Southgate was initially criticised by Liverpool boss Jurgen Klopp for repackaging Alexander-Arnold as a midfielder, but he has started to operate there on a more regular basis for club as well as country of late.
The England manager said he felt Alexander-Arnold always possessed the "technical ability" to work as a midfielder, with the player now wanting to learn at any given opportunity.
Sky Sports News reporter Rob Dorsett outlines the implications should Raheem Sterling be left out of Gareth Southgate's England squad once again.

Asked what the conversation with Southgate about changing his role had been like, Alexander-Arnold said: "Initially, that there would be opportunities in there for me and then it is up to me whether I take them on or not.
"That is what any player would want and I speak to the manager and Steve (Holland) like I do at my club, we sit down and talk about football, watch clips and I try and get the best understanding of what I am asked to do.
"I can help the team win games, that is just what any player ever wants. I try and do that to the best of my ability and the message I have from the manager is to go and do that in the best way possible."
Asked if going to the Euros as a midfielder was now a target, Alexander-Arnold added: "Massively so, it is something I think about often, it is something that motivates me.
"When I'm here, when I'm not here, I'm constantly thinking about trying to get into the team for the summer, how I can do that and how I can take the opportunities I'm given to make sure I'm part of the plans for the summer.
"It is a target I have set for myself and I think, with the help of the manager and the staff and analysts, it is something I can do.
"It has always been an honour and a pleasure to come away with England and play games for your country, to represent my country is the biggest honour any player can have, it truly is."
England's November squad
Goalkeepers: Sam Johnstone (Crystal Palace), Jordan Pickford (Everton), Aaron Ramsdale (Arsenal).
Defenders: Ezri Konsa (Aston Villa), Marc Guehi (Crystal Palace), Harry Maguire (Manchester United), Fikayi Tomori (AC Milan), Kieran Trippier (Newcastle), Kyle Walker (Manchester City).
Midfielders: Trent Alexander-Arnold (Liverpool), Rico Lewis (Manchester City), Conor Gallagher (Chelsea), Jordan Henderson (Al-Ettifaq), Kalvin Phillips (Manchester City), Declan Rice (Arsenal), Cole Palmer (Chelsea).
Forwards: Jarrod Bowen (West Ham), Phil Foden (Manchester City), Jack Grealish (Manchester City), Harry Kane (Bayern Munich), Marcus Rashford (Manchester United), Bukayo Saka (Arsenal), Ollie Watkins (Aston Villa).
Tributes to a 1966 great
Rob Dorsett looks back on an emotional day in Manchester, celebrating the life of Sir Bobby Charlton.

Southgate showed footage of Sir Bobby Charlton to his squad ahead of England paying tribute to the 1966 World Cup winner at Wembley.
The jewel in the crown for club and country, the news of Charlton's death at the age of 86 on October 21 reverberated around the world.
Southgate was at Charlton's funeral at Manchester Cathedral on Monday and further tributes will be paid to the England and Manchester United great on Friday evening at Wembley.
Former Manchester United player Michael Carrick reflects on the 'inspirational' Sir Bobby Charlton.

The Euro 2024 qualifier against Malta is the senior men's team's first match since Charlton's death and a crowd mosaic is planned, along with a video celebrating his life.
There will be a pre-match ceremony, period of applause and players will wear black armbands in memory of a man whose importance to English football was reiterated to the squad this week.
"A big part of what we've wanted to do with our players is to talk about our identity as a team," England boss Southgate said.
Former England football player Gary Lineker reflects on the funeral of the 'globally respected' Sir Bobby Charlton.

"Part of that is knowing the history of our team and having an understanding of how special some of the players that have been England internationals before are.
"We've had the chance to do that this week. We showed some footage of Sir Bobby to the players, the first day we arrived.
"A reminder that, of course, even a Liverpool man (like Trent Alexander-Arnold next to me) given Bobby's performances with England can relate to his importance for English football.
"You can have a fabulous club career and an international career.
"At times those things can come into conflict because club managers of course have got to look after their own roles and responsibilities, and that can put players in difficult positions with all international teams, frankly.
"But your international team will always be there as well and if you can win something with your international team, it's probably bigger than anything else you're going to experience.
"So, there were lots of messages within that for all of the players but, most importantly, an incredible player, an incredible man."