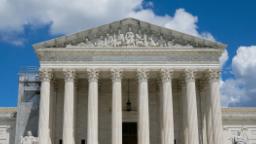 When the Supreme Court enhanced the Second Amendment right "to keep and bear arms" in 2022, the justices said a gun regulation could be upheld only if it had some historic analogue.  
But deciding whether current regulation is consistent with an ancient law is no easy task. The new court doctrine, rooted in country's 18th century founding, has proved especially thorny in cases involving modern dilemmas.
The controversy on Tuesday gives the justices their first opportunity to clarify how exactly centuries-old tradition should be interpreted and what types of analogues will suffice. 
The law being challenged prohibits anyone subject to such a domestic-violence protective order from possessing a firearm. The 5th US Circuit Court of Appeals earlier this year declared the prohibition "an outlier that our ancestors would never have accepted." 
But groups focused on preventing domestic violence, along with those seeking to help clarify the new approach to gun regulation, are urging a more nuanced reading of the 2022 case of New York State Rifle & Pistol Association v. Bruen. 
The high court's resolution of the dispute involving Zackey Rahimi will influence what measures the government can take to prevent gun violence, particularly in domestic situations.
A Texas state court, reviewing evidence of Rahimi's attack on his girlfriend in an Arlington, Texas, parking lot, found that Rahimi had "committed family violence" and prohibited him from approaching or threatening her. After Rahimi later became a suspect in a series of shootings, and weapons were found at his home, he was charged with violating a 1994 federal law that bars a person subject to a protective order from possessing a firearm. 
Justice Clarence Thomas, who wrote the majority opinion in the 2022 Bruen case, said that when judges confront present-day firearms regulations, "analogical reasoning requires only that the government identify a well-established and representative historical analogue, not a historical twin." He said that "analogical reasoning under the Second Amendment is neither a regulatory straightjacket nor a regulatory blank check." 
When judges compare regulations, the high court majority said, they should look at "whether modern and historical regulations impose a comparable burden on the right of armed self-defense and whether that burden is comparably justified." 
More than two dozen groups seeking to prevent domestic violence argued in a "friend of the court" brief that the Bruen reasoning requires a nuanced approach. 
They observed that it wasn't until the late 20th century that states and localities adopted laws to protect victims of domestic violence and to hold abusers accountable. But they contend that the historical pattern of laws disarming "dangerous" people can be applied to the current case. 
The collection of 27 groups, which includes the Alliance for Gun Responsibility in Washington state and the Battered Women's Justice Project, based in Minnesota, added that, "armed domestic abusers pose an extraordinary threat to public safety. Seventy women are shot and killed each month in the United States by their intimate partner." 
Department of Justice lawyers, defending Rahimi's prosecution, offer an expansive analogue to laws involving people who were not "law-abiding, responsible citizens." 
"American legislatures have long disarmed individuals whom they have found to be dangerous, irresponsible, or otherwise unfit to possess arms," DOJ lawyers wrote.
"For example, during the Revolutionary War, the Continental Congress recommended, and many States adopted, laws disarming loyalists. States in the 19th century disarmed minors, intoxicated persons, and vagrants. And Congress in the 20th century disarmed felons and persons with mental illnesses.  
"Although different statutes disqualified different groups at different times, they reflect the same enduring principle: Legislatures may disarm those who are not law-abiding, responsible citizens." 
Rahimi's lawyers, in their filings, insist the federal government has found no sufficient analogue for denying guns to people subject to restraining orders: "Despite casting an incredibly broad net, the Government has yet to find even a single American jurisdiction that adopted a similar ban while the founding generation walked the earth." 
Returning to that era and the path the justices set out in the Bruen case, they may now illuminate just how close any analogue must be.