Former professional footballer Alistair Patrick-Heselton believes there needs to be an inclusive culture of talking about mental health among players who are trying to become professional.
For National Inclusion Week this year's theme is 'Take Action Make Impact'. Sky Sports joined Patrick-Heselton as he spoke to QPR academy's U18s squad about the prospect of considering a different pathway, as well as the psychological impact deselection or being released could have on them if their dreams of becoming a professional footballer are not realised.
"It's particularly important for young players to think about life after football," Patrick-Heselton tells Sky Sports.
"I think they should look at the beyond. I always try to educate youngsters and people in general, to be the best they can be and to understand that when one door closes another one always opens. The trick for that is to keep your head up and your eyes open to see those doors that do open and to understand that you can affect how you go through them."
Patrick-Heselton was a promising footballer who went on to represent Team GB at the Paralympic Games. His life story is one of perseverance and determination.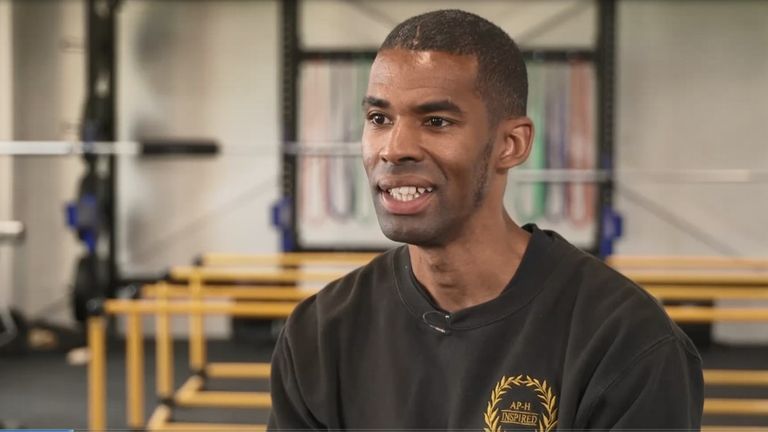 Starting out at Wycombe Wanderers as a schoolboy, he was soon snapped up by Queen's Park Rangers. The forward was prolific at U17 level and featured several times for the reserve side before suffering a severe cruciate ligament injury.
After stints at several different clubs, Patrick-Heselton opted to combine playing semi-professional football with studying for a career in quantity surveying. However, in 2006, the striker was involved in a car accident that saw his best friend killed, and he was left with a fractured skull and spent two months in a coma.
He later resumed consciousness but was informed that he may never walk again, seemingly ending his football career. Four years on, he was contacted by then-England and Team GB Paralympic coach Lyndon Lynch, who convinced him to try out for the Cerebral Palsy (CP) team, consisting of players with cerebral palsy and other brain injuries.
Patrick-Heselton made his debut for Team GB at the 2011 Cerebral Palsy International Sports and Recreation Association (CPISRA) Championships, playing a crucial role in the lead-up to the 2012 Paralympic World Cup final – he went on to represent Team GB at the Paralympic Games four months later.
Now in 2023, standing in front of the QPR academy players, Patrick-Heselton recollects his time at the club.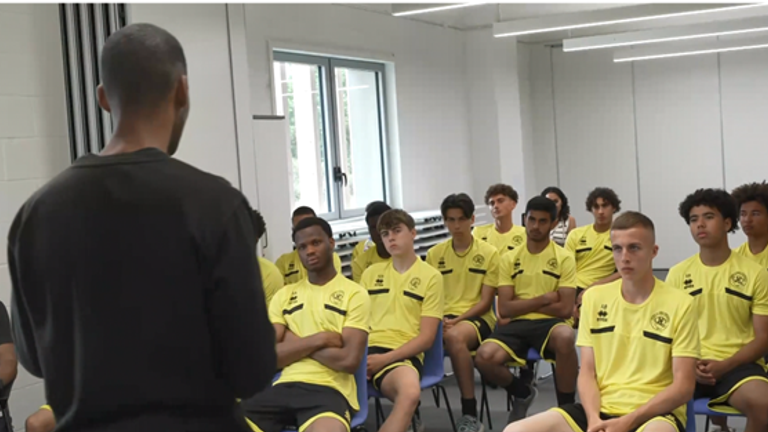 "When I had my time in your shoes as a youngster here, we had someone from the PFA come in; and they said not all of you are going to make it. In fact, only one of you are going to make it and you're not going to be a footballer. And after that talk I felt really flat," he told over 15 academy players.
"I'm hoping that after you guys hear what I have to say today, what we do today and what you go on to do for the next couple of weeks you actually feel more enthused about your futures, whether it's in football or in something else, or whether it's in football and with something else because there is nothing saying it can't be like that."
According to research carried out at Brunel University, 98 per cent of players awarded with an academy scholarship by English clubs at 16 are no longer playing in the top five tiers of English football at 18.
Former Cambridge, Watford, and Burnley midfielder Micah Hyde, who is currently the head coach of QPR U18s insists that it is vitally important for the players' education to have someone like Patrick-Heselton explain to them the possible pitfalls ahead.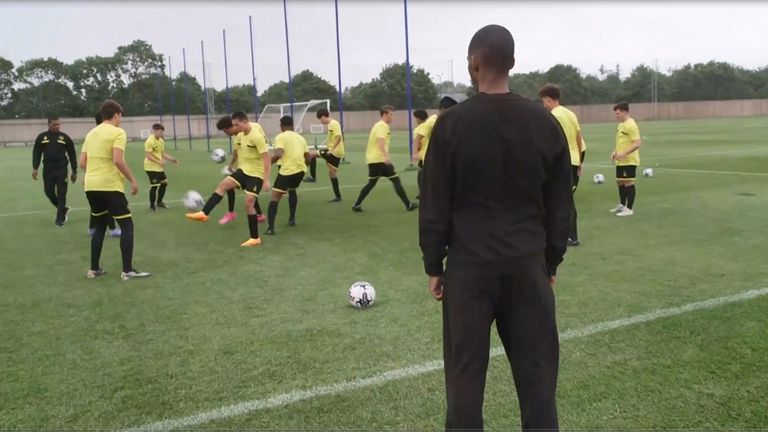 "It's very important for people like Alistair to talk to academy players. I think invariably to share their pathway and their experiences can only enrich the players that he is talking to. If he can affect one person in that room then he is going to change somebody's life, it might be an hour, it might be half an hour, it may be 15 minutes.
"I think if it's impactful what you say in that time. If someone is talking from the heart, which is important, and they're talking about what's real to themselves, their experiences – I'm sure that will resonate with the people in the room."
The desire to become a professional footballer for many is a lifelong dream, while some see the wealth on offer at top clubs as a way to help their entire family escape an underprivileged background. It is under this pressure that deselected or released players from an academy could face a serious impact on mental health.
Fifty-five per cent of players deselected from academies had clinical levels of psychological distress within 21 days of being released, according to figures from Abertay University in Dundee.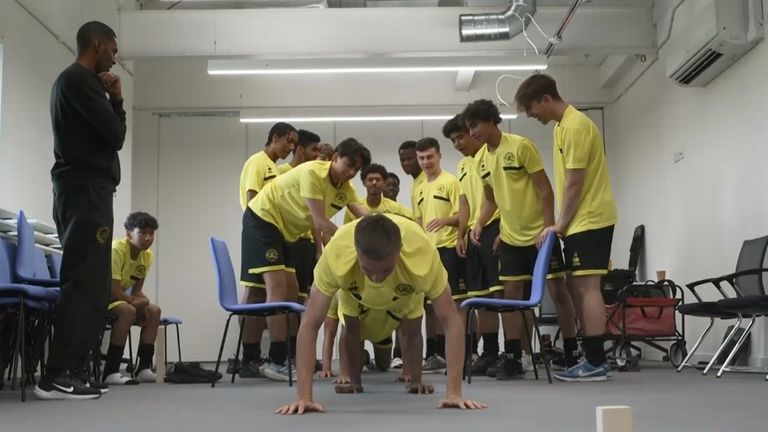 "It is the duty of the club that when they sign any player, they are responsible for them," Patrick-Heselton told Sky Sports News.
"Before my car accident I was never able to share any problems, mental health issues I had with my team-mates. I always felt very isolated as a young footballer. From the club's point of view the message isn't very conducive, we want young players to be playing their best and feeling that they can be their best and that they will succeed.
"So, when we tell them that there are some pitfalls and that they're not going to make it, it's going to be very de-motivating. I think it's how we bridge that gap and help players feel supported whether they make it to be a promising footballer or they don't – they've always got the support there for them."
Depression, anxiety, PTSD [flashback to the deselection], low self-esteem, loss of confidence, feeling humiliated/ embarrassed are just some of the effects deselection can have on a player.
The way academies are run has changed drastically in the past 10 years. Now, there is a greater focus on education to help players transition to lives away from football if they are released, and there is more being done to look after the players' mental as well as physical well-being.
In June 2022, the Premier League passed new guidelines which require all Premier League and English Football League clubs to give a three-year "commitment of support" to released academy players.
"I think the word is accountable," said Hyde.
"You are dealing with young people. Obviously, our job is to make them professional footballers, but my job is to empower young people to be successful after they leave our environment. From when I played there has been an improvement in the understanding of players' mental health and well-being.
"In my time it wasn't there but now we have psychologists coming into the academy, we have other people at the academy that players can go and seek. It is something that if we talk about can only help the player and I'm glad that clubs and people are getting awareness of how you can interact with these young people to ensure that they don't see themselves as failures if they don't make the next step in football."
In April Liverpool's Trent Alexander Arnold launched The After Academy, an initiative that will provide career opportunities for former academy players who wish to forge a new career path outside of professional football.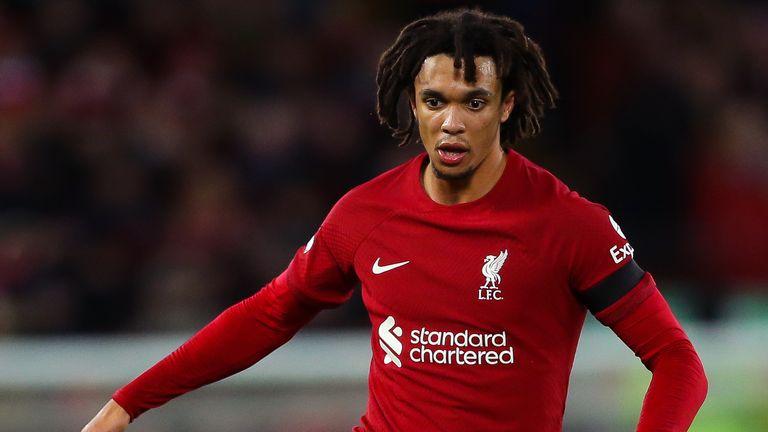 "To have someone like Alexander-Arnold launch the After Academy, that is the biggest and best initiative for young footballers," Patrick-Heselton said.
"In Trent we see someone who's at the top of their game. When any young player sees that they can think, 'if Trent can do that, and he's there, then I have no excuse not to be thinking about my own after academy experience'."