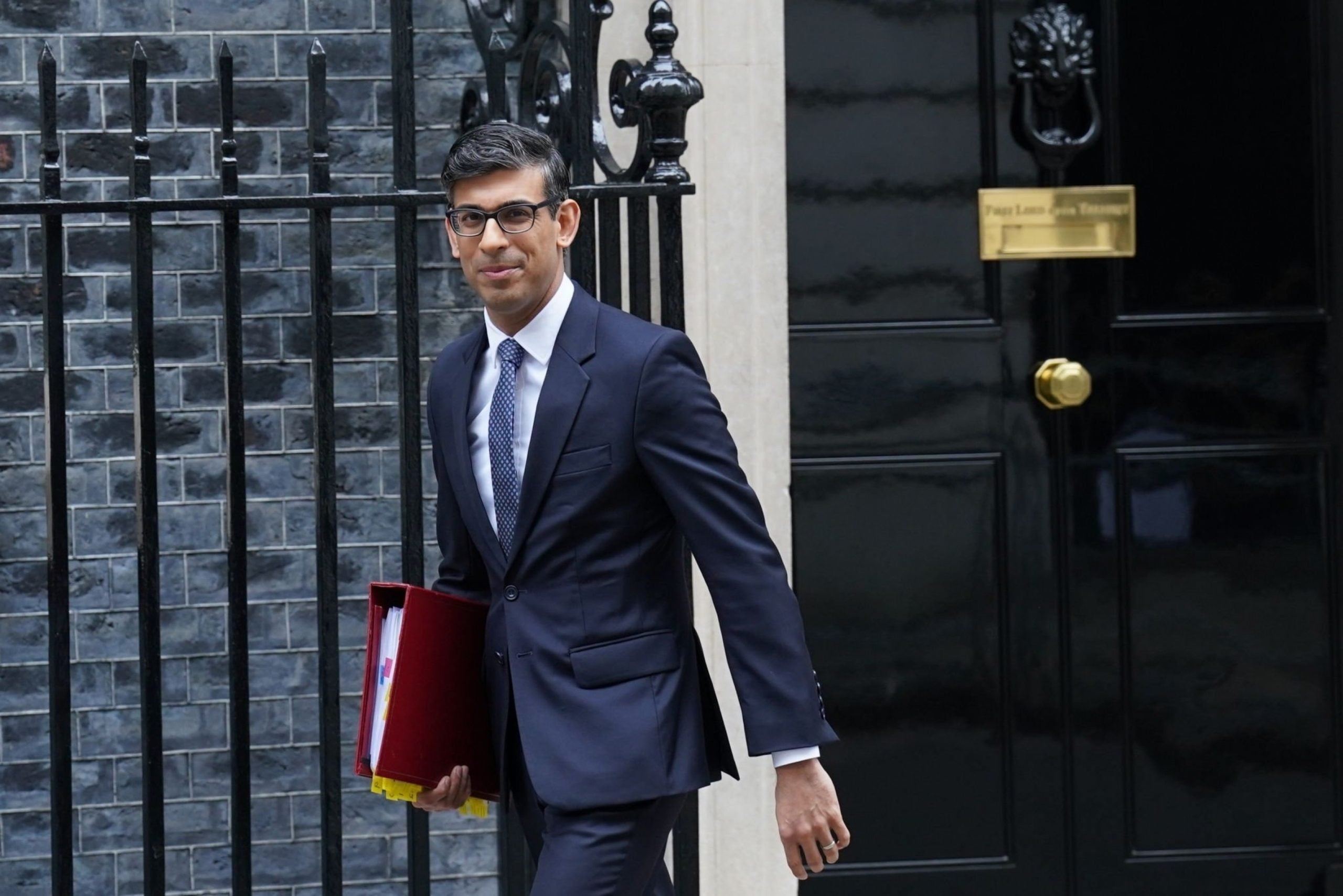 UK Prime Minister Rishi Sunak hosted the UK Farm to Fork summit at Number 10 Downing Street on Tuesday (16 May), bringing together several government departments, industry body leaders, food companies and supermarket groups to thrash out issues including food security and retailer/supplier relationships.
Why was the food summit necessary?
At first glance, it might appear strange that an economy as mature as the UK's, which has a large degree of self-sufficiency when it comes to food (around 60%), should need to call a summit to discuss fundamentals such as supply chain resilience, labour issues and the relationship between supermarkets, growers and breeders.
But, against the clamour about rampant food price inflation – around 19% at the time of writing – and amid recent shortages of produce such as eggs, tomatoes and peppers on supermarket shelves, the UK government felt it needed to bring everyone together to thrash things out (or, if you're being cynical, to be seen to do so).
What were the main issues on the table?
Manifold but inflation in the supply chain pushing up food prices, the relationship between supermarkets and producers and concerns around a lack of labour available to growers, breeders and meatpackers, were high on the agenda.
Food inflation, which is affecting many other countries, too, can be linked to elevated costs in the supply chain. High energy prices and the soaring cost of ingredients can be further tied to the war in Ukraine, a key supplier of ingredients such as wheat and sunflower oil. But, with UK inflation now running at around 10% some are questioning why food prices are nearly double this.
Food manufacturers have been taking pricing actions to recover margins, which has led to an arm-wrestle with supermarkets competing against discounters Aldi and Lidl.
Manufacturers, in their turn, have been accused of profiteering, which they deny. Last week, the UK House of Commons cross-party Environment, Food and Rural Affairs (EFRA) committee announced it is set to investigate how "profitability and risks are shared through the food supply chain and the existing government system of monitoring and regulation", while the UK's competition watchdog, the CMA, is looking into elevated prices.
Tensions in the relationship back up the supply chain between supermarkets and producers are also about price. Grocers are being accused of paying too little for suppliers' produce. Dairy farms complain they are selling milk at a loss to the supermarkets, while fruit and vegetable growers were at the centre of a national debate earlier this year when there was a shortage of salad items in UK supermarkets.
While it is true unseasonable weather in southern Spain and Morocco impacted the crop of salad items such as tomatoes and led to a lack of imports from key supplier countries, against a backdrop of sky-high energy prices, UK growers were unwilling to heat glasshouses during the winter without government subsidies.
Henry Dimbleby, the founder of the Leon food chain who authored the UK National Food Strategy report in 2021, has commented on the UK's "weird supermarket culture", which results in suppliers struggling with rising costs while locked into fixed-price contracts.
Brexit was also a factor here. Non-UK suppliers with reduced products had to choose where to sell their wares and the extra paperwork associated with sending it to the UK post-Brexit meant it was never going to be the priority market.
More importantly, the lack of free movement of labour between the UK and EU after its departure from the bloc means many agri-food businesses have struggled to find people to pick fruit and veg or work in meatpacking plants with some industry bodies claiming the UK government's Seasonal Workers' Scheme, which allows in workers from overseas for a limited time period, is not fit for purpose.
What did the UK food summit achieve?
In itself very little, apart from acknowledging problems exist and committing to finding solutions. But, before the attendees has even crossed the threshold of 10 Downing Street the government had unveiled a package of measures to aid the agri-food sector. These included reviews into "fairness" in the horticulture and egg supply chains, a commitment to protect their interests in future trade deals (the recent trade agreement with Australia has proved controversial), support to boost domestic fruit and vegetable production and new investment in technologies.
The UK government also announced, inter alia, that 45,000 visas will be available again to the horticulture sector next year to allow it to bring in labour from overseas for the picking season. It also said it will use new powers under the Agriculture Act to improve transparency and contracts in the pork and dairy market and help the controlled horticulture sector overcome barriers to accessing government schemes and make it easier to build new glasshouses through changes to national planning policy.
What has the response to the summit been?
Generally positive but with a generous side order of 'they need to do much more'. Minette Batters, the president of the National Farmers' Union, whose lobbying probably did more than anyone else to get the summit off the ground, said it "provides a positive outlook for UK food security and demonstrates that domestic self-sufficiency is back on the political agenda" but said the UK government's commitment to maintain food self-sufficiency at 60% could be more ambitious and look to move beyond this target.
In a similar vein, Karen Betts, chief executive of manufacturing trade body the Food and Drink Federation, said the "summit was a constructive first step in addressing some of the complex challenges the UK food system is currently facing".
But she added: "However, it's a pity there wasn't more of a laser focus on immediate issues and the drivers of inflation. While some of these are beyond everyone's control, many are not. Action to fill labour and skills shortages and to simplify current and upcoming regulation, as well as simplifying post-Brexit labelling changes, would help to drive down prices."
"It'll go down as a forlorn attempt to reassert business as usual."

Prof. Tim Lang
Elsewhere, the response to the summit was more dismissive. Lee Stiles, the secretary of the Lea Valley Growers' Association, a trade body for glasshouse growers, described the food summit as "no more than a PR stunt" with "nothing of substance" to help growers.
And Professor Tim Lang, professor emeritus for food policy at the City University of London, said the summit was "unlikely to address the scale of UK food system crises".
He added: "It'll go down as a forlorn attempt to reassert business as usual."
On the policy announcements linked to the summit, veteran food sector analyst Clive Black of Shore Capital said: "The industry, especially distinctly unloved horticulture and intensive livestock – where egg, pig and poultry support has been insanely bad, evidenced by product shortages and higher imports – will probably welcome more support around seasonal/sector labour licences, albeit having to beg and plead is not good administration."
But he remains sceptical the current political regime will get it right. "There is an opportunity to fulfil the potential of this great industry and the right state support could be a great enabler. We do not hold our breath with the present regime, maybe a new one will be different."
What are the next steps?
Batters at the NFU is keen to keep the momentum generated by the summit going.
"What we need now is to build on these announcements," she said. "We are calling for a set of core agri-food import standards for trade."
She also called for the summit to become an annual event to ensure that "food security never drops down the political agenda, across all parties, again".
Black, meanwhile, suggested a number of measures, one of which is to consider the creation of an Office for the Food System with a small secretariat and minister reporting to the Prime Minister.
But the issues the UK agri-food industry is facing, and ultimately the knock-on effect that has on consumers, are unlikely to be alleviated in the short term by the measures announced prior to, and then discussed at, the summit.
And realpolitik may get in the way of its ambitions.
To give but one example: the UK government would be likely to face a battle from the anti-immigration elements on the right wing of its own party if it attempts to make it easier for growers, breeders and meatpackers to bring in necessary labour from abroad.
Home Secretary Suella Braverman has suggested training British workers to fill these roles.
Nick Allen, CEO of the British Meat Processors Association, who attended the summit, said: "Seeking to fill vacancies with British workers alone is not a viable short, or even medium-term, solution for the meat industry.
"Seventy per cent of our workers were non-UK when Brexit happened, and that's a significant number to replace."