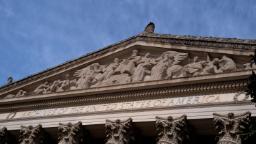 CNN
 — 

Every administration since President Ronald Reagan has mishandled classified materials, including commingling classified and unclassified documents, National Archives officials told the House Intelligence Committee during a closed-door interview in March.
The latest revelations come after the committee voted to release on Wednesday an unclassified transcript of testimony from William Bosanko, chief operating officer of the National Archives and Records Administration, and Mark Bradley, director of NARA's information security oversight office.
House Intelligence Chairman Mike Turner and his committee continue to investigate the handling of classified documents – particularly during presidential transitions – after classified documents were found at the homes and private offices of President Joe Biden, former President Donald Trump and former Vice President Mike Pence.
Bosanko told the committee there was no administration "prior to the three instances" with Trump, Biden and Pence, where notable documents were obviously missing and they had to get the Justice Department inspector general involved.
The officials also testified that the retention of classified documents is a problem that goes beyond the executive branch. Since 2010, NARA has received more than 80 calls from different libraries and universities where former members of Congress and senior government officials have taken papers and donated them, Bradley said during his interview.
"Testimony from the National Archives and Records Administration officials makes clear that the handling and mishandling of classified documents are a problem that stretches beyond the Oval Office," Turner said in a statement.
"We need a better way for elected officials who are leaving office — in both the Executive Branch and Legislative Branch — to properly return classified material and protect the integrity of our national security," he added.
Asked by lawmakers how NARA became aware that certain Trump administration documents were missing, Bosanko said they "knew of different items that were missing," referencing a letter from former President Barack Obama and correspondences with North Korea's leader.
"There were a couple other items that I am not recalling. But these were very obvious things that, given our role as the Nation's record keeper, we went back very informally to representatives of the former President and said: Might you have these?" Bosanko said, according to the transcript.
While it's clear that classified documents leaks have plagued multiple administrations, a key issue Trump faces is that he refused to turn over classified documents after NARA had requested them, and after the Justice Department subpoenaed him.
Bosanko also testified that he had "no awareness or knowledge" of who packed the classified documents into boxes that were later found in Biden's, Trump's and Pence's possession.
The NARA officials also made clear that each president "does not get a facility" when they leave office, and noted that "the classified materials from the Trump administration are stored in a Washington, DC, facility," Bosanko testified.
"Prior to President Obama, Presidents were building Presidential libraries under the Presidential Libraries Act, and it would include storage space to include for the classified," he added.
Bosanko also said he had begun setting up a process for bringing classified material from the presidential libraries to the Washington, DC, area.
"It is more efficient and effective for declassification," he said, adding that building sensitive compartmented information facilities "all over the United States is not a sustainable model for us."