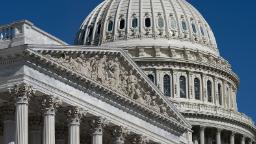 CNN
 — 

House Republicans are taking up a series of pro-law enforcement bills this week, as the party grapples with cutting funding to federal law enforcement agencies.
On Wednesday, the House passed a pair of bills – one would make assaulting a law enforcement officer a deportable offense for migrants and the other would establish a program for officers to purchase a retired handgun from the agency that issued it to them – with bipartisan support. Thirty-six Democrats voted with their Republican colleagues on the bill that would deport non-citizens for assaults against law enforcement, and 13 Democrats voted with all Republicans on the service weapon legislation.
House Republicans, who came into power on a pro-police, tough-on-crime message, are trying to rally around "Police Week" even when there are growing divisions inside the conference over whether to defund or restrict the Department of Justice and FBI.
House Majority Leader Steve Scalise attempted to walk the line of criticizing the FBI while praising local law enforcement at a press conference earlier this week.
"We support men and women in law enforcement," Scalise said Tuesday.
But, citing special counsel John Durham's report, which concluded the FBI should never have launched a full investigation into connections between Donald Trump's campaign and Russia during the 2016 election, Scalise added that "nobody supports dirty cops, and if there's dirty cops they need to be routed out, and we want to start seeing that level of accountability."
The internal divisions over how to talk about law enforcement became apparent as soon as House Republicans took the majority.
As CNN previously reported, an effort to pass a resolution expressing support for law enforcement agencies in January, which was meant to serve as a messaging tool, quickly fell apart.
The sponsor of the January resolution, GOP Rep. Ken Buck of Colorado, a former federal prosecutor, wanted to offer broad support for all levels of law enforcement. But a faction of hard-line members, led by House Judiciary Chair Jim Jordan of Ohio, wanted to restrict it only to state and local authorities, multiple sources previously told CNN.
After CNN reported on the failed negotiations, Buck and GOP Rep. Andy Biggs announced a new resolution that supports just local law enforcement, which is also expected to receive a vote this week.
The contentious political issue is returning to center stage as CNN has learned that some House Republicans are actively sketching out ways to limit certain federal law enforcement programs through the appropriations process.
This comes as Jordan and the "weaponization" subcommittee he leads have waged a protracted campaign against the DOJ and FBI, and a growing number of House Republicans are proposing ways to act on calls made by former President Donald Trump to crack down on federal law enforcement. Support started building after Trump's Mar-a-Lago home was searched by the FBI in August 2022, as part of an investigation into the handling of classified documents after he left office. And that support to act on the calls was super-charged by Trump's indictment at the end of March in a probe led Manhattan district attorney. He has denied wrongdoing in both cases.
One of the cuts House Judiciary Republicans are exploring, which could be proposed as its own legislation or part of a broader House spending package, includes restricting funding to specific DOJ departments that refuse to respond to oversight requests, a source familiar with the discussions previously told CNN.
Other proposals include reigning in the DOJ's ability to give out grants, and clawing back civil asset forfeiture funds obtained through a program that allows the federal government to coordinate with state and local officials to seize cash, drugs, guns and other assets from suspects before they have been convicted of a crime, the source added.
CNN has also obtained multiple letters sent by House Republicans to the House Committee on Appropriations that outline specific cuts that could be made to DOJ.
Democrats, meanwhile, are painting any Republicans who voice support for defunding federal law enforcement as hypocritical, just as Republicans were once framing Democrats as the party that wanted to defund the police.
Senate Majority Leader Chuck Schumer, a New York Democrat, has said he will introduce a measure condemning Trump's calls to defund the DOJ, seeking to create a political liability for Republicans.