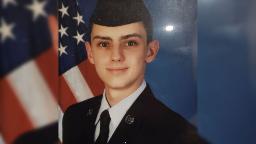 CNN
 — 

The Air National Guardsman who is accused of posting a trove of classified documents to social media was repeatedly warned by his superiors in the Air Force over his mishandling of classified documents, prosecutors say.
In court documents arguing for Jack Teixeira's continued detention, prosecutors said that the 21-year-old's "willful disregard" of his obligation to protect classified information has become more apparent in the weeks since he last appeared in court.
"In particular, the Defendant's disclosures (and associated boasting) continued even after being admonished by his superiors on two separate occasions — once in September 2022 and once in October 2022 — amid concerning actions that the Defendant took related to classified information," prosecutors wrote.
The new revelations come days before a federal magistrate judge in Massachusetts is slated to decide whether Teixeira will remain behind bars while he awaits trial. Teixeira's defense lawyers have asked for the Massachusetts native to be released to his father's custody, and argued in court that their client had no intention to "disrupt the geopolitical affairs of the United States."
The Air Force and National Guard Bureau declined to comment to CNN, citing the ongoing Justice Department case.
To support their allegation, prosecutors included three Air Force memorandums documenting Teixeira's alleged misconduct in handling classified information.
The first memorandum discussed an incident in September 2022 in which Teixeira was observed taking notes on classified intelligence and then putting those notes in his pocket. Though some of the report is redacted, it concludes by saying that Teixeira was instructed to "no longer take notes in any form on classified intelligence information."
A month later, Teixeira's supervisors were "made aware that … Teixeira was potentially ignoring a cease-and-desist order on deep diving into intelligence," a second report states. Teixeira had attended a classified briefing and was asking "very specific questions" about the information provided, the report said, and he was again told to stop and "focus on his job."
In a third incident report, a superior in Teixeira's unit stated she observed him looking at intelligence "that was not related to his primary duty." Teixeira was not reprimanded, the report indicated, but his superiors were notified of the observation.
Teixeira has been accused of leaking the trove of classified documents over a period of months to a closed online community on Discord, a social media platform popular with video gamers.
He acknowledged in chats on that platform that it wasn't "public information" and that he shouldn't have been sharing it, according to records obtained by the FBI.
Teixeira said in one exchange in December 2022 that "as far as i know this still isnt public information," according to the FBI affidavit filed in court on Wednesday.
Later that month, he said he didn't care "what they say I can or can't share" and "all of the sh*t I've told you guys I'm not supposed to."
Another user on the social media platform, which the FBI doesn't identify, said: "Please leak confidential military documents for our amusement."
Teixeira responded: "It's TS/SCI."
In January, a user suggested that Teixeira start a blog to keep organized all that he posts. Teixeira responded that "shooting myself in the back of the head twice isnt something im fond of."
Teixeira has not yet entered a formal plea, and a detention hearing is scheduled for Friday. His defense lawyers have argued he didn't expect classified information that he posted on Discord to be further spread around the internet.
After Teixeira's arrest, the Air Force unit he was a part of stopped performing its intelligence mission and suspended two of the unit's commanders. A spokesperson for the Air Force previously told CNN that the suspensions are temporary pending completion of the Air Force's inspector general investigation into the leaked documents.
This story has been updated with additional details.