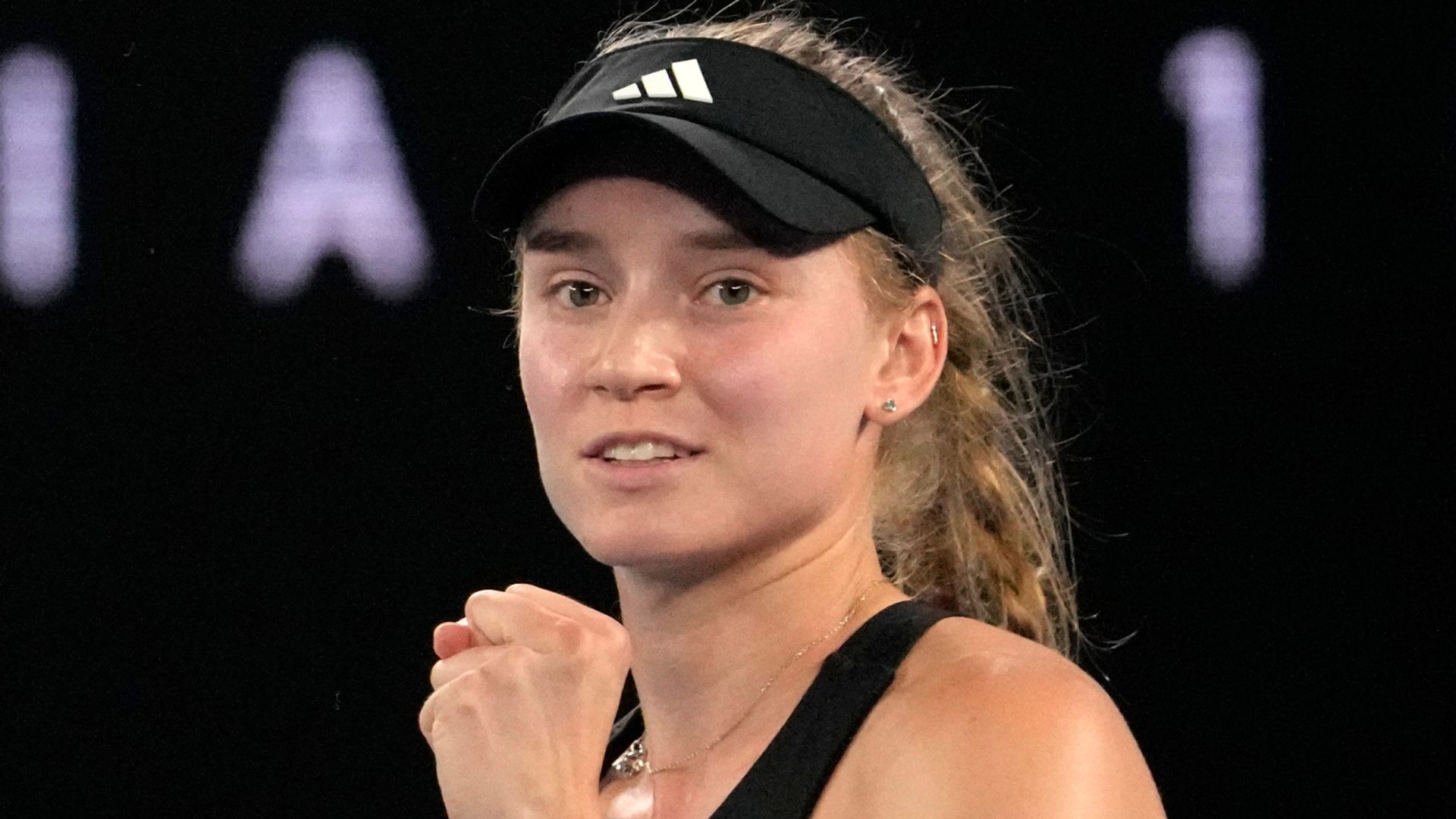 Wimbledon champion Elena Rybakina continued her march in Melbourne as she eased into the semi-finals of the Australian Open with victory over Jelena Ostapenko.
As expected between two of the biggest hitters on the women's tour, this was first-strike tennis, but Rybakina was the steadier in a 6-2 6-4 victory on Rod Laver Arena
Rybakina was a surprise champion at the All England Club but it would not be a shock if she ended the fortnight lifting the trophy here, particularly with the conditions favouring flat hitters.
"I think of course I got all the experience at Wimbledon and it's helping me now this time here in Australia and I know what to expect," she said.
"I already did it once and, of course, I got confident that I can do it again. I did really good preparation with the team. I'm not really surprised with the results. I'm happy. I'm just hungry to work and improve more."
Both had caused upsets in the previous round, Rybakina defeating world No 1 Iga Swiatek and Ostapenko powering past Coco Gauff.
The Latvian, French Open champion in 2017, was through to her first Grand Slam quarter-final for nearly five years, but produced too many errors to put any real pressure on Rybakina.
The Kazakh No 1, who is edging closer to the top-10 position she would have occupied had Wimbledon offered ranking points, broke serve to open the match and was 3-1 ahead when a heavy shower caused a delay and led to the roof being shut.
Rybakina maintained her momentum on the resumption to take the first set and, although Ostapenko, who again continually complained about the accuracy of the automated line calling, opened up a 2-0 lead in the second, she could not hold onto it.
Almost three-quarters of the points were decided within four shots while Rybakina's serve, the best in the women's game following Serena Williams' retirement, yielded 11 aces and was a key difference between them.
Pinpoint accuracy from ruthless Rybakina
Elena Rybakina has 29 aces at the Australian Open, the most by a women's player; she has more aces in this tournament than from her previous three combined.
Ostapenko, one of the bluntest speakers on tour, did not mince her words afterwards, saying: "I think in general today, the level of the match was much lower than the previous one.
"It felt like me and Coco, we had like a really high level of tennis and we played really well. It's a little shame that I couldn't bring this level of the tennis today.
"Obviously she was serving well but I felt like, already in the second set when I had the longer rallies with her, I was winning most of them, so that was my goal, to make her play.
"I felt like maybe (playing) mixed doubles yesterday was a little bit not the right decision to play that late.
"But in general I think I can take only positive things out of this week because it's only the beginning of the season and, if I keep working and keep playing the same way, I think I can be a dangerous player."
Ostapenko again showed her frustration with the automated line calling and said her opponent was "lucky in many moments".
"Some balls were not a little out, they were a bit out and they were not called," she said.
The 23-year-old will take on either third seed Jessica Pegula or former two-time Australian Open champion Victoria Azarenka in her second Grand Slam semi-final.