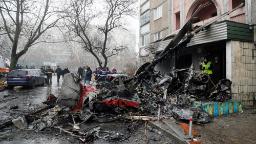 French President Emmanuel Macron, German Chancellor Olaf Scholz and Spanish Prime Minister Pedro Sánchez were among a number of international leaders to offer condolences following the fatal helicopter crash in Brovary on Wednesday.
"Saddened by the tragic death of the Ukrainian Interior Minister Denis Monastyrsky. Thoughts for all the victims of this terrible event that occurred near a kindergarten, for the children and the families," tweeted Macron.
"France offers its condolences to its Ukrainian friends," he added.
Scholz also tweeted:
"The helicopter crash in #Brovary shows once again the immense toll #Ukraine is paying in this war. Our thoughts on this sad day are with the families of the victims and the injured, as well as with @ZelenskyyUa who lost his Interior Minister today."
Sánchez said that that he was "shocked by the accident."
"My condolences to the families, to President @ZelenskyyUa and to the Ukrainian people. All our support," he added.
Ursula von der Leyen, president of the European Commission, said the crash was a "tragedy" and offered her "heartfelt condolences."
"We are mourning with you," she added.
Other international figures also reacted to news of the crash: 
UK Foreign Secretary, James Cleverly:
"Tragic news of the helicopter crash in Ukraine this morning, which took the lives of Ukraine's Interior Minister Denys Monastyrskyy, members of his team and civilians. Denys was a true friend of the UK. We are ready to support Ukraine in whatever way we can."
Polish President Andrzej Duda:
"It is with deep sadness that I received information about the helicopter crash in Brovary near Kyiv which left several persons killed, including senior officials of Ukraine's Ministry of Interior. My thoughts are with the families and loved ones of the victims."
Lithuanian President Gitanas Nausėda:
"Devastating news about the helicopter crash at Brovary. My condolences to the families of the victims, President @ZelenskyyUa and the people of Ukraine. Lithuania is mourning with Ukrainians. This incident is another tragic consequence of Russian aggression against Ukraine."