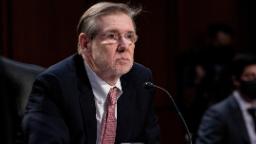 CNN
 — 

Dr. David Kessler, chief science officer for the White House Covid-19 Response Team, is retiring, according to a statement from the US Department of Health and Human Services.
"For decades, Dr. Kessler has worked tirelessly to address our nation's most challenging public health issues, and his work during the COVID-19 pandemic has been no different," HHS Secretary Xavier Becerra said in the statement Friday.
"Whether he was leading our effort to develop and distribute safe and effective COVID-19 vaccines and treatments, or sharing his perspective during daily strategy sessions and data deliberations, Dr. Kessler's contributions to our COVID-19 response have helped save lives. I am grateful for the wisdom he has shared with us and wish him the best in his future endeavors," Becerra continued.
Kessler's government career began when President George H.W. Bush appointed him to lead the US Food and Drug Administration in 1990; he oversaw the rollout of the agency's iconic Nutrition Facts label on packaged foods and helped streamline its drug approval process. After stepping down from the FDA in 1997, he became dean of the Yale School of Medicine and then joined the University of California, San Francisco.
President Joe Biden chose Kessler for the Covid-19 response team in 2021. He was also co-chair of the Biden transition's coronavirus task force and that administration's head of Operation Warp Speed, the group formed under President Donald Trump to speed vaccine development and distribution.
"Every day for two years, David has been laser focused on ensuring we had enough vaccines and treatments for the American people," Dr. Ashish Jha, the response team coordinator, said Friday on Twitter. "An extraordinary public servant. We will miss him."
Ron Klain, the White House chief of staff, tweeted, "There has been no more valued and trusted wise advisor to the @POTUS on scientific and medical matters than Dr. Kessler. He will be GREATLY missed."