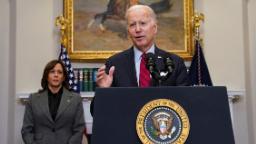 CNN
 — 

President Joe Biden is heading to the US-Mexico border on Sunday on the heels of major policy announcements and following relentless calls from Republicans who believe the trip is overdue.
The trip to the border – the first for Biden since he took office – comes as the administration wrestles with a growing number of migrants, overwhelming federal and local resources. Republicans, some border-district Democrats in Congress and even Democratic mayors have criticized Biden for failing to address record levels of border crossings.
With his visit to El Paso, Texas, on Sunday, Biden is seizing on an issue that's been a political liability for his administration, while calling on Congress to overhaul the US immigration system to meet current needs.
But the patchwork of policies put in place by the administration to manage the border so far has often put Biden at odds with his own allies who argue that the administration's approach is too enforcement heavy.
"It's enraging and sad to see a Democratic administration make it harder for vulnerable people to seek asylum all because they're scared of angry MAGA voters on this issue," a member of the Congressional Hispanic Caucus told CNN, responding to the latest policy announcements.
Previewing the trip, a White House official said the president will "meet with federal, state, and local officials and community leaders who have been critical partners in managing the new migration challenge impacting the entire Western Hemisphere with record numbers of people fleeing political oppression and gang violence in Venezuela, Nicaragua, Haiti, and Cuba." The president is scheduled to spend about three hours on the ground.
Biden will evaluate border enforcement operations, touring the Bridge of the Americas Port of Entry alongside Customs and Border Protection officers, members of Congress and local officials and law enforcement.
The White House said it's the busiest port in El Paso and received $600 million under bipartisan infrastructure law.
Biden will then visit the El Paso County Migrant Services Center to meet with local officials, faith leaders and non-governmental organizations "who have been critical to supporting migrants fleeing political oppression and economic collapse in their home countries."
The official said the president will also spend time with local business leaders to hear about the economic impact of migration in the region and worker shortages.
Biden will be joined by Homeland Security Secretary Alejandro Mayorkas; Texas Reps. Veronica Escobar, Henry Cuellar and Vicente Gonzalez, all Democrats; El Paso Mayor Oscar Leeser; El Paso County Judge Ricardo Samaniego; and additional community and business leaders.
Mass movement across the Western Hemisphere has posed an urgent challenge for Biden, who in his first few months in office faced a surge of unaccompanied migrant children at the border and later, the abrupt arrival of thousands of Haitian migrants.
Since 2021, there have been more than 2.4 million arrests along the US-Mexico border, according to US Customs and Border Protection data. That includes people who have attempted to cross more than once. Many have also been turned away under a Trump-era Covid restriction known as Title 42 that allows federal authorities to expel migrants quickly, citing the Covid-19 pandemic.
The arrival of thousands of migrants has strained border communities, including El Paso. The city most recently began seeing record levels of migrant arrivals beginning a few weeks ago, when anxiety about the scheduled end of Title 42 prompted thousands of migrants to turn themselves in to border authorities or to cross into the United States illegally in a very short period.
The policy was scheduled to lift last month, but a Supreme Court ruling kept the rule in place while legal challenges play out in court.
Biden said he wanted to wait until he knew an outcome in the Title 42 legal machinations before traveling to the border and accused Republicans calling for him to travel there of playing political games.
"They haven't been serious about this at all," he said.
Escobar, who represents El Paso, said in a tweet that she's "excited" to welcome Biden to the city. While she didn't place a big emphasis on Biden visiting the border, she made clear she welcomed it in recent weeks and urged the federal government to provide assistance to the city.
John Kirby, the National Security Council coordinator for strategic communications, said that the president is looking forward to seeing firsthand the situation on the border ahead of the North American Leaders' Summit in Mexico City.
"The President is very much looking forward to seeing for himself first-hand what the border security situation looks like, particularly in El Paso. He's very much also interested in getting to talk to Customs and Border Patrol agents on the ground who are actually involved in this mission to get their first-hand perspectives of it," Kirby told reporters Friday.
Ahead of Biden's border visit, the administration also announced plans to expand the policy and include Haitians, Nicaraguans and Cubans while it remains in place. Title 42 has so far largely applied to migrants from Mexico, Guatemala, El Salvador, Honduras and Venezuela.
The announcements Biden made Thursday reflect the administration's effort to prepare for the end of Title 42, along with putting in place programs to manage the surge of migrants that have coincided with the anticipated end of the rule.
The administration will now accept up to 30,000 migrants per month from Nicaragua, Cuba, Haiti, and Venezuela under a humanitarian parole program geared toward those nationalities. Those who do not come to the US under that program may be expelled to Mexico under Title 42.
The announcement drew criticism from immigrant advocates and Democrats who argued the policies will put migrants who are seeking asylum in harm's way.
"The expansion of Title 42 to include Cubans, Haitians, and Nicaraguans is a broken promise," said Dylan Corbett, executive director of Hope Border Institute, in a statement. Hope Border Institute has been assisting migrants who have arrived in El Paso.
"Border communities will continue to work hard to pick up the broken pieces of our nation's immigration system and show that our future lies not with expulsion and deportation, but with humanity and hope," he added.
Members of the Congressional Hispanic Caucus grilled top Biden officials, including Mayorkas, over the newly announced border policies in a call Thursday, according to two sources in attendance.
Members felt blindsided by the new policies and frustrated with the lack of engagement prior to their rollout, the sources said.
"It was really heated," one source said, adding that members were "livid" that the administration didn't consult with them ahead of time. The call included officials with the Department of Homeland Security and the White House.
One of the sources of tension during the call was a new asylum regulation that could bar migrants who are seeking asylum in the United States from doing so if they passed through another country on their way to the US-Mexico border. The restrictions are reminiscent of limits rolled out during the Trump administration, though officials have rejected the comparison.