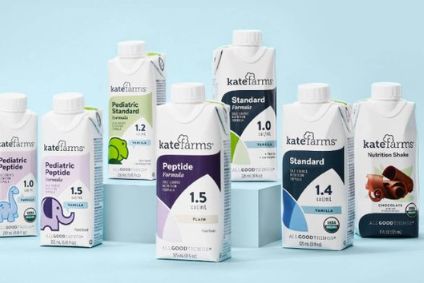 US nutrition firm Kate Farms has raised US$75m in a Series C funding round for its plant-based formulas, led by life-science investor Novo Holdings.
Kate Farms produces organic formulas for tube-feeding people with chronic illnesses, as well as oral nutrition shakes for those with shorter-term or milder conditions.
The company, in its seventh year of growth, said it plans to use the money towards innovation in its product portfolio, to develop new products and to enter new channels.
Recent product launches include a special formula for diabetes and the only organic and plant-based, closed-system hanging bag for use in hospitals.
The investment follows the innovator's successful Series B funding round in 2020, where it raised "significant" backing from a local investor.
Kate Farms chairman and CEO Brett Matthews said: "Despite the challenging global economic environment, I'm pleased that Novo Holdings and our existing investors appreciate the significant potential of plant-based nutrition and Kate Farms' leadership in this rapidly growing market.
"Our brand has deeply held values, which means that finding the right investment partners is a critical choice for us. Novo Holdings' investment in Kate Farms will allow us to develop more innovative products, enter new markets and continue to serve the patients who depend on us for their nutrition, as well as thousands of healthcare providers."
Novo Holdings, which has also backed US cell-cultured breast milk firm Biomilq, said the investment "aligns seamlessly with our purpose of improving people's health and the sustainability of society and the planet".
Kartik Dharmadhikari, partner at Novo Holdings' growth arm, said: "We are pleased to partner with Kate Farms and support them in their efforts to meet the nutritional needs of numerous patient populations.
"We believe our life sciences heritage can serve the company well as it explores additional ways to utilise science and clinical evidence to support plant-based clinical nutrition."
Alongside Novo Holdings, participants included current investors Kaiser Permanente Ventures, Goldman Sachs Asset Management, Main Street Advisors and existing individual investors.
Kate Farms was founded in 2011 by parents Michelle and Richard Laver, who were inspired to make an organic, plant-based liquid meal replacement formula for their daughter Kate who has cerebral palsy.
Its products are certified organic, vegan, gluten-free and kosher, and are accessible in more than 95% of US hospitals.
On closing the funding round, Richard said: "Michelle and I started Kate Farms to help our daughter Kate who was failing to thrive.
"This investment from Novo Holdings and other notable investors is a milestone and a market validator that the product we created for Kate has helped so many.  
"We are confident that Kate Farms will continue to create breakthrough nutritional products to help patients thrive."