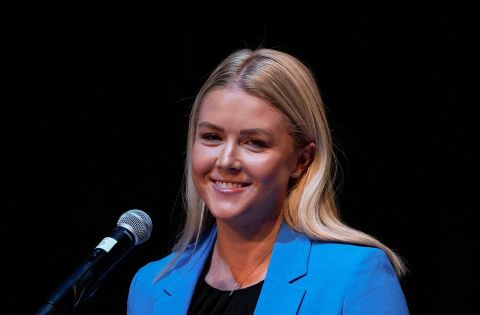 Karoline Leavitt will win the GOP nomination for New Hampshire's 1st Congressional District, CNN projects, and face Democratic incumbent Rep. Chris Pappas in November. 
The Gen Z candidate graduated from Saint Anselm College in 2019 and then went to work in the Trump White House. She eventually became assistant press secretary under White House press secretary Kayleigh McEnany. After Trump's loss, she went to work for Rep. Elise Stefanik, now the third-ranking House Republican. She was endorsed by Texas Sen. Ted Cruz. She previously told CNN that she was running in part, to bring young voters into the Republican Party.
Leavitt defeated another Trump alum, Matt Mowers, who was an adviser in the State Department in former President Donald Trump's administration and is the former New Hampshire GOP executive director. 
Leavitt's victory came in the face of millions in outside spending seeking to halt her rise and help Mowers win the nomination. After polls showed Leavitt, 25, tied with Mowers, millions flooded into the state from outside groups like Congressional Leadership Fund and Defending Main Street, including in attack ads that called her "woke," "immature" and "irresponsible."
Those Republican groups believed Mowers, not Leavitt, would be best positioned to face Pappas, one of the most vulnerable House Democrats in the country, in November. A Mowers victory would have meant a rematch of their 2020 campaign, a race Mowers lost by 5 percentage points.
More on the race: But Leavitt's victory is proof of how mimicking his style and political aggression is a winning strategy. Both Republicans worked for Trump – Leavitt in the White House and Mowers during the campaign and at the State Department – but where Mowers attempted to walk a fine line in his embrace of Trump, Leavitt was more aggressive and brash.
Mowers' caution opened the door for Leavitt, and turned the race into one as much about style as it was about the substance. Both Mowers and Leavitt centered their campaigns on the same policy that helped elected the former President, but the upstart winner was unabashed about her support for the former President, especially on the lie that the 2020 election was stolen.
Earlier this month, when Mowers was asked if he had confidence in elections, the candidate said, "I have confidence in New Hampshire elections," but added that there was space to "get better."
Leavitt unloaded on Mowers for the answer, saying "the 2020 election was undoubtedly stolen from President Trump" and accusing Mowers of siding with Biden in believing the Democratic president "legitimately won more votes than Donald Trump."
Democrats believe Levitt's win is a victory for Pappas, giving the vulnerable Democrat an easier chance of winning in November.
CNN's Dan Merica contributed reporting to this post.