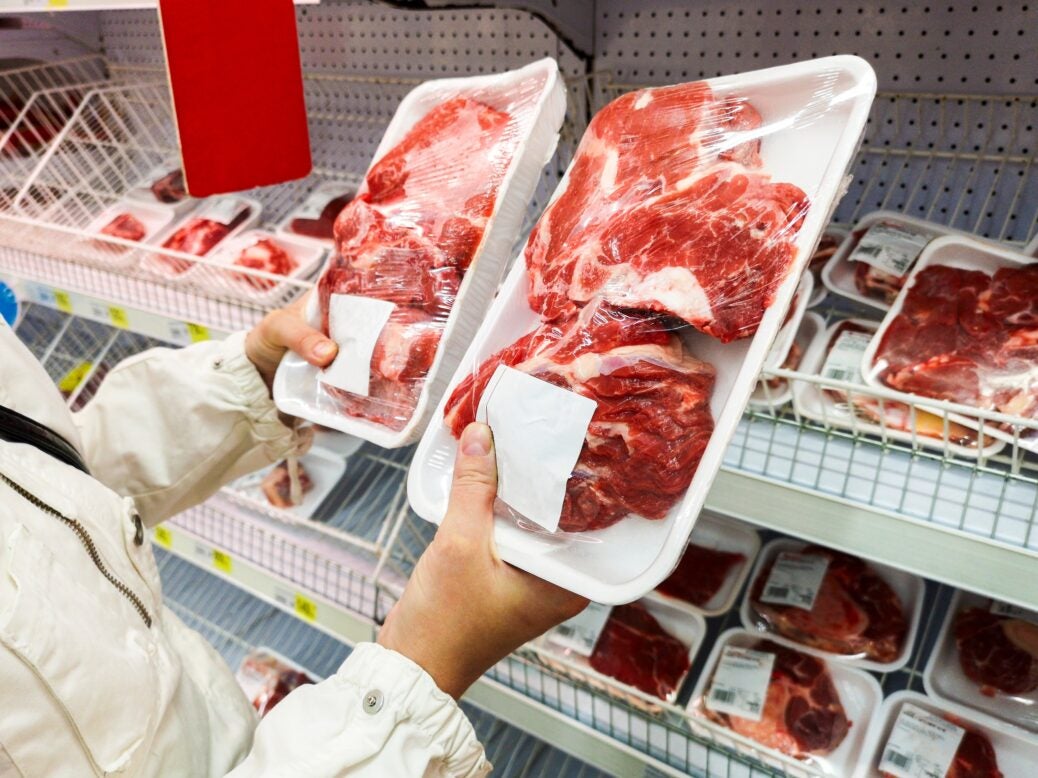 The extreme climatic events witnessed across the world in mid-2022, mainly through record-high temperatures, coupled with the energy crisis prompted by the Russian invasion of Ukraine, have brought to the table the question of meat consumption.
An article surveying meat trends in the UK, published in medical journal The Lancet, points out that globally, "the average per-capita consumption of meat, and the total amount of meat consumed, is increasing, driven by population growth, rising incomes, and sociocultural traditions that place a high value on eating meat".
However, the paper also explains that there are "large disparities in meat intake in different parts of the world". In some high-income countries, such as the UK, "per-capita consumption of meat is high but beginning to decline", while in many middle-income countries, "such as China and those in east Asia, meat consumption is still rising".
For example, in Germany, a country renowned for its love of meat, citizens are steadily reducing their meat consumption, with the per capita consumption decreasing from 62.8 kilos in 2011 to 55 kilos in 2021, according to the Federal Office for Agriculture and Food (the BLE – Bundesanstalt für Landwirtschaft und Ernährung). The 2021 figure was the lowest result since records started in 1989.
The Lancet goes on to highlight that differences in meat consumption also exist within countries as "attitudes towards meat consumption and meat reduction differ between subgroups of the population, as defined by age, gender, ethnicity, or income".
Meanwhile, the UN Food and Agriculture Organisation's (FAO) latest Food Outlook report is forecasting world meat production to expand "moderately in 2022, despite a challenging production environment characterised by widespread animal diseases, conflicts and rising input costs". 
How is meat consumption changing?
The latest OECD-FAO Agricultural Outlook report, which provides a look at meat consumption between 2019 and 2021 and medium-term projections for world meat markets for 2022–31, shows a clear increase in the projected consumption of pig and poultry meats on a global scale, while beef looks set to decline. 
According to the report's data, North America leads in meat consumption per capita across the world, followed by Oceania and Europe. However, the report points out that in these regions, in high-income countries where per capita consumption is already high, "demand is anticipated to level off or trend lower given ageing populations and greater dietary concerns that seek more diversity in protein sources".
On the other hand, the report expects that in lower-income countries, "both population and income growth will spur higher overall consumption, albeit from a much lower per capita base level".
Globally, the report projects protein availability from poultry, pork, beef and sheep meat to grow by 16%, 17%, 8% and 16%, respectively, by 2031.
According to the report, the long-term shift in meat consumption towards poultry is explained in high-income countries due to a rising preference for white meats "that are more convenient to prepare, and which are perceived as a better food choice", whereas, in the case of low and middle-income countries, the "upward trend is additionally due to the lower price of poultry compared with other meats".
It seems unlikely that meat will be taken off the menu altogether any time soon, but environmental consciousness is also starting to play a role in consumers' shopping habits in high-income countries. However, as the cost-of-living crisis spreads across wealthy countries, food shopping habits may change, with conventional meat potentially being seen as a better value alternative. The price differential between conventional meat and alternative products remains a challenge for plant-based businesses the world over.
This article was originally published on Just Food sister site Investment Monitor
Just Food analysis
Plant-based options taking root in meat-loving Germany
Meat consumption in Germany is falling and alternatives are gaining in popularity. Nonetheless, significant challenges remain for suppliers into this buoyant but small category.