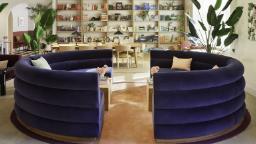 The six-year-old startup, which had raised more than $100 million in funding towards building out its network of physical spaces that were intended to look and feel like feminist utopias, said its six remaining spaces are closed for good.
At its height, the company had nearly a dozen locations. Its first location outside the US opened in London in the fall of 2019, mere months before the pandemic would halt use of its members-only spaces.
According to an automated email response from one of its New York City locations, the company has "arranged for workspace and membership needs to be fulfilled" by the International Workplace Group, or IWG. In February 2021, the flexible workspace behemoth, with a network of 1,000 US locations, acquired a majority stake in The Wing following the
many months
of turmoil.
After temporarily shuttering its physical locations in response to the pandemic, The Wing had just six locations open — in New York City, Chicago, San Francisco and Los Angeles, IWG confirmed to CNN Business Wednesday.
"Members of The Wing were not using the existing six downtown locations and instead wanted access to centers in suburban locations, closer to where they live," IWG founder and CEO Mark Dixon said in a statement, referring to what he said is a "shift in demand to flexible workspaces nearer to employees' homes."
"As a result, the existing six downtown centers were closed and members were provided with access to all of the same facilities, services and events in a far greater number of locations via IWG's network," Dixon said.
But it is unclear if it will have the same… vibes.
The company had raised $167 million from investors, including WeWork Airbnb, and venture capital firms Sequoia Capital and New Enterprise Associates, according to data from Pitchbook.
The Wing, in February, had promoted its chief marketing officer, Jen Cho, to fill the role of CEO and steer the company. Cho departed The Wing in July after just five months at the helm.