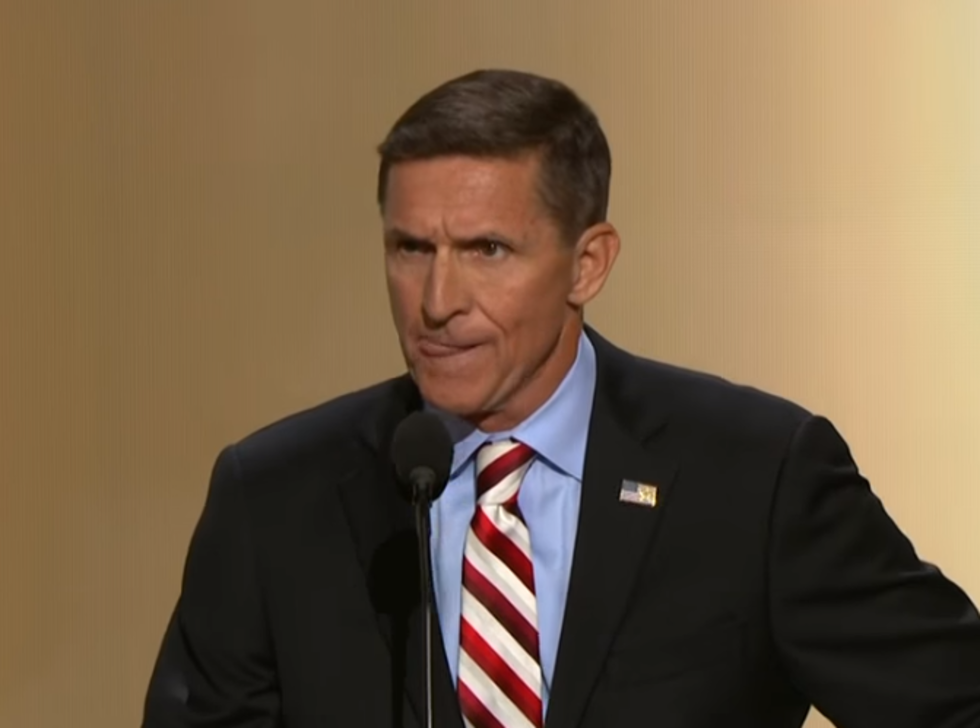 There's an excessive amount of information! The January 6 Make a selection Committee is comin' in HOT, and we are going to must hit these things round-up taste, as a result of those folks didn't come to play.
Buckle up, children! We are heading for Treasontown.
---
Now not Michael Flynn In An Alleged Extortion Plot? The Satan You Say!
The Mum or dad simply broke a wild tale about former Nationwide Safety Guide and present wingnut freak Michael Flynn seeking to convince contributors of Pennsylvania's congressional delegation to again an audit of the state's election, which President Joe Biden gained through 80,000 votes. Consistent with Everett Stern, a Republican operating for Pennsylvania's open Senate seat, he was once approached in April through contributors of Flynn's so-called Patriot Caucus, who was hoping to dig up grime on retiring Sen. Pat Toomey and Rep. Brian Fitzpatrick, each Republicans, so that you can persuade them to reinforce the recount.
Sure, that may be April of 2021, 5 months after the election and 3 months after Biden was once sworn in.
It is a lengthy article, with loads of element on individuals who must be calling their attorneys proper this minute. However briefly, allies of Flynn advised Stern they was hoping to recruit "former home and overseas intelligence officers" for his or her plan. Stern, a former whistleblower at HSBC who runs an intelligence company referred to as Tactical Rabbit, have compatibility the invoice. Stern, who saved texts and emails from the crowd, says they introduced to "pay him" by means of marketing campaign contributions, and that the crowd was hoping to power judges in the similar approach.
He tipped off the FBI in June, and has had lengthy chats about this unlucky collection of occasions with each federal police officers and the Make a selection Committee.
And in case Michael Flynn is Googling it at the moment, no, pre-emptive pardons for legal shit it's possible you'll do one day are no longer a factor.
Rudy Giuliani Into Some Loopy Unlawful Shit? UNPOSSIBLE!
CNN and the Washington Publish have competing rundowns of the Trump group's effort to gin up slates of pretend electors.
"It was once Rudy and those misfit characters who began calling the photographs," a former Trump marketing campaign staffer advised CNN. "The marketing campaign was once throwing sufficient shit on the wall to look what would stick."
Remember the fact that the ones fakakta memos from John Eastman and Jenna Ellis explicitly trusted the ones slates of "change electors," as proof that native officers had tested the votes and located proof of fraud. Excluding for a way the cosplay weirdos pretending to be electors did not collect as a reaction to details at the floor, they have been assembled through the Trump marketing campaign. In essence, the marketing campaign put the rabbit within the hat, pulled it out once more, after which shouted THERE'S YOUR ELECTION-STEALING RABBIT.
Which ends up in the most obvious query whether or not any of this was once unlawful. And the solution is who the hell is aware of. However, as CNN issues out, probably the most bogus electoral certificate comprise hedging language that means some fear in regards to the legitimacy of the undertaking. Pennsylvania's file says, "if, because of a last non-appealable Court docket Order or different continuing prescribed through legislation, we're in the end identified as being the duly elected and certified Electors," and New Mexico's dress-up goons signed up "at the figuring out that it will later be decided that we're the duly elected and certified Electors."
There also are pages and pages of substitutions within the certificate, which have been kicked unfastened closing week through American Oversight, for the reason that authentic nominees to the Electoral School refused to move in conjunction with the entire sordid trade and had to get replaced with partisan hacks.
The Publish notes that Michigan AG Dana Nessel and New Mexico AG Hector Balderas have each referred the instances to the Justice Division for possible prosecution.
In the meantime At The White Space … HOLY COUP PLOT, BATMAN!
After the Perfect Court docket dropkicked Trump's effort to dam the Nationwide Archives from liberating his papers to the Make a selection Committee, the paperwork have began to return out, and they're YIKES.
Politico simply printed an government order dated December 16, which was once by no means signed, beneath which the army would snatch all of the balloting machines and "audit" them for 60 days; a different recommend could be appointed to analyze the vote; and successfully the January 20 transition of energy could be canceled.
"I, Donald J. Trump, President of the USA, in finding that the forensic record of the Antrim County, Michigan balloting machines, launched December 13, 2020, and different proof submitted to me in reinforce of this order, supply possible motive enough to require motion beneath the government cited above on account of proof of global and overseas interference within the November 3, 2020, election," it reads, prior to launching right into a fact-free recital of accusations of vote tampering through overseas governments.
Be aware that this bears out reporting on the time that Trump was once huddled up with Sidney Powell, Michael Flynn, and Patrick Byrne on the White Space plotting to claim martial legislation, confiscate the "crooked" machines, and make Powell Particular Recommend to supervise an investigation into non-existent fraud. It additionally jibes with the hot disclosure of that wackass PowerPoint that was once pinging round DC proposing more or less the similar.
In abstract and in conclusion, shit is fucked up, and the scoop avalanche is simply getting began.
Wheeeeee!
[The Guardian / CNN / WaPo / Politico]
Observe Liz Dye on Twitter!
Click on the widget to stay your Wonkette ad-free and feisty. And in case you are ordering from Amazon, use this hyperlink, as a result of causes.
window.REBELMOUSE_LOWEST_TASKS_QUEUE.push(function(){
!function(f,b,e,v,n,t,s) {if(f.fbq)return;n=f.fbq=function(){n.callMethod? n.callMethod.apply(n,arguments):n.queue.push(arguments)}; if(!f._fbq)f._fbq=n;n.push=n;n.loaded=!0;n.version='2.0'; n.queue=[];t=b.createElement(e);t.async=!0; t.src=v;s=b.getElementsByTagName(e)[0]; s.parentNode.insertBefore(t,s)}(window, document,'script', 'https://connect.facebook.net/en_US/fbevents.js'); fbq('init', '482172895483293'); fbq('track', 'PageView');
});
window.REBELMOUSE_LOWEST_TASKS_QUEUE.push(function(){
/*! getClosest.js | (c) 2017 Chris Ferdinandi | MIT License | http://github.com/cferdinandi/getClosest */ /** * Get the closest parent element that matches a selector. * @param {Element} elem Starting element * @param {String} selector Selector to match against * @return Element Returns null if not match found */ var getClosest = function(elem, selector) {
// Element.matches() polyfill if (!Element.prototype.matches) { Element.prototype.matches = Element.prototype.matchesSelector || Element.prototype.mozMatchesSelector || Element.prototype.msMatchesSelector || Element.prototype.oMatchesSelector || Element.prototype.webkitMatchesSelector || function(s) { var matches = (this.document || this.ownerDocument).querySelectorAll(s), i = matches.length; while (--i >= 0 && matches.item(i) !== this) {} return i > -1; }; }
// Get closest match for (; elem && elem !== document; elem = elem.parentNode) { if (elem.matches(selector)) return elem; }
return null;
};
// Vanilla JS
var className="active";
// getting current URL and adding a class on the current menu item
var path = location.pathname.split("https://www.wonkette.com/")[1]; var link = document.querySelectorAll('.menubar a[href="https://www.wonkette.com/" + path + '"]'); if (link[0]) { if (link[0].classList) { link[0].classList.add(className); } else { link[0].className += ' ' + className; } }
// remove class from home-link var home = document.getElementsByClassName('home__item'); if (home[0]) { if (home[0].classList) { home[0].classList.remove(className); } else b)' + className.split(' ').join(' }
// search the closest parent and adding an active class on it too
var closestParent = getClosest(link[0], '.menubar_item-dropdown');
if (closestParent) { if (closestParent.classList) { closestParent.classList.add(className);
} else { closestParent.className += ' ' + className; } }
var socials = document.getElementsByClassName('social-links')[0]; var cloneSocials = socials.cloneNode(true);
var menu = document.getElementById("menubar"); var cloneMenu = menu.cloneNode(true);
var mobileMenu = document.getElementsByClassName('main-menu-wrapper')[0]; var beforeEl = document.getElementsByClassName('menu-global__search-form')[0];
mobileMenu.insertBefore(cloneSocials, beforeEl); mobileMenu.insertBefore(cloneMenu, beforeEl);
if (!document.body.classList.contains('logged-out-user')) { var existCondition = setInterval(function() { var userLink = document.querySelectorAll('.main-menu-item--my_page .link'); if (userLink.length) { clearInterval(existCondition); var membersLink = document.querySelectorAll('#membersLink'); var userUrl = userLink[0].href; Array.prototype.forEach.call(membersLink, function(el) { el.href = userUrl; });
if (document.querySelector('.main-menu-item--designer_editor')) { document.querySelector('.main-menu-wrapper').classList.add('user-admin'); } } }, 500); } else { var existCondition = setInterval(function() { var userLink = document.querySelector('.main-menu-item--login .link'); if (userLink) { clearInterval(existCondition); userLink.href="http://www.wonkette.com/core/users/email_login/"; } }, 500)
}
function copyValue(el) { var thisVal = el.options[el.selectedIndex].text; var closestForm = getClosest(el, 'form'); var paypalAmount = closestForm.nextSibling.querySelector('.paypal-amount'); paypalAmount.value = thisVal; }
document.addEventListener("scroll", createIdleScrollListener(() => { if (window.scrollY > 0) { document.body.classList.add('page-scrolled'); } else { document.body.classList.remove('page-scrolled'); } }));
function createIdleScrollListener(callback) { let ticking = false;
return function onScrollIdle() { if (ticking) { return; } ticking = true; requestAnimationFrame(() => { callback(); ticking = false; }); }; }
});
window.REBELMOUSE_LOWEST_TASKS_QUEUE.push(function(){
(function () { var scriptURL = 'https://sdks.shopifycdn.com/buy-button/latest/buy-button-storefront.min.js'; if (window.ShopifyBuy) { if (window.ShopifyBuy.UI) { ShopifyBuyInit(); } else { loadScript(); } } else { loadScript(); }
function loadScript()
function ShopifyBuyInit() { var client = ShopifyBuy.buildClient({ domain: 'wonkette-bazaar.myshopify.com', storefrontAccessToken: 'ed4ae4c7827a0ad6e2f0877e72007d6a', });
ShopifyBuy.UI.onReady(client).then(function (ui) { ui.createComponent('collection', { id: 79186919536, node: document.getElementById('collection-component-0908d7149de'), moneyFormat: '%24%7B%7Bamount%7D%7D', options: { "product": { "variantId": "all", "contents": { "imgWithCarousel": false, "variantTitle": false, "description": false, "buttonWithQuantity": false, "quantity": false }, "styles": { "product": { "@media (min-width: 601px)": { "max-width": "calc(25% - 20px)", "margin-left": "20px", "margin-bottom": "50px" } }, "button": { "background-color": "#c21f38", ":hover": { "background-color": "#af1c32" }, ":focus": { "background-color": "#af1c32" } } } }, "cart": { "contents": { "button": true }, "styles": { "button": { "background-color": "#c21f38", ":hover": { "background-color": "#af1c32" }, ":focus": { "background-color": "#af1c32" } }, "footer": { "background-color": "#ffffff" } } }, "modalProduct": { "contents": { "img": false, "imgWithCarousel": true, "variantTitle": false, "buttonWithQuantity": true, "button": false, "quantity": false }, "styles": { "product": { "@media (min-width: 601px)": { "max-width": "100%", "margin-left": "0px", "margin-bottom": "0px" } }, "button": { "background-color": "#c21f38", ":hover": { "background-color": "#af1c32" }, ":focus": { "background-color": "#af1c32" } } } }, "toggle": { "styles": { "toggle": { "background-color": "#c21f38", ":hover": { "background-color": "#af1c32" }, ":focus": { "background-color": "#af1c32" } } } }, "productSet": { "styles": { "products": { "@media (min-width: 601px)": { "margin-left": "-20px" } } } } } }); }); } })();
});
window.REBELMOUSE_LOWEST_TASKS_QUEUE.push(function(){
window.REBELMOUSE_STDLIB.loadExternalScript("https://checkout.stripe.com/checkout.js", function() {
if (!Element.prototype.matches) Element.prototype.matches = Element.prototype.msMatchesSelector || Element.prototype.webkitMatchesSelector;
if (!Element.prototype.closest) Element.prototype.closest = function(s) { var el = this; if (!document.documentElement.contains(el)) return null; do el.parentNode; while (el !== null && el.nodeType === 1); return null; };
function formsHandling() { var formDonate = document.querySelectorAll('.donation-form:not(.processed)');
formDonate.forEach(function(formEl) { var formEl = formEl;
formEl.classList.add("processed");
formEl.addEventListener("submit", function(event) { event.preventDefault(); });
var donationBtns = formEl.querySelectorAll('.donate-button');
donationBtns.forEach(function(el) { el.addEventListener("click", function(event) { event.preventDefault(); formProcessing(el) }); });
function formProcessing(el) { var btn = el; var payment = btn.getAttribute('data-payment'); var planType = formEl.querySelector('input[name="plan_type"]:checked').value; var checkedOption = formEl.querySelector('input[name="amount"]:checked'); var amount = checkedOption.value * 1; var amountOptional = checkedOption.getAttribute('data-amount'); var dataValue = checkedOption.getAttribute('data-value'); var action;
if ( formEl.contains(formEl.querySelector('.remove-me')) ) { formEl.querySelectorAll('.remove-me').forEach(function(el){ el.remove() }); }
if ( payment == "paypal" ) { formEl.action = "https://www.paypal.com/cgi-bin/webscr"; formEl.setAttribute('target', '_blank');
addHidden( 'currency_code', 'USD'); addHidden( 'cmd', ''); addHidden( 'return', "https://www.wonkette.com/st/Wonkettes_Hero"); addHidden( 'cancel_return', window.location.href);
if ( planType == "once" ) { checkedOption.value = dataValue; formEl.querySelector('input[name="cmd"]').value="_donations"; addHidden( 'business', 'rebecca@wonkette.com'); addHidden( 'item_name', 'Wonkette Donation'); addHidden( 'item_number', 'Just Once');
//add new params addHidden( 'a3', dataValue); addHidden( 'p3', 1); addHidden( 't3', 'D');
} else if ( planType == "monthly" ) { formEl.querySelector('input[name="cmd"]').value="_xclick-subscriptions"; addHidden( 'business', 'rebecca@wonkette.com'); addHidden( 'item_name', 'Wonkette Recurring Donation'); addHidden( 'item_number', 'wonkette_recurring');
//add new params addHidden( 'a3', dataValue); addHidden( 'p3', 1); addHidden( 't3', 'M'); addHidden( 'src', 1); addHidden( 'srt', 52); } formEl.submit(); } else if ( payment == "strip" ) { addHidden( 'entity_type', 1); addHidden( 'plan_type', 1); addHidden('entity_id', getSiteId() ); checkedOption.value = dataValue * 100;
if ( planType == "once" ) { formEl.action = "/core/payment/single_donation"; addHidden( 'plan_name', 'One Time Donation'); stripInit(amount, 'One Time Donation');
} else if ( planType == "monthly" ) { formEl.action = "/core/payment/recurring_donation"; addHidden( 'plan_name', 'Monthly Donation'); addHidden( 'plan', 'donation_' + amount); stripInit(amount, 'Monthly Donation'); }
}
} function addHidden(key, value) { // Create a hidden input element, and append it to the form: var input = document.createElement('input'); input.type="hidden"; input.name = key; input.value = value; input.className += 'remove-me'; formEl.appendChild(input); }
function stripInit(amount, description) { var token = function(res){ addHidden('stripeToken', res.id); addHidden('stripeEmail', res.email); formEl.submit(); };
if (amount) { StripeCheckout.open({ key: 'pk_live_7dJjNGbMgTkHfEasr9FsLcjF', // real //key: 'pk_test_zbMpaIyMyHJ7TLUEheC7q2iS', //test amount: amount, name: 'Wonkette', image: 'https://assets.rbl.ms/16950638/origin.png', description: description, panelLabel: 'Donate', token: token, locale: 'auto' }); } else { window.alert('Select donation amount first') } } });
function getSiteId() { var site_id = null; var inner = document.querySelector('html').innerHTML var str = inner.split('"site_id": '); if( str[1] != undefined ){ site_id = str[1].split(',')[0]; } return !isNaN(site_id) ? site_id : false; } }
formsHandling();
REBELMOUSE_STDLIB.createElementChangeListener(".show-more.js-expand:not(.processed)", (el) => { const keepReading = el; keepReading.classList.add("processed"); keepReading.addEventListener("click", function() { setTimeout(formsHandling, 500) }); });
});
});
window.REBELMOUSE_LOWEST_TASKS_QUEUE.push(function(){
window.disqus_config = function () { this.page.identifier = "2656447848", this.page.url = "https://www.wonkette.com/we-feel-like-the-justice-department-might-need-to-speak-to-michael-flynn-and-rudy-giuliani"; };
var disqusCt = document.createElement('div'), disqus_config; disqusCt.id = 'disqus_thread';
(function() d.body).appendChild(s); )();
function loadCountScript(callback) { var s = document.createElement('script'); s.type="text/javascript"; s.async = true; s.id = 'dsq-count-scr'; s.src = "//wonkettecom.disqus.com/count.js"; var x = document.getElementsByTagName('script')[0]; x.parentNode.insertBefore(s, x); s.onload = () => callback(s); document.head.append(s); }
loadCountScript(script => { /*Add comment Button to all articles*/ REBELMOUSE_STDLIB.createElementChangeListener(".share-panel:not(.js--has-comments)", (el) => { let sharesPanel = el; sharesPanel.classList.add('js--has-comments');
if(sharesPanel.closest('.article__shares')) { let postId = window.REBELMOUSE_BOOTSTRAP_DATA.post.id, postURL = location.protocol + '//' + location.host + location.pathname; addButton(postURL, postId, sharesPanel);
} else if( sharesPanel.closest('.widget') ) { let thisPost = sharesPanel.closest('.widget'), postId = thisPost.getAttribute('elid'), postURL = thisPost.querySelector('.widget__headline-text').getAttribute('href'); addButton(postURL, postId, sharesPanel); } }); });
function addButton(url, id, el) { var commentBtn = document.createElement('span'); //commentBtn.href = url; commentBtn.classList.add('js--toggleDisqus'); commentBtn.classList.add('disqus-comment-count'); commentBtn.setAttribute('data-disqus-url', url); commentBtn.setAttribute('data-postid', id); //commentBtn.setAttribute('data-disqus-identifier', id); commentBtn.innerText="0"; el.append(commentBtn); DISQUSWIDGETS.getCount({reset: true}); //console.log(url, id); }
REBELMOUSE_STDLIB.createElementChangeListener(".js--toggleDisqus:not(.js--callDisqus-processed), .show-more:not(.js--callDisqus-processed)", (el) => { console.log('run callDisqus()');
var timeOut=10; if(el.classList.contains("show-more")){ timeOut=1000; } el.classList.add('js--callDisqus-processed') el.addEventListener('click', function (){ setTimeout(function(){ let t = el, thisPost = t.closest('article') || t.closest('.js-section-loader-feature-container'), postId = t.getAttribute('data-postid'), postURL = t.getAttribute('data-disqus-url');
document.querySelector('#disqus_thread') && document.querySelector('#disqus_thread').remove();
if( t.closest('.article__shares') ) { let postWrap = document.querySelector('.mobile-post-wrapper'); postWrap.appendChild(disqusCt); } else { let afterEl = t.closest('.widget'); if(afterEl){afterEl.parentNode.insertBefore(disqusCt, afterEl.nextElementSibling);} }
console.log('DISQUS.reset', postId, postURL); DISQUS.reset({ reload: true, config: function () { this.page.identifier = postId; this.page.url = postURL; } });
if( t.classList.contains('js--toggleDisqus') ) { let disqus = document.getElementById("disqus_thread"); // disqus.scrollIntoView(); } },timeOut) }); });
// Hide hidden tip-jar, idk why window.REBELMOUSE_STDLIB.createElementChangeListener(".js-keep-reading:not(.js-processed)", (el) => { let keepReading = el; keepReading.classList.add('js-processed'); //keepReading.closest('.mb-2').nextElementSibling.style.display='none'; });
});



Source_link