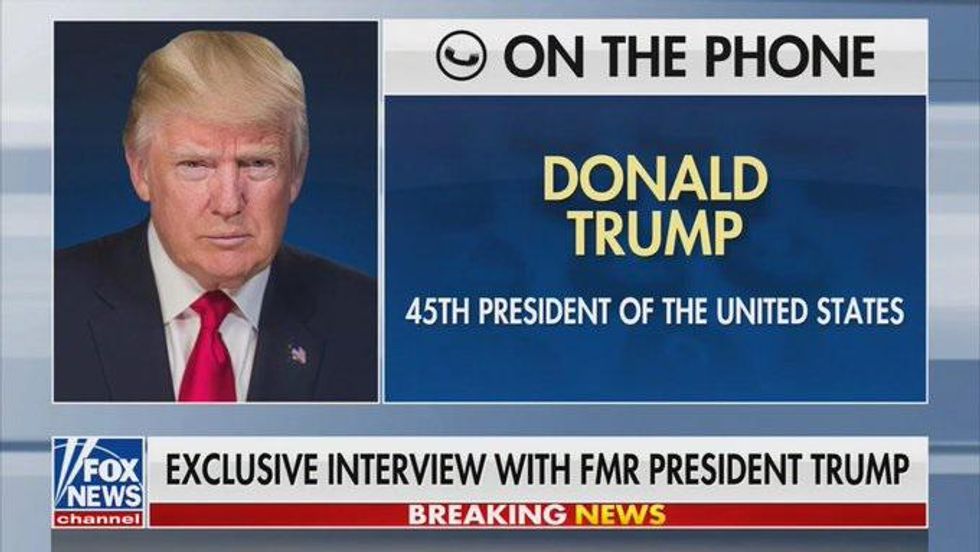 Former president Donald Trump referred to as in to Sean Hannity's Fox Information Lie Jamboree Hour closing evening, and we assume the actual information is that we controlled to observe maximum of it with out even puking as soon as. Yay for us. Fortunate you, it is not on YouTube so we can now not be embedding the video.
The Nice Guy was once purportedly there to discuss Joe Biden's information convention Wednesday, however truthfully, it was once simply some other probability for Trump to copy the similar outdated lies he all the time does, with Hannity once in a while leaping in to take a look at to stay Trump on some type of teach of idea. The item about trains, although — Joe Biden loves trains, I by no means a lot cared for them as a result of it's a must to cross the place the tracks are and the environmentalists assume trains are nice, I by no means understood what they are getting at as a result of in Japan you might have the ones in reality speedy trains, however Amtrak is a multitude for the reason that govt by no means does anything else proper.
Frightening how after 4 years we will all do this.
Trump stated he in reality really was hoping Biden would do neatly, as a result of The united states must do neatly, however as an alternative the entirety is horrible, and in addition Trump was once happy america is in the end out of Afghanistan, even if if it were as much as him, we would have left Afghanistan higher and we will have to have stored Bagram Air Base. Which, if you wish to get technical about it, would have supposed america would nonetheless be in Afghanistan.
---
Hannity attempted to persuade again to what a gracious fellow Trump is, complimenting him on how great it's that Trump so sincerely needs Biden to do neatly. However the factor is, Hannity stated, Biden is simply no just right at accepting grievance and performing on it, and that is the reason very irritating. In reality, he stated, Biden turns out
locked into each any such failed insurance policies. So, you realize, you realize, you stay banging your head in opposition to the wall. Why would you are expecting a unique end result?
The extremely smart former president of america it sounds as if is unfamiliar with easy English idioms, so he idea Hannity needed to be speaking about a real WALL, like Donald Trump's largest fulfillment.
That, or he simply heard the phrase "wall" and it brought about a Pavlovian reaction. We are particularly keen on the lengthy silence prior to Trump solutions.
Pay attention to this dipshit:
TRUMP: So we'd have had the wall finished in 3 weeks. It was once in large part finished. We did nearly 500 miles of wall and the southern border. It was once in reality operating, it in reality had an affect.
He simply could not forestall speaking about what a fantastic process he'd finished with WALL and immigration, prior to Biden ruined the entirety, and now america is stuffed with immigrants and no one respects The united states anymore, and did he point out Afghanistan?
OK we in reality want you to to strap in if you will keep on with us right here. Are you on your at ease chair? Are you able to apply the bouncing Trump actually anyplace it is going? As a result of we are going to apply it. We are doing this.
OK.
Proceeding along with his sharp experience on overseas coverage, Trump stated if he had been nonetheless in place of job, you should not have any issues in Ukraine, now not that Trump ever had any misadventures involving Ukraine or anything else. Additionally, he predicted, as quickly because the Iciness Olympics are over, China may simply invade Taiwan, and in addition one thing one thing Kim Jong-un and Iran, and we may have had a maintain Iran in only one week if Trump had been nonetheless president.
It is in reality spectacular how he was once "president" for 4 years however by no means were given round to that stuff that will have most effective taken every week or 3.
Hannity steered that if Trump had been boss, he'd bankrupt Russia by means of drilling all of the oil and sending it to Europe, and he'd forestall China by means of banning all imports of Chinese language items. That'd be informed 'em. Trump defined that the actual great thing about his time period was once that he made China pay us "loads of billions" in price lists (which have been in reality paid by means of US consumers, now not a cent from China). and he would not let Russia ever do anything else dangerous in Ukraine, and we might by means of God cross to battle over Ukraine possibly, and why are fuel costs so prime now, huh?
We pity someone who may in reality attempt to transcribe any of that nonsense.
Trump defined that fuel now prices over 5 greenbacks a gallon, and in California it is over seven, which is utterly true in the event you upload two or 3 greenbacks to the real worth. You may as neatly, as a result of inflation is so dangerous that by the point I end typing this, fuel will probably be 300 greenbacks a gallon most likely. Additionally, WALL.
Hannity went on to give an explanation for how Biden's economic system is horrible, and Trump agreed that no one respects us, all our allies hate us as an alternative of respecting us, and in addition Afghanistan a 3rd or fourth time, and no American citizens died in Afghanistan in 18 months when he was once president, after which on the airport, the bombing, and we misplaced 13 squaddies and "many many wounded, horribly wounded, with arms and legs horribly wounded, the best way they were given out, and the listing, the folk, that the airplane left …"
Hannity, proceeding that laserlike center of attention on Biden's economic system, then praised Trump for threatening the Taliban with being "burnt up" in the event that they misbehaved. After which Trump stated that he would have taken each unmarried American truck and tank and gun out of Afghanistan so the Taliban should not have them.
This could possibly come with the army apparatus the Afghan army deserted when it surrendered to the Taliban. I suppose the speculation is they by no means may have surrendered it if america had seized it first. Cannot see any issues of that plan. Additionally, he should not have deserted the American "hostages" in Afghanistan, wherein we assume he will have to imply america voters who stayed in the back of as a result of they could not get visas for his or her Afghan members of the family to return to america. Everyone knows how keen Trump was once to stay American citizens and their noncitizen households in combination.
After all, Trump in the end stuck up with the query in regards to the economic system, and famous that america economic system was once in nice form prior to Biden took place of job, no less than so long as you forget about the overall 12 months of Trump's time period, which Trump for sure did. The united states was once just about a paradise when Trump was once president.
"It was once a joyous time as a result of our nation did so neatly," even with all of the hoaxes Hillary perpetrated to damage him. However then the "China virus" arrived and Trump solved that too by means of for my part formulating the vaccines, however no mandates, as a result of "the mandates are killing this nation." And likewise all of the judges Trump appointed, it was once a wonderful time.
That made Hannity wish to speak about power, which for some explanation why made Trump wish to communicate in regards to the disaster on the border once more, and Afghanistan a fourth or 5th time.
Are you all nonetheless OK available in the market? Anyone wish to forestall and get a snack?
Someplace in there Trump additionally defined that the windmills are in reality ruining the ambience and killing the birds and they are so unpleasant, simply large rusty noisy hulks far and wide and killing the birds, and do you know wind is the "most costly type of power" additionally? Will we wish to indicate that is a lie, too? Wind is if truth be told the least pricey supply of power these days. Or so the pretend wind power media say.
Different highlights of the interview incorporated Trump mendacity about January 6 once more (very loving other people, and Nancy Pelosi did not give protection to the Capitol), and a few further bragging about how he did so nice on his cognitive check, no approach can Joe Biden level to "camel" in addition to Donald Trump did, individual lady guy digicam TV!
Weirdly, Trump and Hannity by no means as soon as were given round to these textual content messages during which Hannity warned that Trump will have to by no means say "stolen election" once more, or the others the place he stated Trump needed to inform his supporters to get the hell out of the Capitol. That may have got in the best way of all of the urgent dialogue of Afghanistan and WALL.
In conclusion we're prepared to business one of the vital nonstop pleasure we felt all over the Trump years for a president who isn't utterly out of his fucking gourd.
[Fox News / New York / Daily Beast / Aaron Rupar on Twitter]
Year Wonkette is funded totally by means of reader donations. If you'll be able to, please give $5 or $10 a month so we will drink away the reminiscence of observing this.
Do your Amazon buying groceries thru this hyperlink, as a result of causes.
window.REBELMOUSE_LOWEST_TASKS_QUEUE.push(function(){
!function(f,b,e,v,n,t,s) {if(f.fbq)return;n=f.fbq=function(){n.callMethod? n.callMethod.apply(n,arguments):n.queue.push(arguments)}; if(!f._fbq)f._fbq=n;n.push=n;n.loaded=!0;n.version='2.0'; n.queue=[];t=b.createElement(e);t.async=!0; t.src=v;s=b.getElementsByTagName(e)[0]; s.parentNode.insertBefore(t,s)}(window, document,'script', 'https://connect.facebook.net/en_US/fbevents.js'); fbq('init', '482172895483293'); fbq('track', 'PageView');
});
window.REBELMOUSE_LOWEST_TASKS_QUEUE.push(function(){
/*! getClosest.js | (c) 2017 Chris Ferdinandi | MIT License | http://github.com/cferdinandi/getClosest */ /** * Get the closest parent element that matches a selector. * @param {Element} elem Starting element * @param {String} selector Selector to match against * @return Element Returns null if not match found */ var getClosest = function(elem, selector) {
// Element.matches() polyfill if (!Element.prototype.matches) { Element.prototype.matches = Element.prototype.matchesSelector || Element.prototype.mozMatchesSelector || Element.prototype.msMatchesSelector || Element.prototype.oMatchesSelector || Element.prototype.webkitMatchesSelector || function(s) { var matches = (this.document || this.ownerDocument).querySelectorAll(s), i = matches.length; while (--i >= 0 && matches.item(i) !== this) {} return i > -1; }; }
// Get closest match for (; elem && elem !== document; elem = elem.parentNode) { if (elem.matches(selector)) return elem; }
return null;
};
// Vanilla JS
var className="active";
// getting current URL and adding a class on the current menu item
var path = location.pathname.split("https://www.wonkette.com/")[1]; var link = document.querySelectorAll('.menubar a[href="https://www.wonkette.com/" + path + '"]'); if (link[0]) { if (link[0].classList) { link[0].classList.add(className); } else { link[0].className += ' ' + className; } }
// remove class from home-link var home = document.getElementsByClassName('home__item'); if (home[0]) { if (home[0].classList) { home[0].classList.remove(className); } else $)', 'gi'), ' ');
}
// search the closest parent and adding an active class on it too
var closestParent = getClosest(link[0], '.menubar_item-dropdown');
if (closestParent) { if (closestParent.classList) { closestParent.classList.add(className);
} else { closestParent.className += ' ' + className; } }
var socials = document.getElementsByClassName('social-links')[0]; var cloneSocials = socials.cloneNode(true);
var menu = document.getElementById("menubar"); var cloneMenu = menu.cloneNode(true);
var mobileMenu = document.getElementsByClassName('main-menu-wrapper')[0]; var beforeEl = document.getElementsByClassName('menu-global__search-form')[0];
mobileMenu.insertBefore(cloneSocials, beforeEl); mobileMenu.insertBefore(cloneMenu, beforeEl);
if (!document.body.classList.contains('logged-out-user')) { var existCondition = setInterval(function() { var userLink = document.querySelectorAll('.main-menu-item--my_page .link'); if (userLink.length) { clearInterval(existCondition); var membersLink = document.querySelectorAll('#membersLink'); var userUrl = userLink[0].href; Array.prototype.forEach.call(membersLink, function(el) { el.href = userUrl; });
if (document.querySelector('.main-menu-item--designer_editor')) { document.querySelector('.main-menu-wrapper').classList.add('user-admin'); } } }, 500); } else { var existCondition = setInterval(function() { var userLink = document.querySelector('.main-menu-item--login .link'); if (userLink) { clearInterval(existCondition); userLink.href="http://www.wonkette.com/core/users/email_login/"; } }, 500)
}
function copyValue(el) { var thisVal = el.options[el.selectedIndex].text; var closestForm = getClosest(el, 'form'); var paypalAmount = closestForm.nextSibling.querySelector('.paypal-amount'); paypalAmount.value = thisVal; }
document.addEventListener("scroll", createIdleScrollListener(() => { if (window.scrollY > 0) { document.body.classList.add('page-scrolled'); } else { document.body.classList.remove('page-scrolled'); } }));
function createIdleScrollListener(callback) { let ticking = false;
return function onScrollIdle() { if (ticking) { return; } ticking = true; requestAnimationFrame(() => { callback(); ticking = false; }); }; }
});
window.REBELMOUSE_LOWEST_TASKS_QUEUE.push(function(){
(function () { var scriptURL = 'https://sdks.shopifycdn.com/buy-button/latest/buy-button-storefront.min.js'; if (window.ShopifyBuy) { if (window.ShopifyBuy.UI) { ShopifyBuyInit(); } else { loadScript(); } } else { loadScript(); }
function loadScript()
function ShopifyBuyInit() { var client = ShopifyBuy.buildClient({ domain: 'wonkette-bazaar.myshopify.com', storefrontAccessToken: 'ed4ae4c7827a0ad6e2f0877e72007d6a', });
ShopifyBuy.UI.onReady(client).then(function (ui) { ui.createComponent('collection', { id: 79186919536, node: document.getElementById('collection-component-0908d7149de'), moneyFormat: '%24%7B%7Bamount%7D%7D', options: { "product": { "variantId": "all", "contents": { "imgWithCarousel": false, "variantTitle": false, "description": false, "buttonWithQuantity": false, "quantity": false }, "styles": { "product": { "@media (min-width: 601px)": { "max-width": "calc(25% - 20px)", "margin-left": "20px", "margin-bottom": "50px" } }, "button": { "background-color": "#c21f38", ":hover": { "background-color": "#af1c32" }, ":focus": { "background-color": "#af1c32" } } } }, "cart": { "contents": { "button": true }, "styles": { "button": { "background-color": "#c21f38", ":hover": { "background-color": "#af1c32" }, ":focus": { "background-color": "#af1c32" } }, "footer": { "background-color": "#ffffff" } } }, "modalProduct": { "contents": { "img": false, "imgWithCarousel": true, "variantTitle": false, "buttonWithQuantity": true, "button": false, "quantity": false }, "styles": { "product": { "@media (min-width: 601px)": { "max-width": "100%", "margin-left": "0px", "margin-bottom": "0px" } }, "button": { "background-color": "#c21f38", ":hover": { "background-color": "#af1c32" }, ":focus": { "background-color": "#af1c32" } } } }, "toggle": { "styles": { "toggle": { "background-color": "#c21f38", ":hover": { "background-color": "#af1c32" }, ":focus": { "background-color": "#af1c32" } } } }, "productSet": { "styles": { "products": { "@media (min-width: 601px)": { "margin-left": "-20px" } } } } } }); }); } })();
});
window.REBELMOUSE_LOWEST_TASKS_QUEUE.push(function(){
window.REBELMOUSE_STDLIB.loadExternalScript("https://checkout.stripe.com/checkout.js", function() {
if (!Element.prototype.matches) Element.prototype.matches = Element.prototype.msMatchesSelector || Element.prototype.webkitMatchesSelector;
if (!Element.prototype.closest) Element.prototype.closest = function(s) { var el = this; if (!document.documentElement.contains(el)) return null; do while (el !== null && el.nodeType === 1); return null; };
function formsHandling() { var formDonate = document.querySelectorAll('.donation-form:not(.processed)');
formDonate.forEach(function(formEl) { var formEl = formEl;
formEl.classList.add("processed");
formEl.addEventListener("submit", function(event) { event.preventDefault(); });
var donationBtns = formEl.querySelectorAll('.donate-button');
donationBtns.forEach(function(el) { el.addEventListener("click", function(event) { event.preventDefault(); formProcessing(el) }); });
function formProcessing(el) { var btn = el; var payment = btn.getAttribute('data-payment'); var planType = formEl.querySelector('input[name="plan_type"]:checked').value; var checkedOption = formEl.querySelector('input[name="amount"]:checked'); var amount = checkedOption.value * 1; var amountOptional = checkedOption.getAttribute('data-amount'); var dataValue = checkedOption.getAttribute('data-value'); var action;
if ( formEl.contains(formEl.querySelector('.remove-me')) ) { formEl.querySelectorAll('.remove-me').forEach(function(el){ el.remove() }); }
if ( payment == "paypal" ) { formEl.action = "https://www.paypal.com/cgi-bin/webscr"; formEl.setAttribute('target', '_blank');
addHidden( 'currency_code', 'USD'); addHidden( 'cmd', ''); addHidden( 'return', "https://www.wonkette.com/st/Wonkettes_Hero"); addHidden( 'cancel_return', window.location.href);
if ( planType == "once" ) { checkedOption.value = dataValue; formEl.querySelector('input[name="cmd"]').value="_donations"; addHidden( 'business', 'rebecca@wonkette.com'); addHidden( 'item_name', 'Wonkette Donation'); addHidden( 'item_number', 'Just Once');
//add new params addHidden( 'a3', dataValue); addHidden( 'p3', 1); addHidden( 't3', 'D');
} else if ( planType == "monthly" ) { formEl.querySelector('input[name="cmd"]').value="_xclick-subscriptions"; addHidden( 'business', 'rebecca@wonkette.com'); addHidden( 'item_name', 'Wonkette Recurring Donation'); addHidden( 'item_number', 'wonkette_recurring');
//add new params addHidden( 'a3', dataValue); addHidden( 'p3', 1); addHidden( 't3', 'M'); addHidden( 'src', 1); addHidden( 'srt', 52); } formEl.submit(); } else if ( payment == "strip" ) { addHidden( 'entity_type', 1); addHidden( 'plan_type', 1); addHidden('entity_id', getSiteId() ); checkedOption.value = dataValue * 100;
if ( planType == "once" ) { formEl.action = "/core/payment/single_donation"; addHidden( 'plan_name', 'One Time Donation'); stripInit(amount, 'One Time Donation');
} else if ( planType == "monthly" ) { formEl.action = "/core/payment/recurring_donation"; addHidden( 'plan_name', 'Monthly Donation'); addHidden( 'plan', 'donation_' + amount); stripInit(amount, 'Monthly Donation'); }
}
} function addHidden(key, value) { // Create a hidden input element, and append it to the form: var input = document.createElement('input'); input.type="hidden"; input.name = key; input.value = value; input.className += 'remove-me'; formEl.appendChild(input); }
function stripInit(amount, description) { var token = function(res){ addHidden('stripeToken', res.id); addHidden('stripeEmail', res.email); formEl.submit(); };
if (amount) { StripeCheckout.open({ key: 'pk_live_7dJjNGbMgTkHfEasr9FsLcjF', // real //key: 'pk_test_zbMpaIyMyHJ7TLUEheC7q2iS', //test amount: amount, name: 'Wonkette', image: 'https://assets.rbl.ms/16950638/origin.png', description: description, panelLabel: 'Donate', token: token, locale: 'auto' }); } else { window.alert('Select donation amount first') } } });
function getSiteId() { var site_id = null; var inner = document.querySelector('html').innerHTML var str = inner.split('"site_id": '); if( str[1] != undefined ){ site_id = str[1].split(',')[0]; } return !isNaN(site_id) ? site_id : false; } }
formsHandling();
REBELMOUSE_STDLIB.createElementChangeListener(".show-more.js-expand:not(.processed)", (el) => { const keepReading = el; keepReading.classList.add("processed"); keepReading.addEventListener("click", function() { setTimeout(formsHandling, 500) }); });
});
});
window.REBELMOUSE_LOWEST_TASKS_QUEUE.push(function(){
window.disqus_config = function () { this.page.identifier = "2656446646", this.page.url = "https://www.wonkette.com/hannity-trump-interview"; };
var disqusCt = document.createElement('div'), disqus_config; disqusCt.id = 'disqus_thread';
(function() d.body).appendChild(s); )();
function loadCountScript(callback) { var s = document.createElement('script'); s.type="text/javascript"; s.async = true; s.id = 'dsq-count-scr'; s.src = "//wonkettecom.disqus.com/count.js"; var x = document.getElementsByTagName('script')[0]; x.parentNode.insertBefore(s, x); s.onload = () => callback(s); document.head.append(s); }
loadCountScript(script => { /*Add comment Button to all articles*/ REBELMOUSE_STDLIB.createElementChangeListener(".share-panel:not(.js--has-comments)", (el) => { let sharesPanel = el; sharesPanel.classList.add('js--has-comments');
if(sharesPanel.closest('.article__shares')) { let postId = window.REBELMOUSE_BOOTSTRAP_DATA.post.id, postURL = location.protocol + '//' + location.host + location.pathname; addButton(postURL, postId, sharesPanel);
} else if( sharesPanel.closest('.widget') ) { let thisPost = sharesPanel.closest('.widget'), postId = thisPost.getAttribute('elid'), postURL = thisPost.querySelector('.widget__headline-text').getAttribute('href'); addButton(postURL, postId, sharesPanel); } }); });
function addButton(url, id, el) { var commentBtn = document.createElement('span'); //commentBtn.href = url; commentBtn.classList.add('js--toggleDisqus'); commentBtn.classList.add('disqus-comment-count'); commentBtn.setAttribute('data-disqus-url', url); commentBtn.setAttribute('data-postid', id); //commentBtn.setAttribute('data-disqus-identifier', id); commentBtn.innerText="0"; el.append(commentBtn); DISQUSWIDGETS.getCount({reset: true}); //console.log(url, id); }
REBELMOUSE_STDLIB.createElementChangeListener(".js--toggleDisqus:not(.js--callDisqus-processed), .show-more:not(.js--callDisqus-processed)", (el) => { console.log('run callDisqus()');
var timeOut=10; if(el.classList.contains("show-more")){ timeOut=1000; } el.classList.add('js--callDisqus-processed') el.addEventListener('click', function (){ setTimeout(function(){ let t = el, thisPost = t.closest('article') || t.closest('.js-section-loader-feature-container'), postId = t.getAttribute('data-postid'), postURL = t.getAttribute('data-disqus-url');
document.querySelector('#disqus_thread') && document.querySelector('#disqus_thread').remove();
if( t.closest('.article__shares') ) { let postWrap = document.querySelector('.mobile-post-wrapper'); postWrap.appendChild(disqusCt); } else { let afterEl = t.closest('.widget'); if(afterEl){afterEl.parentNode.insertBefore(disqusCt, afterEl.nextElementSibling);} }
console.log('DISQUS.reset', postId, postURL); DISQUS.reset({ reload: true, config: function () { this.page.identifier = postId; this.page.url = postURL; } });
if( t.classList.contains('js--toggleDisqus') ) { let disqus = document.getElementById("disqus_thread"); // disqus.scrollIntoView(); } },timeOut) }); });
// Hide hidden tip-jar, idk why window.REBELMOUSE_STDLIB.createElementChangeListener(".js-keep-reading:not(.js-processed)", (el) => { let keepReading = el; keepReading.classList.add('js-processed'); //keepReading.closest('.mb-2').nextElementSibling.style.display='none'; });
});



Source_link