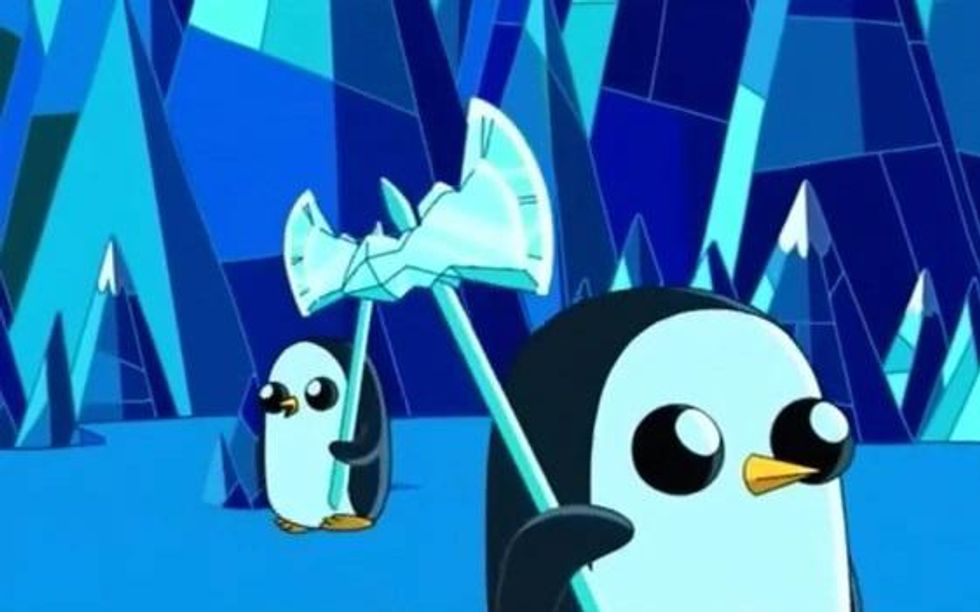 A nasty wintry weather typhoon is anticipated to hit maximum of Texas these days and day after today, and it has Texans understandably involved. The excellent news is that it is no longer forecast to be just about as unhealthy as remaining 12 months's large typhoon that brought about blackouts for hundreds of thousands of Texans and killed 246 other people. Nonetheless, it is prone to carry temperatures within the low 20s within the Dallas-Citadel Value space, and a "very messy wintry weather combine that would come with rain, sleet, or freezing rain, possibly even some snow," in keeping with meteorologist Tim Cady.
Additionally, there is that little drawback we point out within the headline up there, because the Texas Tribune experiences: Subsidiaries of a super large pipeline corporate are threatening to bring to a halt the glide of herbal gasoline to Texas's largest energy producing corporate as a result of a monetary dispute that is going all of the as far back as remaining 12 months's freeze and electrical energy clusterfuck:
---
Vistra Corp. subsidiary Luminant on Wednesday requested the Railroad Fee of Texas, which regulates the state's oil and gasoline business, to stop Power Switch LP from reducing off gas to 5 Vistra energy vegetation, which produce sufficient electrical energy to energy 400,000 Texas houses, companies and important infrastructure similar to hospitals and colleges.

The firms below Power Switch, the pipeline corporate, have instructed Vistra that gasoline will prevent flowing to 5 Vistra energy vegetation on Monday except Vistra will pay Power Switch $21.6 million, in keeping with the submitting.
This could also be your common reminder that the "Railroad Fee of Texas" hasn't regulated railroads in many years, however nonetheless has the title, perhaps as a amusing little prank to confuse outsiders.
Additionally too, because the Houston Chronicle issues out, the $21.6 million that Power Switch is difficult from Vistra is not for precise herbal gasoline purchases, however as a substitute is a "penalty imposed through the pipeline company for getting an excessive amount of gasoline and over-supplying their pipelines."
Vistra known as the risk to chop energy a "type of business extortion" and stated in its letter to the "railroad" fee that the "risk to terminate carrier in the course of wintry weather is illegitimate and grossly irresponsible and will have to be prohibited" through the power regulators.
The submitting additionally stated that throughout remaining 12 months's devastating freeze, Vistra had spent more or less $1.5 billion for herbal gasoline as costs spiked according to the unexpected chilly snap. That was once "two times its deliberate herbal gasoline price to gas its whole Texas fleet for a complete 12 months," and integrated bills of $600 million to Power Switch, which Vistra stated "is greater than 96% of all quantities invoiced through [Energy Transfer]."
Neatly certain, however that implies Vistra hasn't paid a whopping 4 p.c of what it owes, so in the easiest good judgment of the Marketplace, Texas power customers want to prevent consuming such a lot avocado toast and reduce on all the ones streaming services and products in the event that they need to have electrical energy thru this weekend.
The Texas Tribune helpfully notes that Power Switch did quite OK throughout remaining 12 months's disaster: "Whilst many firms misplaced cash throughout the typhoon, Power Switch made $2.4 billion." Oh, sure, and Tribune reporter James Barragán tweeted a reminder the day prior to this that Power Switch itself is owned through billionaire Kelcy Warren, who "donated $1 million to Gov. [Greg] Abbott's marketing campaign remaining 12 months," however do not you concern in any respect, as a result of "Abbott has promised that the lighting fixtures will keep in this wintry weather."
The Chronicle explains that if the gasoline provide from Power Switch have been utterly bring to a halt,
two of Luminant['s] 14 gas-fired energy vegetation, which depend solely on Power Switch pipelines, would want to close down, the corporate stated in its criticism. 3 different vegetation would most likely want to scale back technology to make up for the lack of gas.
Gosh, that sounds unhealthy, however consider, the unregulated loose marketplace is the very best manner of making sure prosperity to all.
Houston Public Media experiences that Texas's energy grid operator, the Electrical Reliability Council of Texas (ERCOT), despatched a reassuring message Tuesday that the grid is in high-quality form previous to the approaching chilly snap, and that "321 out of 324 electrical technology gadgets and transmission amenities totally handed inspection for brand new winterization laws." That is encouraging, even if we would additionally observe that "handed inspection for winterization" isn't like "are utterly in a position for the call for, although two main energy vegetation pass offline and 3 others scale back capability." Just right factor the freeze is not anticipated to be as serious as remaining 12 months's!
Then again, if the deadlock between Vistra and Power Switch in fact does lead to a considerable choice of Texas families dropping energy, we've got little question that Texas Republicans will have the option to blame the issues on renewable power once more.
Package deal up, Texas!
[Texas Tribune / Houston Chronicle (paywalled, but summarized here) / Houston Public Media]
12 months Wonkette is funded 100% through reader donations! If you'll be able to, please give $5 or $10 a month so we will stay producing steam warmth and pilin' within the again seat.
Do your Amazon buying groceries thru this hyperlink, as a result of causes.
window.REBELMOUSE_LOWEST_TASKS_QUEUE.push(function(){
!function(f,b,e,v,n,t,s) {if(f.fbq)return;n=f.fbq=function(){n.callMethod? n.callMethod.apply(n,arguments):n.queue.push(arguments)}; if(!f._fbq)f._fbq=n;n.push=n;n.loaded=!0;n.version='2.0'; n.queue=[];t=b.createElement(e);t.async=!0; t.src=v;s=b.getElementsByTagName(e)[0]; s.parentNode.insertBefore(t,s)}(window, document,'script', 'https://connect.facebook.net/en_US/fbevents.js'); fbq('init', '482172895483293'); fbq('track', 'PageView');
});
window.REBELMOUSE_LOWEST_TASKS_QUEUE.push(function(){
/*! getClosest.js | (c) 2017 Chris Ferdinandi | MIT License | http://github.com/cferdinandi/getClosest */ /** * Get the closest parent element that matches a selector. * @param {Element} elem Starting element * @param {String} selector Selector to match against * @return Element Returns null if not match found */ var getClosest = function(elem, selector) {
// Element.matches() polyfill if (!Element.prototype.matches) { Element.prototype.matches = Element.prototype.matchesSelector || Element.prototype.mozMatchesSelector || Element.prototype.msMatchesSelector || Element.prototype.oMatchesSelector || Element.prototype.webkitMatchesSelector || function(s) { var matches = (this.document || this.ownerDocument).querySelectorAll(s), i = matches.length; while (--i >= 0 && matches.item(i) !== this) {} return i > -1; }; }
// Get closest match for (; elem && elem !== document; elem = elem.parentNode) { if (elem.matches(selector)) return elem; }
return null;
};
// Vanilla JS
var className="active";
// getting current URL and adding a class on the current menu item
var path = location.pathname.split("https://www.wonkette.com/")[1]; var link = document.querySelectorAll('.menubar a[href="https://www.wonkette.com/" + path + '"]'); if (link[0]) { if (link[0].classList) { link[0].classList.add(className); } else { link[0].className += ' ' + className; } }
// remove class from home-link var home = document.getElementsByClassName('home__item'); if (home[0]) { if (home[0].classList) { home[0].classList.remove(className); } else b)' + className.split(' ').join(' }
// search the closest parent and adding an active class on it too
var closestParent = getClosest(link[0], '.menubar_item-dropdown');
if (closestParent) { if (closestParent.classList) { closestParent.classList.add(className);
} else { closestParent.className += ' ' + className; } }
var socials = document.getElementsByClassName('social-links')[0]; var cloneSocials = socials.cloneNode(true);
var menu = document.getElementById("menubar"); var cloneMenu = menu.cloneNode(true);
var mobileMenu = document.getElementsByClassName('main-menu-wrapper')[0]; var beforeEl = document.getElementsByClassName('menu-global__search-form')[0];
mobileMenu.insertBefore(cloneSocials, beforeEl); mobileMenu.insertBefore(cloneMenu, beforeEl);
if (!document.body.classList.contains('logged-out-user')) { var existCondition = setInterval(function() { var userLink = document.querySelectorAll('.main-menu-item--my_page .link'); if (userLink.length) { clearInterval(existCondition); var membersLink = document.querySelectorAll('#membersLink'); var userUrl = userLink[0].href; Array.prototype.forEach.call(membersLink, function(el) { el.href = userUrl; });
if (document.querySelector('.main-menu-item--designer_editor')) { document.querySelector('.main-menu-wrapper').classList.add('user-admin'); } } }, 500); } else { var existCondition = setInterval(function() { var userLink = document.querySelector('.main-menu-item--login .link'); if (userLink) { clearInterval(existCondition); userLink.href="http://www.wonkette.com/core/users/email_login/"; } }, 500)
}
function copyValue(el) { var thisVal = el.options[el.selectedIndex].text; var closestForm = getClosest(el, 'form'); var paypalAmount = closestForm.nextSibling.querySelector('.paypal-amount'); paypalAmount.value = thisVal; }
document.addEventListener("scroll", createIdleScrollListener(() => { if (window.scrollY > 0) { document.body.classList.add('page-scrolled'); } else { document.body.classList.remove('page-scrolled'); } }));
function createIdleScrollListener(callback) { let ticking = false;
return function onScrollIdle() { if (ticking) { return; } ticking = true; requestAnimationFrame(() => { callback(); ticking = false; }); }; }
});
window.REBELMOUSE_LOWEST_TASKS_QUEUE.push(function(){
(function () { var scriptURL = 'https://sdks.shopifycdn.com/buy-button/latest/buy-button-storefront.min.js'; if (window.ShopifyBuy) { if (window.ShopifyBuy.UI) { ShopifyBuyInit(); } else { loadScript(); } } else { loadScript(); }
function loadScript()
function ShopifyBuyInit() { var client = ShopifyBuy.buildClient({ domain: 'wonkette-bazaar.myshopify.com', storefrontAccessToken: 'ed4ae4c7827a0ad6e2f0877e72007d6a', });
ShopifyBuy.UI.onReady(client).then(function (ui) { ui.createComponent('collection', { id: 79186919536, node: document.getElementById('collection-component-0908d7149de'), moneyFormat: '%24%7B%7Bamount%7D%7D', options: { "product": { "variantId": "all", "contents": { "imgWithCarousel": false, "variantTitle": false, "description": false, "buttonWithQuantity": false, "quantity": false }, "styles": { "product": { "@media (min-width: 601px)": { "max-width": "calc(25% - 20px)", "margin-left": "20px", "margin-bottom": "50px" } }, "button": { "background-color": "#c21f38", ":hover": { "background-color": "#af1c32" }, ":focus": { "background-color": "#af1c32" } } } }, "cart": { "contents": { "button": true }, "styles": { "button": { "background-color": "#c21f38", ":hover": { "background-color": "#af1c32" }, ":focus": { "background-color": "#af1c32" } }, "footer": { "background-color": "#ffffff" } } }, "modalProduct": { "contents": { "img": false, "imgWithCarousel": true, "variantTitle": false, "buttonWithQuantity": true, "button": false, "quantity": false }, "styles": { "product": { "@media (min-width: 601px)": { "max-width": "100%", "margin-left": "0px", "margin-bottom": "0px" } }, "button": { "background-color": "#c21f38", ":hover": { "background-color": "#af1c32" }, ":focus": { "background-color": "#af1c32" } } } }, "toggle": { "styles": { "toggle": { "background-color": "#c21f38", ":hover": { "background-color": "#af1c32" }, ":focus": { "background-color": "#af1c32" } } } }, "productSet": { "styles": { "products": { "@media (min-width: 601px)": { "margin-left": "-20px" } } } } } }); }); } })();
});
window.REBELMOUSE_LOWEST_TASKS_QUEUE.push(function(){
window.REBELMOUSE_STDLIB.loadExternalScript("https://checkout.stripe.com/checkout.js", function() {
if (!Element.prototype.matches) Element.prototype.matches = Element.prototype.msMatchesSelector || Element.prototype.webkitMatchesSelector;
if (!Element.prototype.closest) Element.prototype.closest = function(s) { var el = this; if (!document.documentElement.contains(el)) return null; do while (el !== null && el.nodeType === 1); return null; };
function formsHandling() { var formDonate = document.querySelectorAll('.donation-form:not(.processed)');
formDonate.forEach(function(formEl) { var formEl = formEl;
formEl.classList.add("processed");
formEl.addEventListener("submit", function(event) { event.preventDefault(); });
var donationBtns = formEl.querySelectorAll('.donate-button');
donationBtns.forEach(function(el) { el.addEventListener("click", function(event) { event.preventDefault(); formProcessing(el) }); });
function formProcessing(el) { var btn = el; var payment = btn.getAttribute('data-payment'); var planType = formEl.querySelector('input[name="plan_type"]:checked').value; var checkedOption = formEl.querySelector('input[name="amount"]:checked'); var amount = checkedOption.value * 1; var amountOptional = checkedOption.getAttribute('data-amount'); var dataValue = checkedOption.getAttribute('data-value'); var action;
if ( formEl.contains(formEl.querySelector('.remove-me')) ) { formEl.querySelectorAll('.remove-me').forEach(function(el){ el.remove() }); }
if ( payment == "paypal" ) { formEl.action = "https://www.paypal.com/cgi-bin/webscr"; formEl.setAttribute('target', '_blank');
addHidden( 'currency_code', 'USD'); addHidden( 'cmd', ''); addHidden( 'return', "https://www.wonkette.com/st/Wonkettes_Hero"); addHidden( 'cancel_return', window.location.href);
if ( planType == "once" ) { checkedOption.value = dataValue; formEl.querySelector('input[name="cmd"]').value="_donations"; addHidden( 'business', 'rebecca@wonkette.com'); addHidden( 'item_name', 'Wonkette Donation'); addHidden( 'item_number', 'Just Once');
//add new params addHidden( 'a3', dataValue); addHidden( 'p3', 1); addHidden( 't3', 'D');
} else if ( planType == "monthly" ) { formEl.querySelector('input[name="cmd"]').value="_xclick-subscriptions"; addHidden( 'business', 'rebecca@wonkette.com'); addHidden( 'item_name', 'Wonkette Recurring Donation'); addHidden( 'item_number', 'wonkette_recurring');
//add new params addHidden( 'a3', dataValue); addHidden( 'p3', 1); addHidden( 't3', 'M'); addHidden( 'src', 1); addHidden( 'srt', 52); } formEl.submit(); } else if ( payment == "strip" ) { addHidden( 'entity_type', 1); addHidden( 'plan_type', 1); addHidden('entity_id', getSiteId() ); checkedOption.value = dataValue * 100;
if ( planType == "once" ) { formEl.action = "/core/payment/single_donation"; addHidden( 'plan_name', 'One Time Donation'); stripInit(amount, 'One Time Donation');
} else if ( planType == "monthly" ) { formEl.action = "/core/payment/recurring_donation"; addHidden( 'plan_name', 'Monthly Donation'); addHidden( 'plan', 'donation_' + amount); stripInit(amount, 'Monthly Donation'); }
}
} function addHidden(key, value) { // Create a hidden input element, and append it to the form: var input = document.createElement('input'); input.type="hidden"; input.name = key; input.value = value; input.className += 'remove-me'; formEl.appendChild(input); }
function stripInit(amount, description) { var token = function(res){ addHidden('stripeToken', res.id); addHidden('stripeEmail', res.email); formEl.submit(); };
if (amount) { StripeCheckout.open({ key: 'pk_live_7dJjNGbMgTkHfEasr9FsLcjF', // real //key: 'pk_test_zbMpaIyMyHJ7TLUEheC7q2iS', //test amount: amount, name: 'Wonkette', image: 'https://assets.rbl.ms/16950638/origin.png', description: description, panelLabel: 'Donate', token: token, locale: 'auto' }); } else { window.alert('Select donation amount first') } } });
function getSiteId() { var site_id = null; var inner = document.querySelector('html').innerHTML var str = inner.split('"site_id": '); if( str[1] != undefined ){ site_id = str[1].split(',')[0]; } return !isNaN(site_id) ? site_id : false; } }
formsHandling();
REBELMOUSE_STDLIB.createElementChangeListener(".show-more.js-expand:not(.processed)", (el) => { const keepReading = el; keepReading.classList.add("processed"); keepReading.addEventListener("click", function() { setTimeout(formsHandling, 500) }); });
});
});
window.REBELMOUSE_LOWEST_TASKS_QUEUE.push(function(){
window.disqus_config = function () { this.page.identifier = "2656440346", this.page.url = "https://www.wonkette.com/with-winter-storm-coming-pipeline-company-threatens-gas-supply-to-texas-power-plants"; };
var disqusCt = document.createElement('div'), disqus_config; disqusCt.id = 'disqus_thread';
(function() d.body).appendChild(s); )();
function loadCountScript(callback) { var s = document.createElement('script'); s.type="text/javascript"; s.async = true; s.id = 'dsq-count-scr'; s.src = "//wonkettecom.disqus.com/count.js"; var x = document.getElementsByTagName('script')[0]; x.parentNode.insertBefore(s, x); s.onload = () => callback(s); document.head.append(s); }
loadCountScript(script => { /*Add comment Button to all articles*/ REBELMOUSE_STDLIB.createElementChangeListener(".share-panel:not(.js--has-comments)", (el) => { let sharesPanel = el; sharesPanel.classList.add('js--has-comments');
if(sharesPanel.closest('.article__shares')) { let postId = window.REBELMOUSE_BOOTSTRAP_DATA.post.id, postURL = location.protocol + '//' + location.host + location.pathname; addButton(postURL, postId, sharesPanel);
} else if( sharesPanel.closest('.widget') ) { let thisPost = sharesPanel.closest('.widget'), postId = thisPost.getAttribute('elid'), postURL = thisPost.querySelector('.widget__headline-text').getAttribute('href'); addButton(postURL, postId, sharesPanel); } }); });
function addButton(url, id, el) { var commentBtn = document.createElement('span'); //commentBtn.href = url; commentBtn.classList.add('js--toggleDisqus'); commentBtn.classList.add('disqus-comment-count'); commentBtn.setAttribute('data-disqus-url', url); commentBtn.setAttribute('data-postid', id); //commentBtn.setAttribute('data-disqus-identifier', id); commentBtn.innerText="0"; el.append(commentBtn); DISQUSWIDGETS.getCount({reset: true}); //console.log(url, id); }
REBELMOUSE_STDLIB.createElementChangeListener(".js--toggleDisqus:not(.js--callDisqus-processed), .show-more:not(.js--callDisqus-processed)", (el) => { console.log('run callDisqus()');
var timeOut=10; if(el.classList.contains("show-more")){ timeOut=1000; } el.classList.add('js--callDisqus-processed') el.addEventListener('click', function (){ setTimeout(function(){ let t = el, thisPost = t.closest('article') || t.closest('.js-section-loader-feature-container'), postId = t.getAttribute('data-postid'), postURL = t.getAttribute('data-disqus-url');
document.querySelector('#disqus_thread') && document.querySelector('#disqus_thread').remove();
if( t.closest('.article__shares') ) { let postWrap = document.querySelector('.mobile-post-wrapper'); postWrap.appendChild(disqusCt); } else { let afterEl = t.closest('.widget'); if(afterEl){afterEl.parentNode.insertBefore(disqusCt, afterEl.nextElementSibling);} }
console.log('DISQUS.reset', postId, postURL); DISQUS.reset({ reload: true, config: function () { this.page.identifier = postId; this.page.url = postURL; } });
if( t.classList.contains('js--toggleDisqus') ) { let disqus = document.getElementById("disqus_thread"); // disqus.scrollIntoView(); } },timeOut) }); });
// Hide hidden tip-jar, idk why window.REBELMOUSE_STDLIB.createElementChangeListener(".js-keep-reading:not(.js-processed)", (el) => { let keepReading = el; keepReading.classList.add('js-processed'); //keepReading.closest('.mb-2').nextElementSibling.style.display='none'; });
});



Source_link