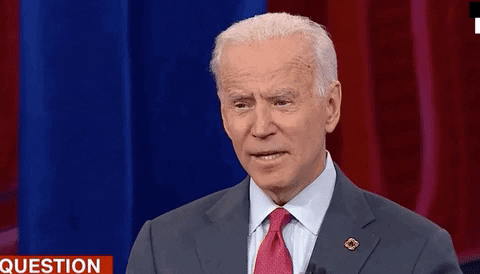 The president is doing a information convention this afternoon, and we're going to … liveblog it, we wager? Yeah why now not. We "love" you, finally.
We were given a sense it is gonna be more or less lit, since newshounds are more or less obsessive about throwing both-sides crap at Joe Biden simply to end up to one another that they're honest and balanced after 4 years of Donald Trump.
Additionally there is that complete factor about how his schedule is more or less stalled, as a result of those two completely nugatory shitheel moron Democratic senators whose names we lately fail to remember.
Let's watch in combination.
---
4:02: Oh hello, have a look at President Mister On-Timey!
He's bragging about vaccinating folks and giving them jobs and taking youngsters out of poverty and developing small companies and folks making more cash.
TYRANT COMMIE.
4:04: Biden says we are doing away with lead pipes, which may be very unfair to anti-vaxxers and Fox Information hosts most likely, who may just theoretically in the future make a decision "licking lead pipes" is the following factor they must check out when they get tired of "horse paste" and "pee."
4:06: Biden says must we have now executed extra trying out prior to? Positive! However we are doing extra now! Pass to this website online and put your title in and say "I would like a large number of checks" and they will say "no you'll't have so much however you'll have 4."
(That website online hyperlink is if truth be told to a Wonkette submit the place we communicate concerning the website online the place you'll get 4 Covid checks. Don't move to the Wonkette submit and put your title within the feedback and suppose you are getting a Covid check care bundle. You might be getting not anything.)
4:10: Now Biden is speaking about his appointees to the Fed's board of governors and stuff. Hi there bear in mind once we watched presidential information meetings to peer if the president used to be going to inform folks to consume bleach or if he would individually stare immediately into the solar?
A laugh instances.
4:14: He says the horrible hellscape we now reside in is not the "new customary," however only a process now not but completed.
4:16: And now the primary query, and it's "the whole thing sucks now, and we're all gonna die. Did you overpromise to The usa while you promised everyone blowjobs and sweet canes?"
(Paraphrase.)
Biden says he didn't overpromise, and we have now made monumental growth. Biden says he hasn't been in a position to get his "Republican pals" to get into the sport to check out to get issues executed. Hmmmmmmmmm, it is virtually like we had been all right kind once we stated that, love Biden although we may, he used to be being hopelessly naive when he acted like as of late's Republicans — now not the Republicans he served with within the Senate, as of late's Republicans, who're shithole authoritarian fascists — would if truth be told paintings with him.
Anyway he is pronouncing he will have to modify techniques and shed light on to American citizens what Democrats are for and if truth be told move out and promote what he is achieved and what he desires to perform.
4:21: Subsequent query: since all of your schedule is being held hostage via those two crapballs losers on your personal birthday celebration — they are actually about to tank vote casting rights in like an hour — must you reduce what you need to perform? He says no, however is not speaking concerning the two crapballs losers.
4:23: Biden says he is assured that he can nonetheless get large items of Construct Again Higher signed into regulation, and says he hasn't given up on vote casting rights but.
4:25: Journalist accepts Mitt Romney's whining that Joe Biden hasn't referred to as him as a sound complaint as to why Romney hasn't executed anything else on vote casting rights. Subsequent query, shifting on.
Will the following election be moderately performed with authentic effects despite the fact that vote casting rights don't seem to be handed? Biden says it's going to rely on whether or not the American folks understand that a few of what Republicans are doing is designed to rig elections of their prefer. He says, although, that regardless of how onerous Republicans make it for minorities to vote, folks will display up defiantly. However says it is going to be onerous.
4:28: Biden is looking bullshit on a number of of those questions. The present one is ready alllllll those faculties cloooooosing, and Biden used to be like sorry, I reject your premise, as a result of 95 % of colleges are open, however you would not know that in the event you had been being attentive to your self at this time.
4:30: Query about Russia's aggression towards Ukraine, and many others. Biden says NATO will completely be united, and according to whether or not sanctions will if truth be told trouble Putin, since they have not traditionally, Biden says Putin ain't by no means observed sanctions like those they were given comin'.
4:32: "It is like my mom used to mention, you chew your nostril off to spite your face."
Precisely what our mother at all times says.
4:35: A lot of phrases, however Biden says Putin can have army superiority over Ukraine, however they will pay so onerous within the close to time period and the longer term in the event that they invade Ukraine.
Now we transfer to David Sanger of the New York Occasions, who remains to be on Russia and Ukraine. Does Biden nonetheless suppose the "last item" Putin desires is a brand new Chilly Battle, and has Biden's view of Putin modified within the remaining a number of months?
Biden says he nonetheless thinks Putin does not desire a full-blown conflict, however he will check america and NATO up to he can. "He's going to pay a significant and expensive worth for it that he does not suppose now will price him what it is gonna price him."
Hi there bear in mind the remaining president, whose phrases to Putin had been extra alongside the traces of OMG I LOVE UUUUUUUUUU CAN YOU BE MY REAL FATHER?
Biden is now doing arm-chair psychology about what he thinks Putin actually desires on the planet, and what Putin actually thinks about Russia's present place on the planet, from the tip of the Soviet Union to now and going ahead. Throws chilly water on Putin's dream of NATO banning Ukraine for existence, but additionally says some real looking phrases about how Ukraine's timeline to get into NATO is not precisely "the next day."
4:40: Can Putin have any of his assurances about US decreasing troops in Poland or Romania? No, says Biden. If Putin pulls some shit, he is gonna get extra American troops in the ones puts, as a result of our treaty agreements to protect sure international locations.
4:42: Oh no Joe Biden stated Joe Manchin's title out loud,. We don't seem to be positive Joe Manchin likes it when the White Area says his title out loud in the similar sentence as "construct" or "again" or "higher."
4:49: Golly, he is nonetheless taking questions. This one is ready Mitch McConnell pronouncing the midterms are going to be a "file card" for the way neatly Biden is doing. Biden says PFFFFFT MALARKEY, Mitch is simply doing his process. That is OK. Biden's a large boy!
He actually stated he is a large boy.
4:50: That is Biden's theme this night. "What is Mitch for? What is he for on immigration? What is he for on Russia? What are they for?" Says no person can inform WTF Republicans are for.
Which is honest. They are for stealing democracy for white conservatives, even supposing a majority of the American folks actually fuckin' hates them.
Now Biden is speaking about Republicans for being scared to do anything else on their very own, as a result of Donald Trump will sic number one challengers on them.
4:52: Biden stated there have been 5 Republican senators who've instructed him they'd do various things in the event that they were not being threatened via primaries. Journalist says will you let us know which 5? Biden says SURE! However then he says he used to be kidding.
Oh neatly.
4:56: And he is nonetheless going! He is signaled that he is keen to take a look at breaking apart the vote casting rights expenses into smaller portions if he has to. Additionally he says GET YOUR BOOSTER SHOT.
Now he is speaking concerning the perception of splitting NATO, which he says can be a "large mistake." Recognizes that there are variations amongst NATO international locations on the subject of what stage to answer Russia, relying at the stage of Russian aggression towards Ukraine. Says he's going to paintings to verify everyone is at the identical web page when movements are taken.
Hi there, bear in mind when the remaining president attempted to actually smash NATO? That came about.
5:02: Extra questions on Russia, extra questions on vote casting rights … there's a theme right here! Kristin Welker from MSNBC chatting with frustrations from Black electorate at the Senate's lack of ability to cross vote casting rights, and folks's emotions that Biden hasn't actually had their backs.
We do want he'd simply name Manchin and Sinema nice large dump-takers, out loud, of their faces.
5:06: Welker asks if Biden is proud of Vice President Kamala Harris's paintings on vote casting rights and whether or not he'd decide to her being his working mate in 2024. He stated, "Sure and sure."
If Welker concept that used to be gonna be some more or less gotcha, it did not paintings.
Now she's asking if he regrets making the ones comparisons between Republicans and George Wallace and Bull Connor. He is clarifying that what he stated used to be that in the event you did not vote for the Balloting Rights Act, you had been vote casting with George Wallace. He did not say Ted Cruz and Rand Paul and Marsha Blackburn are actually George Wallace.
Regardless of how a lot the ones folks remind us all of George Wallace.
He did not say that.
5:10: Biden is attempting to near his e-book, however he is taking another query on what he is executed to make The usa consider executive is extra competent once more. Blah blah blah blah.
We're going to shut down this liveblog, although. For those who love Wonkette, bear in mind we haven't any company investment, we have now YOU. So click on the buttons under. And good-bye!
Wonkette is funded ENTIRELY via a couple of thousand folks such as you. In case you are now not already, would you pls believe being the few thousandth and one?
Do your Amazon buying groceries thru this hyperlink, as a result of causes.
window.REBELMOUSE_LOWEST_TASKS_QUEUE.push(function(){
!function(f,b,e,v,n,t,s) {if(f.fbq)return;n=f.fbq=function(){n.callMethod? n.callMethod.apply(n,arguments):n.queue.push(arguments)}; if(!f._fbq)f._fbq=n;n.push=n;n.loaded=!0;n.version='2.0'; n.queue=[];t=b.createElement(e);t.async=!0; t.src=v;s=b.getElementsByTagName(e)[0]; s.parentNode.insertBefore(t,s)}(window, document,'script', 'https://connect.facebook.net/en_US/fbevents.js'); fbq('init', '482172895483293'); fbq('track', 'PageView');
});
window.REBELMOUSE_LOWEST_TASKS_QUEUE.push(function(){
/*! getClosest.js | (c) 2017 Chris Ferdinandi | MIT License | http://github.com/cferdinandi/getClosest */ /** * Get the closest parent element that matches a selector. * @param {Element} elem Starting element * @param {String} selector Selector to match against * @return Element Returns null if not match found */ var getClosest = function(elem, selector) {
// Element.matches() polyfill if (!Element.prototype.matches) { Element.prototype.matches = Element.prototype.matchesSelector || Element.prototype.mozMatchesSelector || Element.prototype.msMatchesSelector || Element.prototype.oMatchesSelector || Element.prototype.webkitMatchesSelector || function(s) { var matches = (this.document || this.ownerDocument).querySelectorAll(s), i = matches.length; while (--i >= 0 && matches.item(i) !== this) {} return i > -1; }; }
// Get closest match for (; elem && elem !== document; elem = elem.parentNode) { if (elem.matches(selector)) return elem; }
return null;
};
// Vanilla JS
var className="active";
// getting current URL and adding a class on the current menu item
var path = location.pathname.split("https://www.wonkette.com/")[1]; var link = document.querySelectorAll('.menubar a[href="https://www.wonkette.com/" + path + '"]'); if (link[0]) { if (link[0].classList) { link[0].classList.add(className); } else { link[0].className += ' ' + className; } }
// remove class from home-link var home = document.getElementsByClassName('home__item'); if (home[0]) { if (home[0].classList) { home[0].classList.remove(className); } else b)' + className.split(' ').join(' }
// search the closest parent and adding an active class on it too
var closestParent = getClosest(link[0], '.menubar_item-dropdown');
if (closestParent) { if (closestParent.classList) { closestParent.classList.add(className);
} else { closestParent.className += ' ' + className; } }
var socials = document.getElementsByClassName('social-links')[0]; var cloneSocials = socials.cloneNode(true);
var menu = document.getElementById("menubar"); var cloneMenu = menu.cloneNode(true);
var mobileMenu = document.getElementsByClassName('main-menu-wrapper')[0]; var beforeEl = document.getElementsByClassName('menu-global__search-form')[0];
mobileMenu.insertBefore(cloneSocials, beforeEl); mobileMenu.insertBefore(cloneMenu, beforeEl);
if (!document.body.classList.contains('logged-out-user')) { var existCondition = setInterval(function() { var userLink = document.querySelectorAll('.main-menu-item--my_page .link'); if (userLink.length) { clearInterval(existCondition); var membersLink = document.querySelectorAll('#membersLink'); var userUrl = userLink[0].href; Array.prototype.forEach.call(membersLink, function(el) { el.href = userUrl; });
if (document.querySelector('.main-menu-item--designer_editor')) { document.querySelector('.main-menu-wrapper').classList.add('user-admin'); } } }, 500); } else { var existCondition = setInterval(function() { var userLink = document.querySelector('.main-menu-item--login .link'); if (userLink) { clearInterval(existCondition); userLink.href="http://www.wonkette.com/core/users/email_login/"; } }, 500)
}
function copyValue(el) { var thisVal = el.options[el.selectedIndex].text; var closestForm = getClosest(el, 'form'); var paypalAmount = closestForm.nextSibling.querySelector('.paypal-amount'); paypalAmount.value = thisVal; }
document.addEventListener("scroll", createIdleScrollListener(() => { if (window.scrollY > 0) { document.body.classList.add('page-scrolled'); } else { document.body.classList.remove('page-scrolled'); } }));
function createIdleScrollListener(callback) { let ticking = false;
return function onScrollIdle() { if (ticking) { return; } ticking = true; requestAnimationFrame(() => { callback(); ticking = false; }); }; }
});
window.REBELMOUSE_LOWEST_TASKS_QUEUE.push(function(){
(function () { var scriptURL = 'https://sdks.shopifycdn.com/buy-button/latest/buy-button-storefront.min.js'; if (window.ShopifyBuy) { if (window.ShopifyBuy.UI) { ShopifyBuyInit(); } else { loadScript(); } } else { loadScript(); }
function loadScript() document.getElementsByTagName('body')[0]).appendChild(script); script.onload = ShopifyBuyInit;
function ShopifyBuyInit() { var client = ShopifyBuy.buildClient({ domain: 'wonkette-bazaar.myshopify.com', storefrontAccessToken: 'ed4ae4c7827a0ad6e2f0877e72007d6a', });
ShopifyBuy.UI.onReady(client).then(function (ui) { ui.createComponent('collection', { id: 79186919536, node: document.getElementById('collection-component-0908d7149de'), moneyFormat: '%24%7B%7Bamount%7D%7D', options: { "product": { "variantId": "all", "contents": { "imgWithCarousel": false, "variantTitle": false, "description": false, "buttonWithQuantity": false, "quantity": false }, "styles": { "product": { "@media (min-width: 601px)": { "max-width": "calc(25% - 20px)", "margin-left": "20px", "margin-bottom": "50px" } }, "button": { "background-color": "#c21f38", ":hover": { "background-color": "#af1c32" }, ":focus": { "background-color": "#af1c32" } } } }, "cart": { "contents": { "button": true }, "styles": { "button": { "background-color": "#c21f38", ":hover": { "background-color": "#af1c32" }, ":focus": { "background-color": "#af1c32" } }, "footer": { "background-color": "#ffffff" } } }, "modalProduct": { "contents": { "img": false, "imgWithCarousel": true, "variantTitle": false, "buttonWithQuantity": true, "button": false, "quantity": false }, "styles": { "product": { "@media (min-width: 601px)": { "max-width": "100%", "margin-left": "0px", "margin-bottom": "0px" } }, "button": { "background-color": "#c21f38", ":hover": { "background-color": "#af1c32" }, ":focus": { "background-color": "#af1c32" } } } }, "toggle": { "styles": { "toggle": { "background-color": "#c21f38", ":hover": { "background-color": "#af1c32" }, ":focus": { "background-color": "#af1c32" } } } }, "productSet": { "styles": { "products": { "@media (min-width: 601px)": { "margin-left": "-20px" } } } } } }); }); } })();
});
window.REBELMOUSE_LOWEST_TASKS_QUEUE.push(function(){
window.REBELMOUSE_STDLIB.loadExternalScript("https://checkout.stripe.com/checkout.js", function() {
if (!Element.prototype.matches) Element.prototype.matches = Element.prototype.msMatchesSelector || Element.prototype.webkitMatchesSelector;
if (!Element.prototype.closest) Element.prototype.closest = function(s) { var el = this; if (!document.documentElement.contains(el)) return null; do el.parentNode; while (el !== null && el.nodeType === 1); return null; };
function formsHandling() { var formDonate = document.querySelectorAll('.donation-form:not(.processed)');
formDonate.forEach(function(formEl) { var formEl = formEl;
formEl.classList.add("processed");
formEl.addEventListener("submit", function(event) { event.preventDefault(); });
var donationBtns = formEl.querySelectorAll('.donate-button');
donationBtns.forEach(function(el) { el.addEventListener("click", function(event) { event.preventDefault(); formProcessing(el) }); });
function formProcessing(el) { var btn = el; var payment = btn.getAttribute('data-payment'); var planType = formEl.querySelector('input[name="plan_type"]:checked').value; var checkedOption = formEl.querySelector('input[name="amount"]:checked'); var amount = checkedOption.value * 1; var amountOptional = checkedOption.getAttribute('data-amount'); var dataValue = checkedOption.getAttribute('data-value'); var action;
if ( formEl.contains(formEl.querySelector('.remove-me')) ) { formEl.querySelectorAll('.remove-me').forEach(function(el){ el.remove() }); }
if ( payment == "paypal" ) { formEl.action = "https://www.paypal.com/cgi-bin/webscr"; formEl.setAttribute('target', '_blank');
addHidden( 'currency_code', 'USD'); addHidden( 'cmd', ''); addHidden( 'return', "https://www.wonkette.com/st/Wonkettes_Hero"); addHidden( 'cancel_return', window.location.href);
if ( planType == "once" ) { checkedOption.value = dataValue; formEl.querySelector('input[name="cmd"]').value="_donations"; addHidden( 'business', 'rebecca@wonkette.com'); addHidden( 'item_name', 'Wonkette Donation'); addHidden( 'item_number', 'Just Once');
//add new params addHidden( 'a3', dataValue); addHidden( 'p3', 1); addHidden( 't3', 'D');
} else if ( planType == "monthly" ) { formEl.querySelector('input[name="cmd"]').value="_xclick-subscriptions"; addHidden( 'business', 'rebecca@wonkette.com'); addHidden( 'item_name', 'Wonkette Recurring Donation'); addHidden( 'item_number', 'wonkette_recurring');
//add new params addHidden( 'a3', dataValue); addHidden( 'p3', 1); addHidden( 't3', 'M'); addHidden( 'src', 1); addHidden( 'srt', 52); } formEl.submit(); } else if ( payment == "strip" ) { addHidden( 'entity_type', 1); addHidden( 'plan_type', 1); addHidden('entity_id', getSiteId() ); checkedOption.value = dataValue * 100;
if ( planType == "once" ) { formEl.action = "/core/payment/single_donation"; addHidden( 'plan_name', 'One Time Donation'); stripInit(amount, 'One Time Donation');
} else if ( planType == "monthly" ) { formEl.action = "/core/payment/recurring_donation"; addHidden( 'plan_name', 'Monthly Donation'); addHidden( 'plan', 'donation_' + amount); stripInit(amount, 'Monthly Donation'); }
}
} function addHidden(key, value) { // Create a hidden input element, and append it to the form: var input = document.createElement('input'); input.type="hidden"; input.name = key; input.value = value; input.className += 'remove-me'; formEl.appendChild(input); }
function stripInit(amount, description) { var token = function(res){ addHidden('stripeToken', res.id); addHidden('stripeEmail', res.email); formEl.submit(); };
if (amount) { StripeCheckout.open({ key: 'pk_live_7dJjNGbMgTkHfEasr9FsLcjF', // real //key: 'pk_test_zbMpaIyMyHJ7TLUEheC7q2iS', //test amount: amount, name: 'Wonkette', image: 'https://assets.rbl.ms/16950638/origin.png', description: description, panelLabel: 'Donate', token: token, locale: 'auto' }); } else { window.alert('Select donation amount first') } } });
function getSiteId() { var site_id = null; var inner = document.querySelector('html').innerHTML var str = inner.split('"site_id": '); if( str[1] != undefined ){ site_id = str[1].split(',')[0]; } return !isNaN(site_id) ? site_id : false; } }
formsHandling();
REBELMOUSE_STDLIB.createElementChangeListener(".show-more.js-expand:not(.processed)", (el) => { const keepReading = el; keepReading.classList.add("processed"); keepReading.addEventListener("click", function() { setTimeout(formsHandling, 500) }); });
});
});
window.REBELMOUSE_LOWEST_TASKS_QUEUE.push(function(){
window.disqus_config = function () { this.page.identifier = "2656433746", this.page.url = "https://www.wonkette.com/biden-news-conference-livestream"; };
var disqusCt = document.createElement('div'), disqus_config; disqusCt.id = 'disqus_thread';
(function() )();
function loadCountScript(callback) { var s = document.createElement('script'); s.type="text/javascript"; s.async = true; s.id = 'dsq-count-scr'; s.src = "//wonkettecom.disqus.com/count.js"; var x = document.getElementsByTagName('script')[0]; x.parentNode.insertBefore(s, x); s.onload = () => callback(s); document.head.append(s); }
loadCountScript(script => { /*Add comment Button to all articles*/ REBELMOUSE_STDLIB.createElementChangeListener(".share-panel:not(.js--has-comments)", (el) => { let sharesPanel = el; sharesPanel.classList.add('js--has-comments');
if(sharesPanel.closest('.article__shares')) { let postId = window.REBELMOUSE_BOOTSTRAP_DATA.post.id, postURL = location.protocol + '//' + location.host + location.pathname; addButton(postURL, postId, sharesPanel);
} else if( sharesPanel.closest('.widget') ) { let thisPost = sharesPanel.closest('.widget'), postId = thisPost.getAttribute('elid'), postURL = thisPost.querySelector('.widget__headline-text').getAttribute('href'); addButton(postURL, postId, sharesPanel); } }); });
function addButton(url, id, el) { var commentBtn = document.createElement('span'); //commentBtn.href = url; commentBtn.classList.add('js--toggleDisqus'); commentBtn.classList.add('disqus-comment-count'); commentBtn.setAttribute('data-disqus-url', url); commentBtn.setAttribute('data-postid', id); //commentBtn.setAttribute('data-disqus-identifier', id); commentBtn.innerText="0"; el.append(commentBtn); DISQUSWIDGETS.getCount({reset: true}); //console.log(url, id); }
REBELMOUSE_STDLIB.createElementChangeListener(".js--toggleDisqus:not(.js--callDisqus-processed), .show-more:not(.js--callDisqus-processed)", (el) => { console.log('run callDisqus()');
var timeOut=10; if(el.classList.contains("show-more")){ timeOut=1000; } el.classList.add('js--callDisqus-processed') el.addEventListener('click', function (){ setTimeout(function(){ let t = el, thisPost = t.closest('article') || t.closest('.js-section-loader-feature-container'), postId = t.getAttribute('data-postid'), postURL = t.getAttribute('data-disqus-url');
document.querySelector('#disqus_thread') && document.querySelector('#disqus_thread').remove();
if( t.closest('.article__shares') ) { let postWrap = document.querySelector('.mobile-post-wrapper'); postWrap.appendChild(disqusCt); } else { let afterEl = t.closest('.widget'); if(afterEl){afterEl.parentNode.insertBefore(disqusCt, afterEl.nextElementSibling);} }
console.log('DISQUS.reset', postId, postURL); DISQUS.reset({ reload: true, config: function () { this.page.identifier = postId; this.page.url = postURL; } });
if( t.classList.contains('js--toggleDisqus') ) { let disqus = document.getElementById("disqus_thread"); // disqus.scrollIntoView(); } },timeOut) }); });
// Hide hidden tip-jar, idk why window.REBELMOUSE_STDLIB.createElementChangeListener(".js-keep-reading:not(.js-processed)", (el) => { let keepReading = el; keepReading.classList.add('js-processed'); //keepReading.closest('.mb-2').nextElementSibling.style.display='none'; });
});



Supply hyperlink