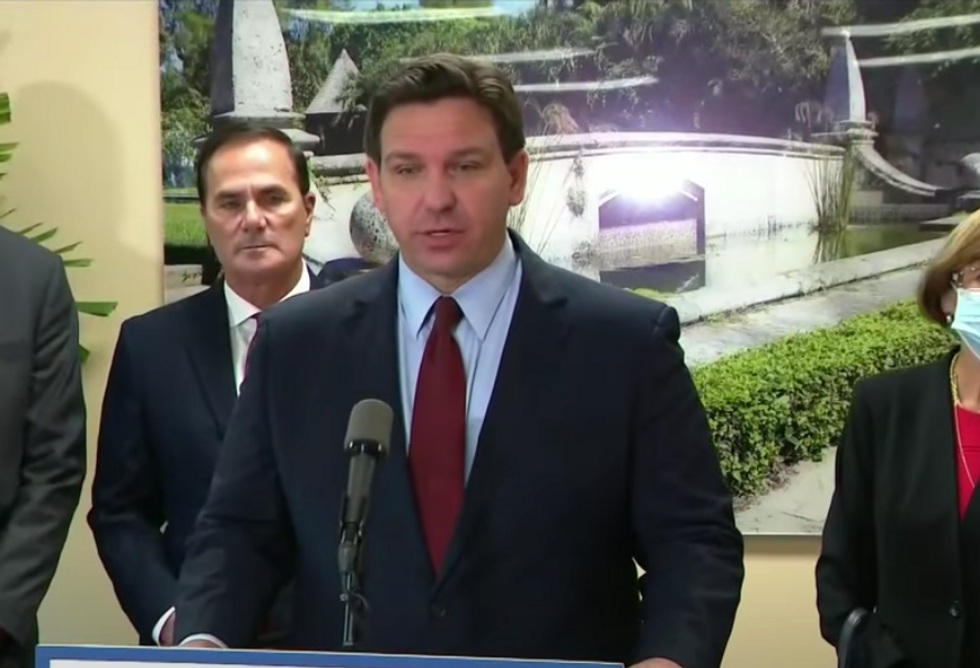 Politico's Tara Palmeri had an merchandise in nowadays's Playbook about Florida GOP Governor Ron DeSantis's so-called "MLK Day Wonder." That is her artful connection with a proposed congressional map DeSantis submitted the Sunday earlier than the King vacation. Governors hardly put up their very own maps as a part of the redistricting procedure. They normally admire the separation of powers and let the legislature go a most popular draft, which the governor can make a choice to both veto or signal into regulation.
However DeSantis is a loner and rebellion, so he does issues his personal manner. Ryan Newman, normal recommend for the governor's place of business, defined the transfer in a remark to Florida Politics.
"We have now prison issues with the congressional redistricting maps into consideration within the Legislature," Newman [said]. "We have now submitted an alternate proposal, which we will be able to reinforce, that clings to federal and state necessities and addresses our prison issues, whilst operating to extend district compactness, decrease county splits the place possible, and offer protection to minority balloting populations."
That final section is laughable as a result of DeSantis's proposed map does no longer in truth "offer protection to minority balloting populations." It as an alternative fucks all of them as much as be damned.
---
For instance: DeSantis's map halves the choice of majority Black districts within the congressional map the GOP-controlled state Senate is thinking about. The districts would drop from 4 to 2. whilst expanding the choice of districts Donald Trump would've gained in 2020 from 16 to 18. DeSantis's Jim Crow map would additionally do away with Black US Area Rep. Al Lawson's fifth congressional district seat. Lawson's district contains a lot of Jacksonville, which has a vital Black inhabitants. The world has had minority illustration for greater than 30 years.
Democratic state Sen. Shev Jones informed Politico's Matt Dixon, "This map isn't just unconstitutional, nevertheless it dilutes Black illustration in Florida. So as to add insult to damage, the governor submitted this map all whilst tweeting a quote 'honoring' Dr. King."
Sure, DeSantis's King Day tweet was once usual GOP boilerplate whitewashing. It even integrated the only and best King line conservatives are desirous about listening to. It's like his "Unfastened Fowl."
DeSantis has outlined "freedom" throughout the pandemic as having completely no legal responsibility for your fellow electorate' well being. It's an insult when Republicans affiliate King with their model of "freedom."
Right here's what Dr. King mentioned concerning the Declaration of Independence throughout his "I Have A Dream" speech:
When the architects of our republic wrote the magnificent phrases of the Charter and the Declaration of Independence, they have been signing a promissory notice to which each American was once to fall inheritor. This notice was once a promise that every one males, sure, black males in addition to white males, can be assured the "unalienable Rights" of "Existence, Liberty and the pursuit of Happiness." It's obtrusive nowadays that The usa has defaulted in this promissory notice, insofar as her electorate of colour are involved. As a substitute of honoring this sacred legal responsibility, The usa has given the Negro other people a nasty test, a test which has come again marked "inadequate price range."
DeSantis is actively seeking to go a nasty test. When Dr. King referred to as on Congress in 1957 to introduce balloting rights law, he declared, "Give us the poll, and we can fill our legislative halls with males of goodwill." DeSantis, on the other hand, desires to limit Black Floridians' political energy and prohibit their illustration in Congress.
Democracy-defending lawyer Marc Elias learn DeSantis's proposed map for the grime it's.
He tweeted, "I sit up for my workforce deposing him and his team of workers to completely perceive the unlawful partisan motivations of this map."
Despite the fact that DeSantis would possibly thoughtlessly invoke Dr. King, we're certain the civil rights icon would've identified him as a real enemy of racial justice.
[Politico]
Practice Stephen Robinson on Twitter.
Do your Amazon buying groceries via this hyperlink, as a result of causes.
12 months Wonkette is 100% ad-free and fully supported through reader donations. That is you! Please click on the clickie, if you're ready.
window.REBELMOUSE_LOWEST_TASKS_QUEUE.push(function(){
!function(f,b,e,v,n,t,s)
{if(f.fbq)return;n=f.fbq=function(){n.callMethod?
n.callMethod.apply(n,arguments):n.queue.push(arguments)};
if(!f._fbq)f._fbq=n;n.push=n;n.loaded=!0;n.version='2.0';
n.queue=[];t=b.createElement(e);t.async=!0;
t.src=v;s=b.getElementsByTagName(e)[0];
s.parentNode.insertBefore(t,s)}(window, document,'script',
'https://connect.facebook.net/en_US/fbevents.js');
fbq('init', '482172895483293');
fbq('track', 'PageView');
});
window.REBELMOUSE_LOWEST_TASKS_QUEUE.push(function(){
/*! getClosest.js | (c) 2017 Chris Ferdinandi | MIT License | http://github.com/cferdinandi/getClosest */
/**
* Get the closest parent element that matches a selector.
* @param {Element} elem Starting element
* @param {String} selector Selector to match against
* @return Element Returns null if not match found
*/
var getClosest = function(elem, selector) {
// Element.matches() polyfill
if (!Element.prototype.matches) {
Element.prototype.matches =
Element.prototype.matchesSelector ||
Element.prototype.mozMatchesSelector ||
Element.prototype.msMatchesSelector ||
Element.prototype.oMatchesSelector ||
Element.prototype.webkitMatchesSelector ||
function(s) {
var matches = (this.document || this.ownerDocument).querySelectorAll(s),
i = matches.length;
while (--i >= 0 && matches.item(i) !== this) {}
return i > -1;
};
}
// Get closest match
for (; elem && elem !== document; elem = elem.parentNode) {
if (elem.matches(selector)) return elem;
}
return null;
};
// Vanilla JS
var className="active";
// getting current URL and adding a class on the current menu item
var path = location.pathname.split("https://www.wonkette.com/")[1];
var link = document.querySelectorAll('.menubar a[href="https://www.wonkette.com/" + path + '"]');
if (link[0]) {
if (link[0].classList) {
link[0].classList.add(className);
} else {
link[0].className += ' ' + className;
}
}
// remove class from home-link
var home = document.getElementsByClassName('home__item');
if (home[0]) {
if (home[0].classList) {
home[0].classList.remove(className);
} else ') + '(b
}
// search the closest parent and adding an active class on it too
var closestParent = getClosest(link[0], '.menubar_item-dropdown');
if (closestParent) {
if (closestParent.classList) {
closestParent.classList.add(className);
} else {
closestParent.className += ' ' + className;
}
}
var socials = document.getElementsByClassName('social-links')[0];
var cloneSocials = socials.cloneNode(true);
var menu = document.getElementById("menubar");
var cloneMenu = menu.cloneNode(true);
var mobileMenu = document.getElementsByClassName('main-menu-wrapper')[0];
var beforeEl = document.getElementsByClassName('menu-global__search-form')[0];
mobileMenu.insertBefore(cloneSocials, beforeEl);
mobileMenu.insertBefore(cloneMenu, beforeEl);
if (!document.body.classList.contains('logged-out-user')) {
var existCondition = setInterval(function() {
var userLink = document.querySelectorAll('.main-menu-item--my_page .link');
if (userLink.length) {
clearInterval(existCondition);
var membersLink = document.querySelectorAll('#membersLink');
var userUrl = userLink[0].href;
Array.prototype.forEach.call(membersLink, function(el) {
el.href = userUrl;
});
if (document.querySelector('.main-menu-item--designer_editor')) {
document.querySelector('.main-menu-wrapper').classList.add('user-admin');
}
}
}, 500);
} else {
var existCondition = setInterval(function() {
var userLink = document.querySelector('.main-menu-item--login .link');
if (userLink) {
clearInterval(existCondition);
userLink.href="http://www.wonkette.com/core/users/email_login/";
}
}, 500)
}
function copyValue(el) {
var thisVal = el.options[el.selectedIndex].text;
var closestForm = getClosest(el, 'form');
var paypalAmount = closestForm.nextSibling.querySelector('.paypal-amount');
paypalAmount.value = thisVal;
}
document.addEventListener("scroll", createIdleScrollListener(() => {
if (window.scrollY > 0) {
document.body.classList.add('page-scrolled');
} else {
document.body.classList.remove('page-scrolled');
}
}));
function createIdleScrollListener(callback) {
let ticking = false;
return function onScrollIdle() {
if (ticking) {
return;
}
ticking = true;
requestAnimationFrame(() => {
callback();
ticking = false;
});
};
}
});
window.REBELMOUSE_LOWEST_TASKS_QUEUE.push(function(){
(function () {
var scriptURL = 'https://sdks.shopifycdn.com/buy-button/latest/buy-button-storefront.min.js';
if (window.ShopifyBuy) {
if (window.ShopifyBuy.UI) {
ShopifyBuyInit();
} else {
loadScript();
}
} else {
loadScript();
}
function loadScript() document.getElementsByTagName('body')[0]).appendChild(script);
script.onload = ShopifyBuyInit;
function ShopifyBuyInit() {
var client = ShopifyBuy.buildClient({
domain: 'wonkette-bazaar.myshopify.com',
storefrontAccessToken: 'ed4ae4c7827a0ad6e2f0877e72007d6a',
});
ShopifyBuy.UI.onReady(client).then(function (ui) {
ui.createComponent('collection', {
id: 79186919536,
node: document.getElementById('collection-component-0908d7149de'),
moneyFormat: '%24%7B%7Bamount%7D%7D',
options: {
"product": {
"variantId": "all",
"contents": {
"imgWithCarousel": false,
"variantTitle": false,
"description": false,
"buttonWithQuantity": false,
"quantity": false
},
"styles": {
"product": {
"@media (min-width: 601px)": {
"max-width": "calc(25% - 20px)",
"margin-left": "20px",
"margin-bottom": "50px"
}
},
"button": {
"background-color": "#c21f38",
":hover": {
"background-color": "#af1c32"
},
":focus": {
"background-color": "#af1c32"
}
}
}
},
"cart": {
"contents": {
"button": true
},
"styles": {
"button": {
"background-color": "#c21f38",
":hover": {
"background-color": "#af1c32"
},
":focus": {
"background-color": "#af1c32"
}
},
"footer": {
"background-color": "#ffffff"
}
}
},
"modalProduct": {
"contents": {
"img": false,
"imgWithCarousel": true,
"variantTitle": false,
"buttonWithQuantity": true,
"button": false,
"quantity": false
},
"styles": {
"product": {
"@media (min-width: 601px)": {
"max-width": "100%",
"margin-left": "0px",
"margin-bottom": "0px"
}
},
"button": {
"background-color": "#c21f38",
":hover": {
"background-color": "#af1c32"
},
":focus": {
"background-color": "#af1c32"
}
}
}
},
"toggle": {
"styles": {
"toggle": {
"background-color": "#c21f38",
":hover": {
"background-color": "#af1c32"
},
":focus": {
"background-color": "#af1c32"
}
}
}
},
"productSet": {
"styles": {
"products": {
"@media (min-width: 601px)": {
"margin-left": "-20px"
}
}
}
}
}
});
});
}
})();
});
window.REBELMOUSE_LOWEST_TASKS_QUEUE.push(function(){
window.REBELMOUSE_STDLIB.loadExternalScript("https://checkout.stripe.com/checkout.js", function() {
if (!Element.prototype.matches)
Element.prototype.matches = Element.prototype.msMatchesSelector ||
Element.prototype.webkitMatchesSelector;
if (!Element.prototype.closest)
Element.prototype.closest = function(s) {
var el = this;
if (!document.documentElement.contains(el)) return null;
do el.parentNode;
while (el !== null && el.nodeType === 1);
return null;
};
function formsHandling() {
var formDonate = document.querySelectorAll('.donation-form:not(.processed)');
formDonate.forEach(function(formEl) {
var formEl = formEl;
formEl.classList.add("processed");
formEl.addEventListener("submit", function(event) {
event.preventDefault();
});
var donationBtns = formEl.querySelectorAll('.donate-button');
donationBtns.forEach(function(el) {
el.addEventListener("click", function(event) {
event.preventDefault();
formProcessing(el)
});
});
function formProcessing(el) {
var btn = el;
var payment = btn.getAttribute('data-payment');
var planType = formEl.querySelector('input[name="plan_type"]:checked').value;
var checkedOption = formEl.querySelector('input[name="amount"]:checked');
var amount = checkedOption.value * 1;
var amountOptional = checkedOption.getAttribute('data-amount');
var dataValue = checkedOption.getAttribute('data-value');
var action;
if ( formEl.contains(formEl.querySelector('.remove-me')) ) {
formEl.querySelectorAll('.remove-me').forEach(function(el){
el.remove()
});
}
if ( payment == "paypal" ) {
formEl.action = "https://www.paypal.com/cgi-bin/webscr";
formEl.setAttribute('target', '_blank');
addHidden( 'currency_code', 'USD');
addHidden( 'cmd', '');
addHidden( 'return', "https://www.wonkette.com/st/Wonkettes_Hero");
addHidden( 'cancel_return', window.location.href);
if ( planType == "once" ) {
checkedOption.value = dataValue;
formEl.querySelector('input[name="cmd"]').value="_donations";
addHidden( 'business', 'rebecca@wonkette.com');
addHidden( 'item_name', 'Wonkette Donation');
addHidden( 'item_number', 'Just Once');
//add new params
addHidden( 'a3', dataValue);
addHidden( 'p3', 1);
addHidden( 't3', 'D');
} else if ( planType == "monthly" ) {
formEl.querySelector('input[name="cmd"]').value="_xclick-subscriptions";
addHidden( 'business', 'rebecca@wonkette.com');
addHidden( 'item_name', 'Wonkette Recurring Donation');
addHidden( 'item_number', 'wonkette_recurring');
//add new params
addHidden( 'a3', dataValue);
addHidden( 'p3', 1);
addHidden( 't3', 'M');
addHidden( 'src', 1);
addHidden( 'srt', 52);
}
formEl.submit();
} else if ( payment == "strip" ) {
addHidden( 'entity_type', 1);
addHidden( 'plan_type', 1);
addHidden('entity_id', getSiteId() );
checkedOption.value = dataValue * 100;
if ( planType == "once" ) {
formEl.action = "/core/payment/single_donation";
addHidden( 'plan_name', 'One Time Donation');
stripInit(amount, 'One Time Donation');
} else if ( planType == "monthly" ) {
formEl.action = "/core/payment/recurring_donation";
addHidden( 'plan_name', 'Monthly Donation');
addHidden( 'plan', 'donation_' + amount);
stripInit(amount, 'Monthly Donation');
}
}
}
function addHidden(key, value) {
// Create a hidden input element, and append it to the form:
var input = document.createElement('input');
input.type="hidden";
input.name = key;
input.value = value;
input.className += 'remove-me';
formEl.appendChild(input);
}
function stripInit(amount, description) {
var token = function(res){
addHidden('stripeToken', res.id);
addHidden('stripeEmail', res.email);
formEl.submit();
};
if (amount) {
StripeCheckout.open({
key: 'pk_live_7dJjNGbMgTkHfEasr9FsLcjF', // real
//key: 'pk_test_zbMpaIyMyHJ7TLUEheC7q2iS', //test
amount: amount,
name: 'Wonkette',
image: 'https://assets.rbl.ms/16950638/origin.png',
description: description,
panelLabel: 'Donate',
token: token,
locale: 'auto'
});
} else {
window.alert('Select donation amount first')
}
}
});
function getSiteId() {
var site_id = null;
var inner = document.querySelector('html').innerHTML
var str = inner.split('"site_id": ');
if( str[1] != undefined ){
site_id = str[1].split(',')[0];
}
return !isNaN(site_id) ? site_id : false;
}
}
formsHandling();
REBELMOUSE_STDLIB.createElementChangeListener(".show-more.js-expand:not(.processed)", (el) => {
const keepReading = el;
keepReading.classList.add("processed");
keepReading.addEventListener("click", function() {
setTimeout(formsHandling, 500)
});
});
});
});
window.REBELMOUSE_LOWEST_TASKS_QUEUE.push(function(){
window.disqus_config = function () {
this.page.identifier = "2656425450",
this.page.url = "https://www.wonkette.com/florida-gop-gov-ron-desantis-delivers-mlk-day-gift-of-racially-gerrymandered-congressional-map";
};
var disqusCt = document.createElement('div'),
disqus_config;
disqusCt.id = 'disqus_thread';
(function() d.body).appendChild(s);
)();
function loadCountScript(callback) {
var s = document.createElement('script');
s.type="text/javascript";
s.async = true;
s.id = 'dsq-count-scr';
s.src = "//wonkettecom.disqus.com/count.js";
var x = document.getElementsByTagName('script')[0];
x.parentNode.insertBefore(s, x);
s.onload = () => callback(s);
document.head.append(s);
}
loadCountScript(script => {
/*Add comment Button to all articles*/
REBELMOUSE_STDLIB.createElementChangeListener(".share-panel:not(.js--has-comments)", (el) => {
let sharesPanel = el;
sharesPanel.classList.add('js--has-comments');
if(sharesPanel.closest('.article__shares')) {
let postId = window.REBELMOUSE_BOOTSTRAP_DATA.post.id,
postURL = location.protocol + '//' + location.host + location.pathname;
addButton(postURL, postId, sharesPanel);
} else if( sharesPanel.closest('.widget') ) {
let thisPost = sharesPanel.closest('.widget'),
postId = thisPost.getAttribute('elid'),
postURL = thisPost.querySelector('.widget__headline-text').getAttribute('href');
addButton(postURL, postId, sharesPanel);
}
});
});
function addButton(url, id, el) {
var commentBtn = document.createElement('span');
//commentBtn.href = url;
commentBtn.classList.add('js--toggleDisqus');
commentBtn.classList.add('disqus-comment-count');
commentBtn.setAttribute('data-disqus-url', url);
commentBtn.setAttribute('data-postid', id);
//commentBtn.setAttribute('data-disqus-identifier', id);
commentBtn.innerText="0";
el.append(commentBtn);
DISQUSWIDGETS.getCount({reset: true});
//console.log(url, id);
}
REBELMOUSE_STDLIB.createElementChangeListener(".js--toggleDisqus:not(.js--callDisqus-processed), .show-more:not(.js--callDisqus-processed)", (el) => {
console.log('run callDisqus()');
var timeOut=10;
if(el.classList.contains("show-more")){
timeOut=1000;
}
el.classList.add('js--callDisqus-processed')
el.addEventListener('click', function (){
setTimeout(function(){
let t = el,
thisPost = t.closest('article') || t.closest('.js-section-loader-feature-container'),
postId = t.getAttribute('data-postid'),
postURL = t.getAttribute('data-disqus-url');
document.querySelector('#disqus_thread') && document.querySelector('#disqus_thread').remove();
if( t.closest('.article__shares') ) {
let postWrap = document.querySelector('.mobile-post-wrapper');
postWrap.appendChild(disqusCt);
} else {
let afterEl = t.closest('.widget');
if(afterEl){afterEl.parentNode.insertBefore(disqusCt, afterEl.nextElementSibling);}
}
console.log('DISQUS.reset', postId, postURL);
DISQUS.reset({
reload: true,
config: function () {
this.page.identifier = postId;
this.page.url = postURL;
}
});
if( t.classList.contains('js--toggleDisqus') ) {
let disqus = document.getElementById("disqus_thread");
// disqus.scrollIntoView();
}
},timeOut)
});
});
// Hide hidden tip-jar, idk why
window.REBELMOUSE_STDLIB.createElementChangeListener(".js-keep-reading:not(.js-processed)", (el) => {
let keepReading = el;
keepReading.classList.add('js-processed');
//keepReading.closest('.mb-2').nextElementSibling.style.display='none';
});
});