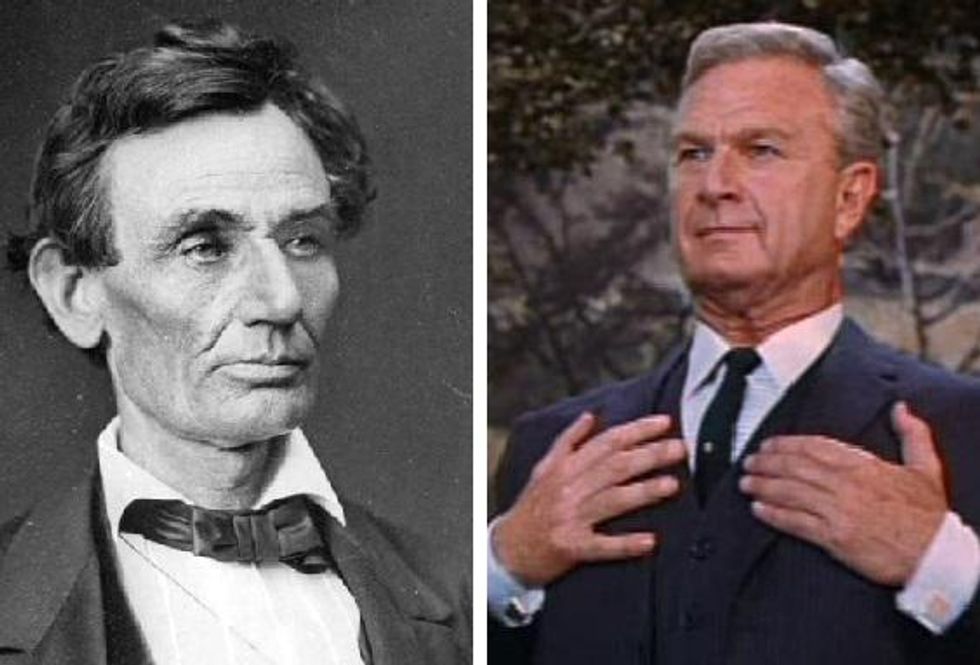 After the summer time's silly battles over the tyranny of mask and meant indoctrination of blameless schoolchildren with Marxist books like Liked, which prompt that one way or the other white other people exploited Black other people within the dangerous previous days, Virginia elected Republican Glenn Youngkin, who is set to take workplace as of late and has pledged to in an instant elevate the Commonwealth's masks mandate in colleges, since the pandemic it appears went away with out telling any person.
Additionally, there is a invoice sooner than the Space of Delegates (it is like a area of representatives, best extra old fashioned), offered by means of freshman Republican Del. Wren Williams, that may ban the instructing of "divisive ideas" and likewise ensure the colleges educate American historical past proper.
One a part of the proposed invoice, HB 781, drew a good deal of snarking at the Twitters Thursday, as it mandates that colleges will have to make sure that all scholars "exhibit an working out of"
The founding paperwork of the USA, together with the Declaration of Independence, the USA Charter, the Federalist Papers, together with Essays 10 and 51, excerpts from Alexis de Tocqueville's Democracy in The us, the first debate between Abraham Lincoln and Frederick Douglass, and the writings of the Founding Fathers of the USA. [emphasis added]
---
Williams, a Trumpy Republican who believes the Nice Guy gained the 2020 election, was once derided for that ridiculous error, since in fact Lincoln in fact held a chain of debates with Sen. Stephen Douglas, a white supremacist who believed slavery will have to proceed to be allowed if white other people sought after it. Lincoln didn't debate abolitionist Frederick Douglass, who escaped slavery himself and was once one of the well known warring parties of The us's founding disgrace. If he had debated Lincoln for hours and hours, the 2 would were announcing "I solely concur with my worthy opponent" so much.
Now not unusually, numerous people on Twitter figured that possibly Williams simply appreciated Donald Trump such a lot that Mr. Williams merely considers Frederick Douglass "an instance of someone who has performed an important activity this is being known increasingly," and do you know that Abraham Lincoln was once a Republican? Now not many of us know that.
Friday morning, the Virginia Department of Prison Services and products took the blame for the mistake, liberating a observation explaining that it had mistakenly added the mistake to the invoice all through the drafting procedure, "following receipt of a traditionally correct request from the workplace of Delegate Wren Williams."
So do not you rattling liberal innovative The us haters pass calling Wren Williams a birdbrain over that.
As an alternative, you'll be able to name him a birdbrain over this: if Virginia lecturers in fact educate the Lincoln-Douglas debates, Tocqueville's Democracy in The us, or the Declaration of Independence too appropriately, they will run the danger of having fired for operating afoul of Segment A of HR 781 as an alternative.
That is as a result of, like the entire different copy-pasted, most certainly unconstitutional bans on instructing "divisive ideas" and "crucial race concept" in colleges, the invoice prohibits instructing the idea that that "one race, faith, ethnicity, or intercourse is inherently awesome to any other race, faith, ethnicity, or intercourse," or that "a person will have to be discriminated in opposition to or obtain antagonistic remedy only or partially as a result of the person's race, faith, ethnicity, or intercourse."
Now, we without a doubt do not assume colleges will have to educate youngsters to consider the ones issues, both, however the issue is available in Segment E2 of the invoice, which makes transparent that "no faculty board or worker thereof" is authorized to "educate or incorporate into any path or elegance any divisive thought."
As damnliberal historical past professors like Seth Cotlar Of Willamette College insist on stating, the very texts the invoice says all Virginia youngsters will have to be acquainted with are freaking complete of divisive ideas. For starters, there may be that Declaration of Independence with its grievance that King George III has
excited home insurrections among us, and has endeavored to carry at the population of our frontiers, the cruel Indian savages whose identified rule of battle, is an undistinguished destruction of every age, sexes, and stipulations.
That without a doubt turns out to mention that one race is inherently awesome to any other, now does not it?
The invoice does not specify which excerpts from Democracy in The us will have to learn, however we might think lecturers the use of Tocqueville would wish to keep away from passages like this, from Bankruptcy 18, which sounds beautiful darn divisive in its dialogue of the "3 races" to be present in The us.
Amongst those broadly differing households of guys, the primary that pulls consideration, the awesome in intelligence, in energy, and in enjoyment, is the white, or Eu, the MAN pre-eminently so referred to as, beneath him seem the Negro and the Indian. Those two unsatisfied races don't have anything in commonplace, neither delivery, nor options, nor language, nor behavior. Their best resemblance lies of their misfortunes. Either one of them occupy an similarly inferior place within the nation they inhabit; each be afflicted by tyranny; and if their wrongs aren't the similar, they originate from the similar authors.
Just right heavens! That awfully divisive French man is not simply suggesting that white persons are awesome, he is additionally announcing The us is a systematically racist position!
Within the paragraphs that observe this passage, Tocqueville continues that time at period, blaming white other people for the oppression of Black other people and Local American citizens in some way that turns out calculated to make the reader "really feel discomfort, guilt, anguish, or another type of mental misery as a result of the person's race, faith, ethnicity, or intercourse," any other divisive thought.
It is such an acute depiction of racist oppression that we don't have any doubt it might make Virginia youngsters really feel very down on The us, most likely illegally so. (For extra examples, see this Twitter thread, or for that topic, simply learn round in his model of Tocqueville totally free, on-line. It is Saturday!)
After which there may be the real Stephen Douglas, whose reviews within the debates with Lincoln are masses divisive, too. Douglas mocked Lincoln for believing
that the negro was once born his equivalent and yours, and that he was once endowed with equality by means of the Almighty, and that no human regulation can deprive him of those rights that have been guarantied to him by means of the Splendid ruler of the Universe. Now, I don't consider that the Almighty ever meant the negro to be the equivalent of the white guy. ("By no means, by no means.") If he did, he has been a very long time demonstrating the truth. (Cheers.)

For hundreds of years the negro has been a race upon the earth, and all through all that point, in all latitudes and climates, anyplace he has wandered or been taken, he has been not as good as the race which he has there met. He belongs to an inferior race, and should all the time occupy an inferior place. ("Just right," "that is so," &c.)
Thank goodness Wren Williams is there to give protection to blameless Virginia schoolchildren from the divisive concepts that Wren Williams desires all Virginia schoolchildren to be acquainted with, the top.
[WaPo / Blue Virginia / Virginia HB 781 / Seth Cotlar on Twitter / Democracy in America (Wonkette gets a cut of sales)]
Year Wonkette is funded solely by means of reader donations. If you'll be able to, please give $5 or $10 a month so we will be able to stay throwing historical past at you!
Do your Amazon buying groceries via this hyperlink, as a result of causes.
window.REBELMOUSE_LOWEST_TASKS_QUEUE.push(function(){
!function(f,b,e,v,n,t,s) {if(f.fbq)return;n=f.fbq=function(){n.callMethod? n.callMethod.apply(n,arguments):n.queue.push(arguments)}; if(!f._fbq)f._fbq=n;n.push=n;n.loaded=!0;n.version='2.0'; n.queue=[];t=b.createElement(e);t.async=!0; t.src=v;s=b.getElementsByTagName(e)[0]; s.parentNode.insertBefore(t,s)}(window, document,'script', 'https://connect.facebook.net/en_US/fbevents.js'); fbq('init', '482172895483293'); fbq('track', 'PageView');
});
window.REBELMOUSE_LOWEST_TASKS_QUEUE.push(function(){
/*! getClosest.js | (c) 2017 Chris Ferdinandi | MIT License | http://github.com/cferdinandi/getClosest */ /** * Get the closest parent element that matches a selector. * @param {Element} elem Starting element * @param {String} selector Selector to match against * @return Element Returns null if not match found */ var getClosest = function(elem, selector) {
// Element.matches() polyfill if (!Element.prototype.matches) { Element.prototype.matches = Element.prototype.matchesSelector || Element.prototype.mozMatchesSelector || Element.prototype.msMatchesSelector || Element.prototype.oMatchesSelector || Element.prototype.webkitMatchesSelector || function(s) { var matches = (this.document || this.ownerDocument).querySelectorAll(s), i = matches.length; while (--i >= 0 && matches.item(i) !== this) {} return i > -1; }; }
// Get closest match for (; elem && elem !== document; elem = elem.parentNode) { if (elem.matches(selector)) return elem; }
return null;
};
// Vanilla JS
var className="active";
// getting current URL and adding a class on the current menu item
var path = location.pathname.split("https://www.wonkette.com/")[1]; var link = document.querySelectorAll('.menubar a[href="https://www.wonkette.com/" + path + '"]'); if (link[0]) { if (link[0].classList) { link[0].classList.add(className); } else { link[0].className += ' ' + className; } }
// remove class from home-link var home = document.getElementsByClassName('home__item'); if (home[0]) { if (home[0].classList) { home[0].classList.remove(className); } else b)' + className.split(' ').join(' }
// search the closest parent and adding an active class on it too
var closestParent = getClosest(link[0], '.menubar_item-dropdown');
if (closestParent) { if (closestParent.classList) { closestParent.classList.add(className);
} else { closestParent.className += ' ' + className; } }
var socials = document.getElementsByClassName('social-links')[0]; var cloneSocials = socials.cloneNode(true);
var menu = document.getElementById("menubar"); var cloneMenu = menu.cloneNode(true);
var mobileMenu = document.getElementsByClassName('main-menu-wrapper')[0]; var beforeEl = document.getElementsByClassName('menu-global__search-form')[0];
mobileMenu.insertBefore(cloneSocials, beforeEl); mobileMenu.insertBefore(cloneMenu, beforeEl);
if (!document.body.classList.contains('logged-out-user')) { var existCondition = setInterval(function() { var userLink = document.querySelectorAll('.main-menu-item--my_page .link'); if (userLink.length) { clearInterval(existCondition); var membersLink = document.querySelectorAll('#membersLink'); var userUrl = userLink[0].href; Array.prototype.forEach.call(membersLink, function(el) { el.href = userUrl; });
if (document.querySelector('.main-menu-item--designer_editor')) { document.querySelector('.main-menu-wrapper').classList.add('user-admin'); } } }, 500); } else { var existCondition = setInterval(function() { var userLink = document.querySelector('.main-menu-item--login .link'); if (userLink) { clearInterval(existCondition); userLink.href="http://www.wonkette.com/core/users/email_login/"; } }, 500)
}
function copyValue(el) { var thisVal = el.options[el.selectedIndex].text; var closestForm = getClosest(el, 'form'); var paypalAmount = closestForm.nextSibling.querySelector('.paypal-amount'); paypalAmount.value = thisVal; }
document.addEventListener("scroll", createIdleScrollListener(() => { if (window.scrollY > 0) { document.body.classList.add('page-scrolled'); } else { document.body.classList.remove('page-scrolled'); } }));
function createIdleScrollListener(callback) { let ticking = false;
return function onScrollIdle() { if (ticking) { return; } ticking = true; requestAnimationFrame(() => { callback(); ticking = false; }); }; }
});
window.REBELMOUSE_LOWEST_TASKS_QUEUE.push(function(){
(function () { var scriptURL = 'https://sdks.shopifycdn.com/buy-button/latest/buy-button-storefront.min.js'; if (window.ShopifyBuy) { if (window.ShopifyBuy.UI) { ShopifyBuyInit(); } else { loadScript(); } } else { loadScript(); }
function loadScript() document.getElementsByTagName('body')[0]).appendChild(script); script.onload = ShopifyBuyInit;
function ShopifyBuyInit() { var client = ShopifyBuy.buildClient({ domain: 'wonkette-bazaar.myshopify.com', storefrontAccessToken: 'ed4ae4c7827a0ad6e2f0877e72007d6a', });
ShopifyBuy.UI.onReady(client).then(function (ui) { ui.createComponent('collection', { id: 79186919536, node: document.getElementById('collection-component-0908d7149de'), moneyFormat: '%24%7B%7Bamount%7D%7D', options: { "product": { "variantId": "all", "contents": { "imgWithCarousel": false, "variantTitle": false, "description": false, "buttonWithQuantity": false, "quantity": false }, "styles": { "product": { "@media (min-width: 601px)": { "max-width": "calc(25% - 20px)", "margin-left": "20px", "margin-bottom": "50px" } }, "button": { "background-color": "#c21f38", ":hover": { "background-color": "#af1c32" }, ":focus": { "background-color": "#af1c32" } } } }, "cart": { "contents": { "button": true }, "styles": { "button": { "background-color": "#c21f38", ":hover": { "background-color": "#af1c32" }, ":focus": { "background-color": "#af1c32" } }, "footer": { "background-color": "#ffffff" } } }, "modalProduct": { "contents": { "img": false, "imgWithCarousel": true, "variantTitle": false, "buttonWithQuantity": true, "button": false, "quantity": false }, "styles": { "product": { "@media (min-width: 601px)": { "max-width": "100%", "margin-left": "0px", "margin-bottom": "0px" } }, "button": { "background-color": "#c21f38", ":hover": { "background-color": "#af1c32" }, ":focus": { "background-color": "#af1c32" } } } }, "toggle": { "styles": { "toggle": { "background-color": "#c21f38", ":hover": { "background-color": "#af1c32" }, ":focus": { "background-color": "#af1c32" } } } }, "productSet": { "styles": { "products": { "@media (min-width: 601px)": { "margin-left": "-20px" } } } } } }); }); } })();
});
window.REBELMOUSE_LOWEST_TASKS_QUEUE.push(function(){
window.REBELMOUSE_STDLIB.loadExternalScript("https://checkout.stripe.com/checkout.js", function() {
if (!Element.prototype.matches) Element.prototype.matches = Element.prototype.msMatchesSelector || Element.prototype.webkitMatchesSelector;
if (!Element.prototype.closest) Element.prototype.closest = function(s) { var el = this; if (!document.documentElement.contains(el)) return null; do el.parentNode; while (el !== null && el.nodeType === 1); return null; };
function formsHandling() { var formDonate = document.querySelectorAll('.donation-form:not(.processed)');
formDonate.forEach(function(formEl) { var formEl = formEl;
formEl.classList.add("processed");
formEl.addEventListener("submit", function(event) { event.preventDefault(); });
var donationBtns = formEl.querySelectorAll('.donate-button');
donationBtns.forEach(function(el) { el.addEventListener("click", function(event) { event.preventDefault(); formProcessing(el) }); });
function formProcessing(el) { var btn = el; var payment = btn.getAttribute('data-payment'); var planType = formEl.querySelector('input[name="plan_type"]:checked').value; var checkedOption = formEl.querySelector('input[name="amount"]:checked'); var amount = checkedOption.value * 1; var amountOptional = checkedOption.getAttribute('data-amount'); var dataValue = checkedOption.getAttribute('data-value'); var action;
if ( formEl.contains(formEl.querySelector('.remove-me')) ) { formEl.querySelectorAll('.remove-me').forEach(function(el){ el.remove() }); }
if ( payment == "paypal" ) { formEl.action = "https://www.paypal.com/cgi-bin/webscr"; formEl.setAttribute('target', '_blank');
addHidden( 'currency_code', 'USD'); addHidden( 'cmd', ''); addHidden( 'return', "https://www.wonkette.com/st/Wonkettes_Hero"); addHidden( 'cancel_return', window.location.href);
if ( planType == "once" ) { checkedOption.value = dataValue; formEl.querySelector('input[name="cmd"]').value="_donations"; addHidden( 'business', 'rebecca@wonkette.com'); addHidden( 'item_name', 'Wonkette Donation'); addHidden( 'item_number', 'Just Once');
//add new params addHidden( 'a3', dataValue); addHidden( 'p3', 1); addHidden( 't3', 'D');
} else if ( planType == "monthly" ) { formEl.querySelector('input[name="cmd"]').value="_xclick-subscriptions"; addHidden( 'business', 'rebecca@wonkette.com'); addHidden( 'item_name', 'Wonkette Recurring Donation'); addHidden( 'item_number', 'wonkette_recurring');
//add new params addHidden( 'a3', dataValue); addHidden( 'p3', 1); addHidden( 't3', 'M'); addHidden( 'src', 1); addHidden( 'srt', 52); } formEl.submit(); } else if ( payment == "strip" ) { addHidden( 'entity_type', 1); addHidden( 'plan_type', 1); addHidden('entity_id', getSiteId() ); checkedOption.value = dataValue * 100;
if ( planType == "once" ) { formEl.action = "/core/payment/single_donation"; addHidden( 'plan_name', 'One Time Donation'); stripInit(amount, 'One Time Donation');
} else if ( planType == "monthly" ) { formEl.action = "/core/payment/recurring_donation"; addHidden( 'plan_name', 'Monthly Donation'); addHidden( 'plan', 'donation_' + amount); stripInit(amount, 'Monthly Donation'); }
}
} function addHidden(key, value) { // Create a hidden input element, and append it to the form: var input = document.createElement('input'); input.type="hidden"; input.name = key; input.value = value; input.className += 'remove-me'; formEl.appendChild(input); }
function stripInit(amount, description) { var token = function(res){ addHidden('stripeToken', res.id); addHidden('stripeEmail', res.email); formEl.submit(); };
if (amount) { StripeCheckout.open({ key: 'pk_live_7dJjNGbMgTkHfEasr9FsLcjF', // real //key: 'pk_test_zbMpaIyMyHJ7TLUEheC7q2iS', //test amount: amount, name: 'Wonkette', image: 'https://assets.rbl.ms/16950638/origin.png', description: description, panelLabel: 'Donate', token: token, locale: 'auto' }); } else { window.alert('Select donation amount first') } } });
function getSiteId() { var site_id = null; var inner = document.querySelector('html').innerHTML var str = inner.split('"site_id": '); if( str[1] != undefined ){ site_id = str[1].split(',')[0]; } return !isNaN(site_id) ? site_id : false; } }
formsHandling();
REBELMOUSE_STDLIB.createElementChangeListener(".show-more.js-expand:not(.processed)", (el) => { const keepReading = el; keepReading.classList.add("processed"); keepReading.addEventListener("click", function() { setTimeout(formsHandling, 500) }); });
});
});
window.REBELMOUSE_LOWEST_TASKS_QUEUE.push(function(){
window.disqus_config = function () { this.page.identifier = "2656409487", this.page.url = "https://www.wonkette.com/no-virginia-abraham-lincoln-never-debated-oliver-wendell-douglas-either"; };
var disqusCt = document.createElement('div'), disqus_config; disqusCt.id = 'disqus_thread';
(function() )();
function loadCountScript(callback) { var s = document.createElement('script'); s.type="text/javascript"; s.async = true; s.id = 'dsq-count-scr'; s.src = "//wonkettecom.disqus.com/count.js"; var x = document.getElementsByTagName('script')[0]; x.parentNode.insertBefore(s, x); s.onload = () => callback(s); document.head.append(s); }
loadCountScript(script => { /*Add comment Button to all articles*/ REBELMOUSE_STDLIB.createElementChangeListener(".share-panel:not(.js--has-comments)", (el) => { let sharesPanel = el; sharesPanel.classList.add('js--has-comments');
if(sharesPanel.closest('.article__shares')) { let postId = window.REBELMOUSE_BOOTSTRAP_DATA.post.id, postURL = location.protocol + '//' + location.host + location.pathname; addButton(postURL, postId, sharesPanel);
} else if( sharesPanel.closest('.widget') ) { let thisPost = sharesPanel.closest('.widget'), postId = thisPost.getAttribute('elid'), postURL = thisPost.querySelector('.widget__headline-text').getAttribute('href'); addButton(postURL, postId, sharesPanel); } }); });
function addButton(url, id, el) { var commentBtn = document.createElement('span'); //commentBtn.href = url; commentBtn.classList.add('js--toggleDisqus'); commentBtn.classList.add('disqus-comment-count'); commentBtn.setAttribute('data-disqus-url', url); commentBtn.setAttribute('data-postid', id); //commentBtn.setAttribute('data-disqus-identifier', id); commentBtn.innerText="0"; el.append(commentBtn); DISQUSWIDGETS.getCount({reset: true}); //console.log(url, id); }
REBELMOUSE_STDLIB.createElementChangeListener(".js--toggleDisqus:not(.js--callDisqus-processed), .show-more:not(.js--callDisqus-processed)", (el) => { console.log('run callDisqus()');
var timeOut=10; if(el.classList.contains("show-more")){ timeOut=1000; } el.classList.add('js--callDisqus-processed') el.addEventListener('click', function (){ setTimeout(function(){ let t = el, thisPost = t.closest('article') || t.closest('.js-section-loader-feature-container'), postId = t.getAttribute('data-postid'), postURL = t.getAttribute('data-disqus-url');
document.querySelector('#disqus_thread') && document.querySelector('#disqus_thread').remove();
if( t.closest('.article__shares') ) { let postWrap = document.querySelector('.mobile-post-wrapper'); postWrap.appendChild(disqusCt); } else { let afterEl = t.closest('.widget'); if(afterEl){afterEl.parentNode.insertBefore(disqusCt, afterEl.nextElementSibling);} }
console.log('DISQUS.reset', postId, postURL); DISQUS.reset({ reload: true, config: function () { this.page.identifier = postId; this.page.url = postURL; } });
if( t.classList.contains('js--toggleDisqus') ) { let disqus = document.getElementById("disqus_thread"); // disqus.scrollIntoView(); } },timeOut) }); });
// Hide hidden tip-jar, idk why window.REBELMOUSE_STDLIB.createElementChangeListener(".js-keep-reading:not(.js-processed)", (el) => { let keepReading = el; keepReading.classList.add('js-processed'); //keepReading.closest('.mb-2').nextElementSibling.style.display='none'; });
});



Supply hyperlink